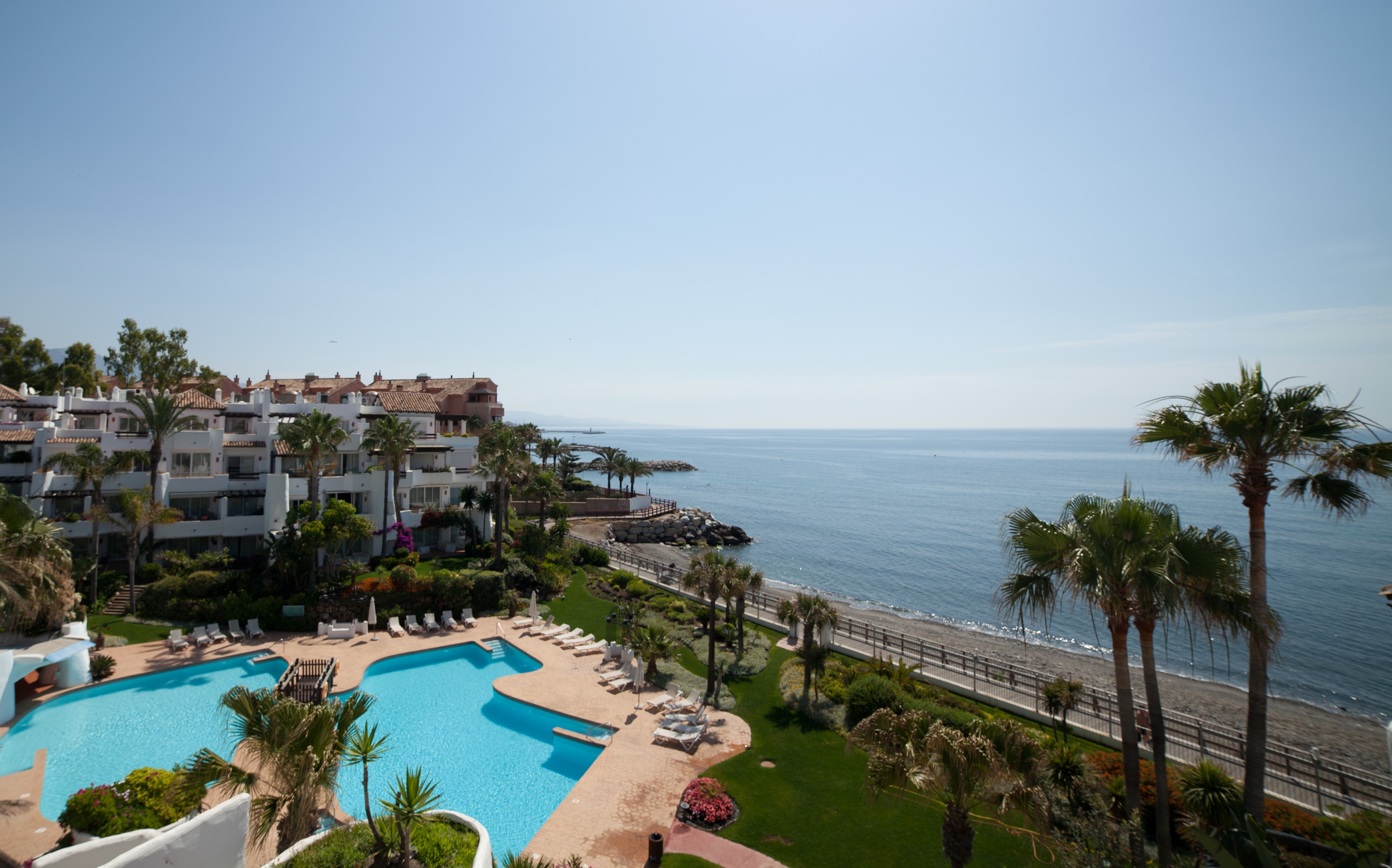 Enchanting Frontline Beach Apartments
Nothing embraces better the genuine Marbella lifestyle than the blessing of living by the edge of sea.
What can be more desirable than waking up to the sun rising over the water, more peaceful than inviting the beach breeze into your home or more pleasant than dining al fresco whilst enjoying the sunset reflecting on the waves?
All this and so much more is what encourages so many people to want to live in a frontline beach home in Marbella, from the very east Cabopino to the very west Guadalmina, of even in the heart of the vibrant harbour of Puerto Banús, running through all the so many other characterful spots that this wonderful coast has to offer.
Below we have featured some of the most stunning frontline beach apartments that we hope you will be delighted with.
Furthermore, you can browse through our website to view our entire portfolio of 1st line beach apartments.
If you wish to receive further information or arrange viewings for any of these properties, please do not hesitate to contact us.
Sincerely,
DM Properties team
t: +34 952 76 51 38
http://www.dmproperties.com
1.750.000 € 3 Bedrooms, 3 Bathrooms
Marbella East Duplex Penthouse - The definition of charm, this exquisite penthouse duplex is a true rarity in Marbella east. The residence boasts amazing light and attractive views from its position on a south west corner with three exposures. Located on the first phase of a first line beach complex, in a consolidated are...
2.150.000 € 3 Bedrooms, 3 Bathrooms
Marbella - Puerto Banus Duplex Penthouse - Impressive Duplex Penthouse set right on the beachfront boasting views over the Mediterranean Sea and Puerto Banus. Ideally located only 500mts from Puerto Banus this exclusive complex boasts 150mts of coast front, is fully gated with 24 hours security guards, enjoys 2 communal swimming...
2.400.000 € 3 Bedrooms, 3 Bathrooms
Marbella - Puerto Banus Apartment - Seafront 3 bedroom apartment next to Guadalpin Hotel, near Puerto Banus with high quality specifications situated in a secure complex with landscaped and fully irrigated and lighted grounds, a fully equipped fitness room with two Jacuzzis and system of intruder alarms installed on fence su...
2.950.000 € 4 Bedrooms, 4 Bathrooms
Estepona Apartment - Stunning south west facing apartment completely refurbished and enlarged, joining 2 units into a very spacious 3 bedroom property with fabulous sea and garden views. Situated on the first floor of a beach front exclusive and secure development of classic design, Las Dunas Park, between Est...
3.150.000 € 4 Bedrooms, 4 Bathrooms
Marbella - Puerto Banus Apartment - Gray d'Albion is a frontline beach development situated adjacent to the world-famous Puerto Banus. The six-storey building, with a total of sixty units, is surrounded by an exotic garden with a fabulous swimming pool. Sophisticated round-the-clock surveillance with security cameras and und...
Av.Canovas del Castillo 4, 1st Floor, Office 3
29601 Marbella, Malaga, Spain
T: +34 952 765 138 | F: +34 952 771 871
2016 © Copyright Diana Morales Properties Marbella, All rights reserved
The content, text and images of this newsletter are protected and cannot be used or reproduced without specific written consent from DM Properties / El contenido, texto e imágenes de este boletín está protegido y no se permite su uso ni su reproducción sin autorización expresa por escrito de DM Properties.