Avant-garde architectural styles are currently very much in vogue in the Marbella area, replacing a spell during which colonial décors were de rigueur indoors, and contemporary Mediterranean architectural lines predominated outdoors. Against all of this, however, there is a timeless classic that retains its standing and attraction throughout. The country style, as exemplified by the stately Andalusian house, is very well at home in this southern part of Spain.
Traditional country homes here include grand haciendas and fincas, the manor houses of the traditional landed classes, the hidalgos. Normally surrounded by large expanses of farmland or pasture, these are imposing but well-proportioned homes with a large forecourt originally designed for horse-drawn coaches to pull up, but which look every bit as good with a handsome car parked tidily beneath a palm tree.
Many of the finer villas in the Marbella area, and especially those set on large plots, feature an updated interpretation of the classic Andalusian country home, and while not all will sport the traditional arrangement of white-plastered walls framed with ochre paint, most remain true to the time-honoured layout of rooms around a central courtyard that dates back to Roman times.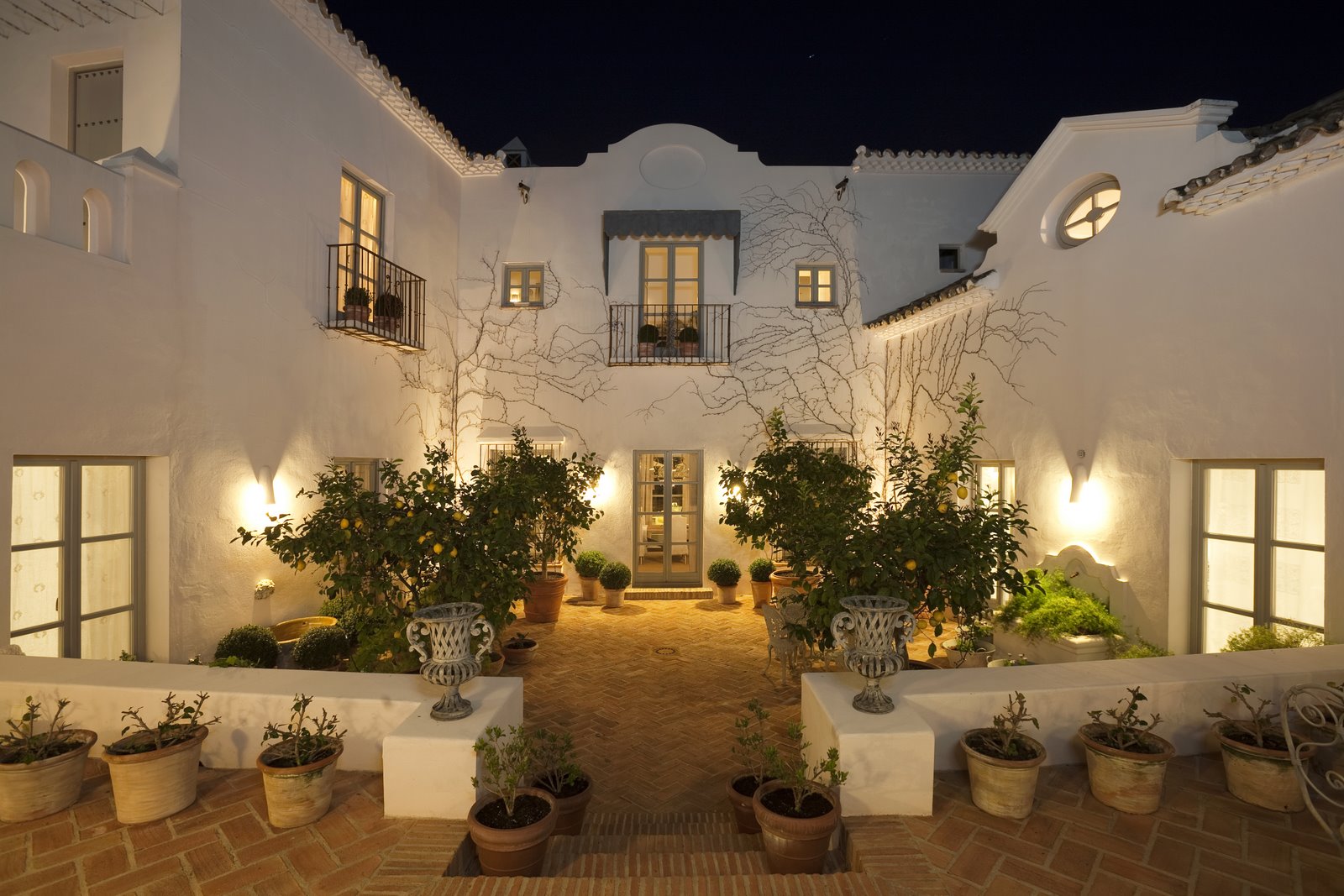 Blending past and present
Walk through an old country home in the Andalusian countryside and you will feel the cool air coming off the white plaster walls and solid terracotta floors, whose handmade tiles are rustically uneven. Wooden beams add a further touch of solidity, while drawn curtains and heavy country furniture and tapestries bestow a sense of solemnity. Country kitchens are charmingly old-fashioned affairs dominated by hand-glazed tiles, copper pots, large ovens and solid wood.
Though this is the real thing, a home of the landed gentry, modern homeowners can be forgiven for wanting to capture the charm of a country home whilst adding a more modern sense of elegance, refinement and comfort. The latter means the addition of modern facilities such as climate control, flat screen televisions, domotic systems, modern lighting and kitchens and bathrooms that blend a stately elegance in styling with the latest appliances.
Why indeed wouldn't you want to bring the best of both worlds together, using solid wooden doors and beams painted in fresh light colours or treated to look distressed in a way that opens the door to a décor that uses antique furniture, fine fabrics and natural materials in a sophisticated and uncluttered manner? Kitchens, bathrooms, studies and living areas that combine modern luxuries with stylishly appointed classical décor make the most of a home that is solid, spacious and imposing.
Crisp, minimalist modern homes look great on the pages of glossy magazines, but it's hard to beat the homeliness and comfort of a country-style classic, where form and function are optimally balanced, and the purpose of the house as a home is very well served. What's more, stately homes of this kind offer a plethora of potential decorative details ranging from cornices and archways to grand fireplaces and even gargoyles. The palette is extensive, and though good taste always falls short of over-decoration a home inspired by the stately country house is just the kind of property for a grand study, a library or even stables – and the perfect home in which to feel lord and master of your domain.