La Quinta is a popular setting for residential living or vacations in a country club environment. Tucked into the gentle folds and undulations of a valley it is just a short drive from Marbella and the town of San Pedro, yet already has a bit of a country feeling about it.

The area enjoys a mild microclimate and lovely views towards Gibraltar, in a south-westerly direction, which is incidentally the best orientation for sun-lovers too. A rather exclusive residential area, it is made up of private villas, high-spec apartments and some of the best townhouses in the Marbella area.
Golf
Many of these homes overlook the beautifully verdant fairways of the La Quinta Golf Club, which meanders and snakes across the valley floor like a green carpet flanked by tall trees and indented with small lakes. If it sounds rather idyllic that's because this is a particularly pretty golf course, a fact that is aided by its established vegetation.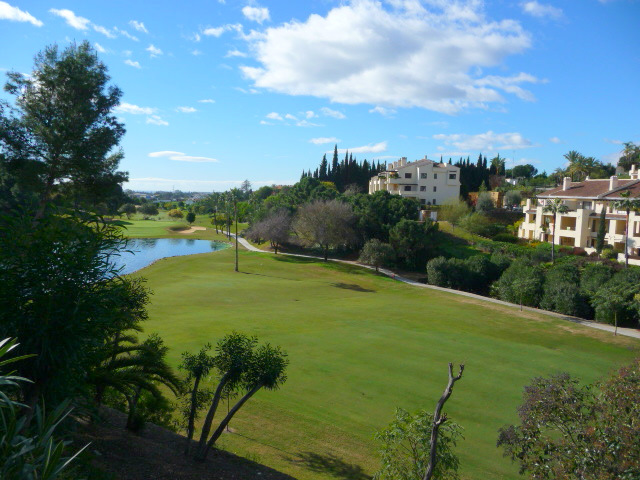 Where the course is the visual focal point, the golf club forms the social hub of La Quinta. Designed in the style of a classic Spanish finca, or country home, it provides a very stylish setting not just for golf but also as a meeting place for local residents. With a recently reworked 27-hole course that plays host to national and international competitions, a driving range, pro shop, specialised practice areas, the internationally renowned La Quinta Golf Academy and all attendant services, the main focus is naturally on the gentleman's game, but the clubhouse also offers a refined bar and lounge area, a good quality restaurant and a rather panoramic terrace area. A popular place to meet socially or for business, it also offers a Wifi zone.
Spa resort
Another gathering point that adds to the quality of life on your doorstep is the five-star Hotel Meliá La Quinta Golf & Spa Resort. Self-contained, but within walking distance from the golf & country club, it's refined styling is in keeping with the elegant finca theme and embodies a fully equipped and highly regarded spa with a wide range of health and beauty services, luxurious lawns with swimming pools, terraces and outdoor waiter service that is also popular for receptions and launches, and a Kids Club where professionally trained staff looked after children and provide a long list of children's activities.
The rooms and suites are beautifully decorated, as are the meeting areas and the three restaurants. These include the La Quinta Restaurant itself, but also the romantically styled Restaurant Los Arcos, which features Mediterranean cuisine, and the Japanese Kaede Restaurant. The latter has become a reference for Japanese cuisine in the entire region. In addition, there is also a gourmet delicatessen called Gourmet La Quinta, which is particularly handy for residents.
Living
With such a list of facilities on their doorstep, including paddle tennis courts and three 9-hole courses designed by Manuel Piñero that regularly host championship events, La Quinta offers an elegant yet lively environment that is surrounded by nature yet close to the beaches, shops and nightlife of Marbella. Though La Quinta is mostly surrounded by other leafy residential areas, it also borders on open tracts of nature that make it possible to walk, hike and ride through wooded countryside. Surely this explains why it has been one of the most popular areas to live for over 20 years now.