Many of the foreign residents and regulars on the Costa del Sol who have never or rarely visited Malaga do themselves a great disfavour, for this vibrant city is simply getting better all the time.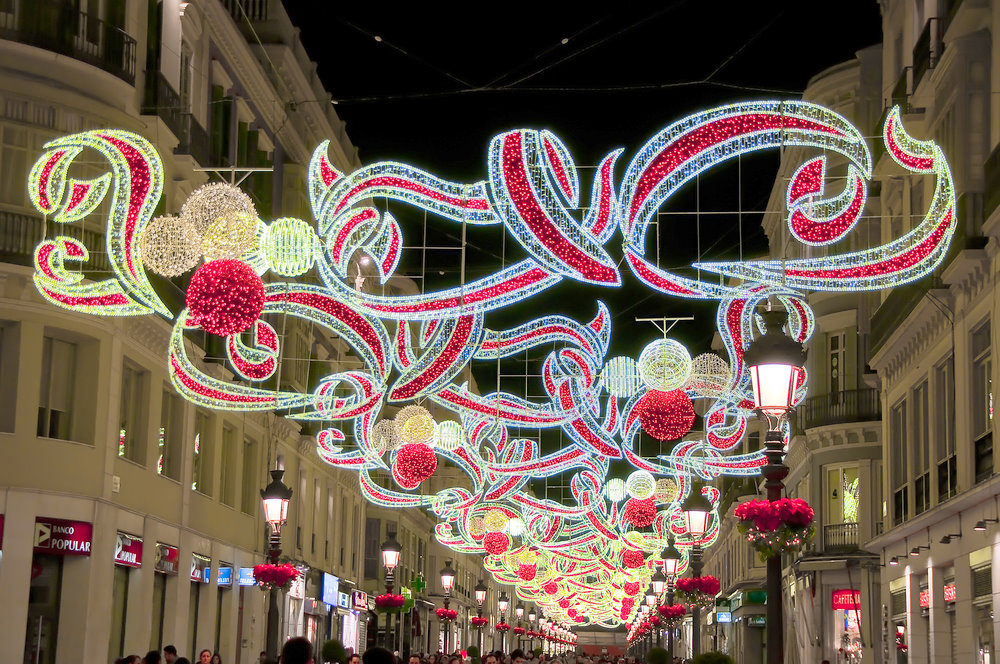 The original centre of tourism in southern Andalucía in the years before the Costa del Sol was born, Malaga captures the true essence of a Mediterranean city. This is especially true in summer, but you would be very wrong to think that the ancient port has nothing to offer during the autumnal Andalusian winter.
So off we set to see the city's famed Christmas lights for ourselves, picturing the impressive long Alameda Principal covered in a festive glow. The actual spectacle, as we emerged from the undergound car park just as dusk set in, surpassed our expectations. Malaga deserves a national reputation for its Christmas lighting, for the brightly coloured decorations did indeed stretch all along the Alameda – and off along the various streets and pedestrian areas in the shape of a sparkling star.
The elevated view from the cruise ships docked in the harbour must be quite something, but it's truly memorable from ground level as well, offering a dazzling perspective of colour all along the length of palm-lined boulevards and shopping streets. Look left and you see golden lights disappearing into the distance; look right, and its red and blue that frames the view towards the large roundabout near the bullring. Up ahead, elegant lavender and white lights up the Calle Marques de Larios, one of the prettiest and most stylish shopping streets in Andalucía. In between is a giant Belen, or nativity scene, made of plants and flowers.
The Malaga vibe
It may not be snowing, but the happy bustle all around you puts you in the festive mood all the same. Shoppers mix with commuters and those simply out to meet friends in bars and cafés, in that typically Spanish way. Working our way through the busy pavements we headed along the western side of the Alameda towards a rather unique venue. Like most Spanish cities and towns, Malaga has no shortage of quaint and trendy cafés and tapas bars, but the Antigua Casa de Guardia is a little more authentic than most.
Founded over a century-and-a-half ago, it has remained largely unchanged ever since, becoming a cherished icon of the city. Step inside and you immediately get a sense of what the past looked like, with all the old stone tiling, wall detailing and woodwork still intact. The bar is somehow lower than what we're used to today, with a slate top on which the barmen records your tab and works out your bill – which is very reasonable by the way.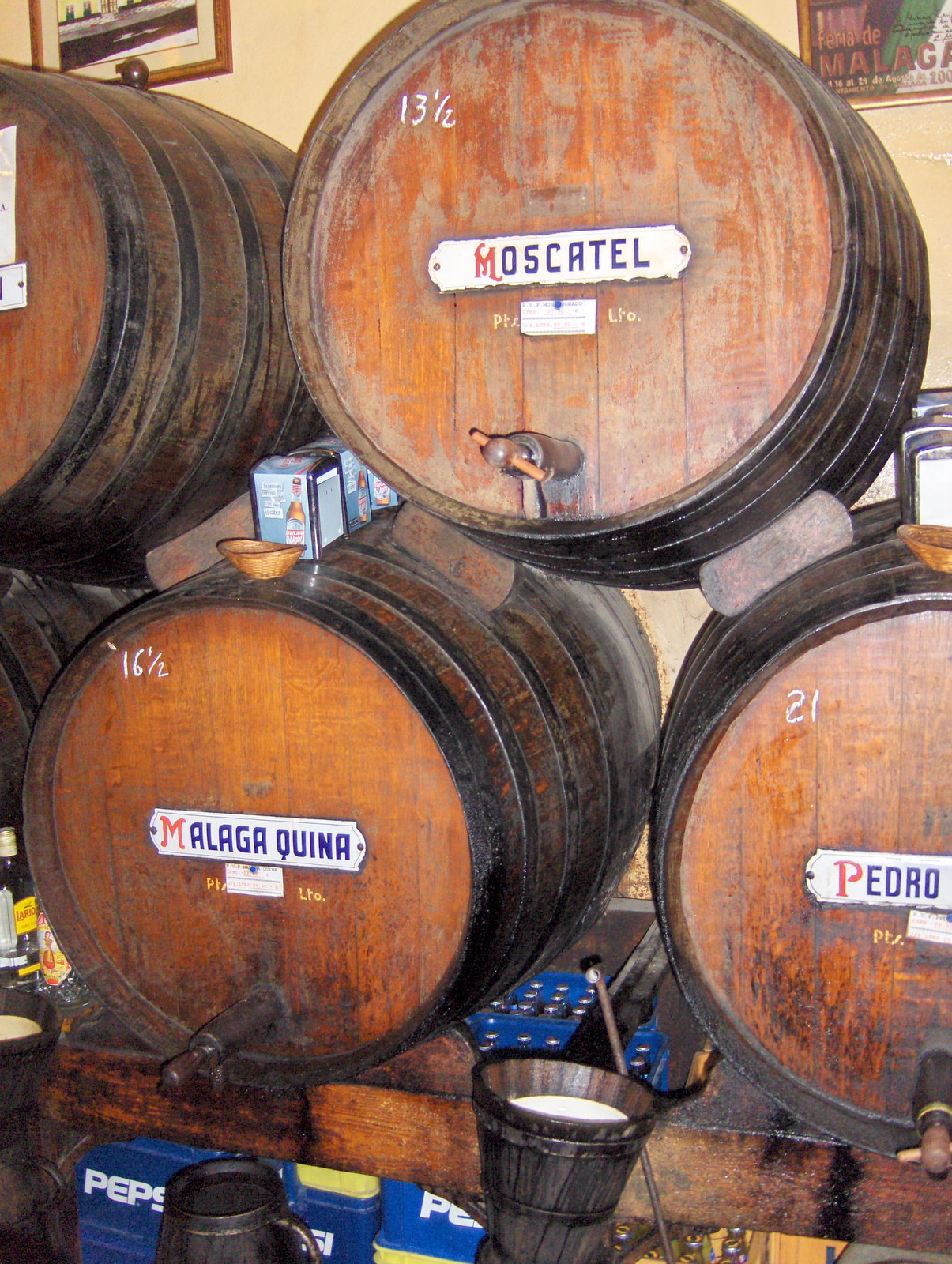 Popular with tourists but still predominantly frequented by locals, the Casa de Guardia is a unique spot in a world of passing décor trends and shopfitting fads. The air is thick with an authentic ambience, but in true Malagueño style there isn't a reverent hush but rather a lively hum. Don't expect a drinks rack behind the bar – here you choose your tipple from a wide selection of local Malaga Dulce wines, each contained within one of the large barrels stacked upon one-another against the wall. One of the most charming features is the old clerk's office, a wooden structure a little like an old railway station ticket booth.
Following your nose
Suitably warmed, you venture out into the streets behind the Alameda, where the moving life of the city plays before your eyes again. Here, trendy and authentic old shops coexist in an attractive harmony that adds heart and charm to Malaga's old centre. You could really follow your nose in any direction and enjoy the scenery and the atmosphere before you stumble upon an inviting tapas bar or restaurant, but we crossed the elegant Calle Marques de Larios and headed in the general direction of the cathedral en route to another of the city's classic venues: El Pimpi.
Just an entrance in one of the many charming streets in Malaga's historic centre, El Pimpi leads you by way of a courtyard into a lively bar in classic Andalusian style to a choice of several dining rooms. I say dining rooms, but they have the atmosphere of a tapas bar, not so much a restaurant. As a much-loved classic, El Pimpi is popular and therefore tends to be busy, so you count yourself lucky to settle around a table and be able to take in the décor and atmosphere as you pick from the menu. Authentic and true to its origins, El Pimpi sticks to classic Andalusian snacks and tapas, with a special focus on fish and seafood.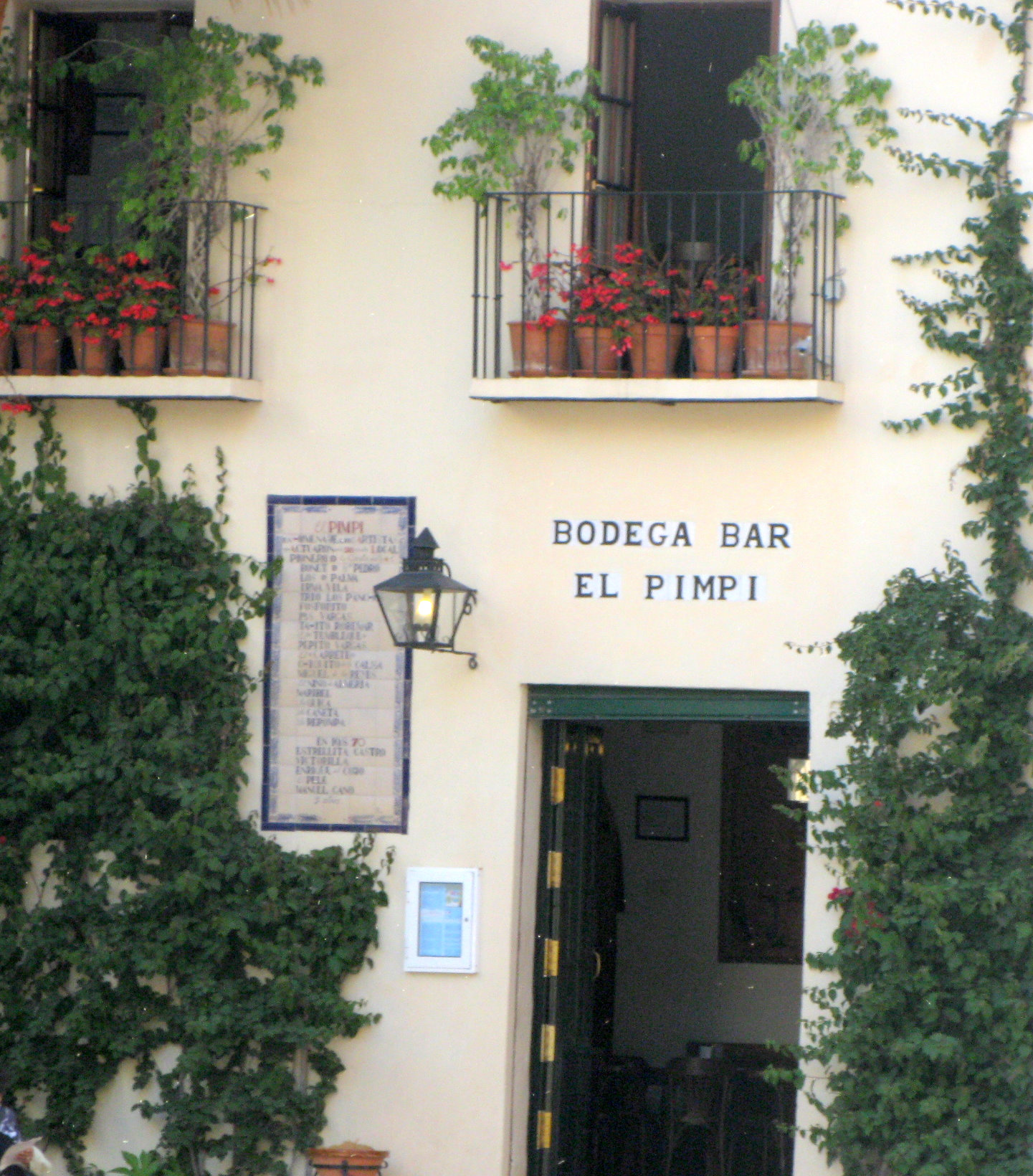 Accompanied by a glass of fino, wine or beer they are a delight, for El Pimpi does what it does very well. The waiters, likewise, are friendly and efficient, and the waitresses even dressed in traditional Andalusian gear. The authenticity of the place ensures it never feels like a tourist trap, something that is underpinned by its popularity among locals. They aren't alone, as a glance at the signed pictures on the wall at the bar attests to. Scanning among the many Spanish celebrities and members of the country's high society you will also find international actors, authors and politicians, among them Tony Blair.
If you have more time available, Malaga offers so much more to explore and experience, but an evening trip is pleasantly rounded off with a stroll past the tastefully lit grand cathedral, whose imposing scale and architecture remind shoppers and revellers of the true origins and meaning of this festivity that is often overshadowed by its more commercial interpretation. By now the commuters have been entirely replaced with shoppers and those out on the town, creating an atmosphere that is festive and lively yet never intimidating as you wander past packed cafés and restaurants. The weather was so clement that many sat outside – a style of Christmas unique to this corner of Europe.
Malaga's lights are kept up until after Reyes on 6th January.