Spain is experiencing another record-breaking year for tourism in a development that can only be good news for the property market.
Latest figures from the National Statistics Institute (INE) show that the number of overnight stays recorded across the country during April was a record breaking 23.4 million. While this represented a rise of 1.3% on the same month in 2015, the fact that the busy Easter period this year fell in March makes the figure even more impressive. As far as foreign visitors were concerned the numbers are quite spectacular—there was an 11.5% rise in non-Spanish guests during the month to reach 3.95 million. It is further confirmation that forecasts from a variety of sources of unprecedented levels of bookings this year look to be on target.
In Marbella, 80% of the five-star resorts and hotels reported full occupancy over the Easter weekend, and summer bookings, particularly from the UK and Scandinavian countries, are at record levels according to the ABTA travel agents association. Spanish tourism organisation Frontur is predicting an overall 11% rise in overnight stays by overseas visitors throughout 2016—making it the third record breaking year in a row.
Such positive news on the travel front is highly significant to the real estate sector in Marbella and Spain as a whole—a recent report from Spanish property portal Kyero has shown a strong link between levels of tourism and house sales.
Using official sources Frontur, INE.es and Fomento.gob.es, Kyero came up with this chart that displays the correlation between visitor figures and property sales to foreigners.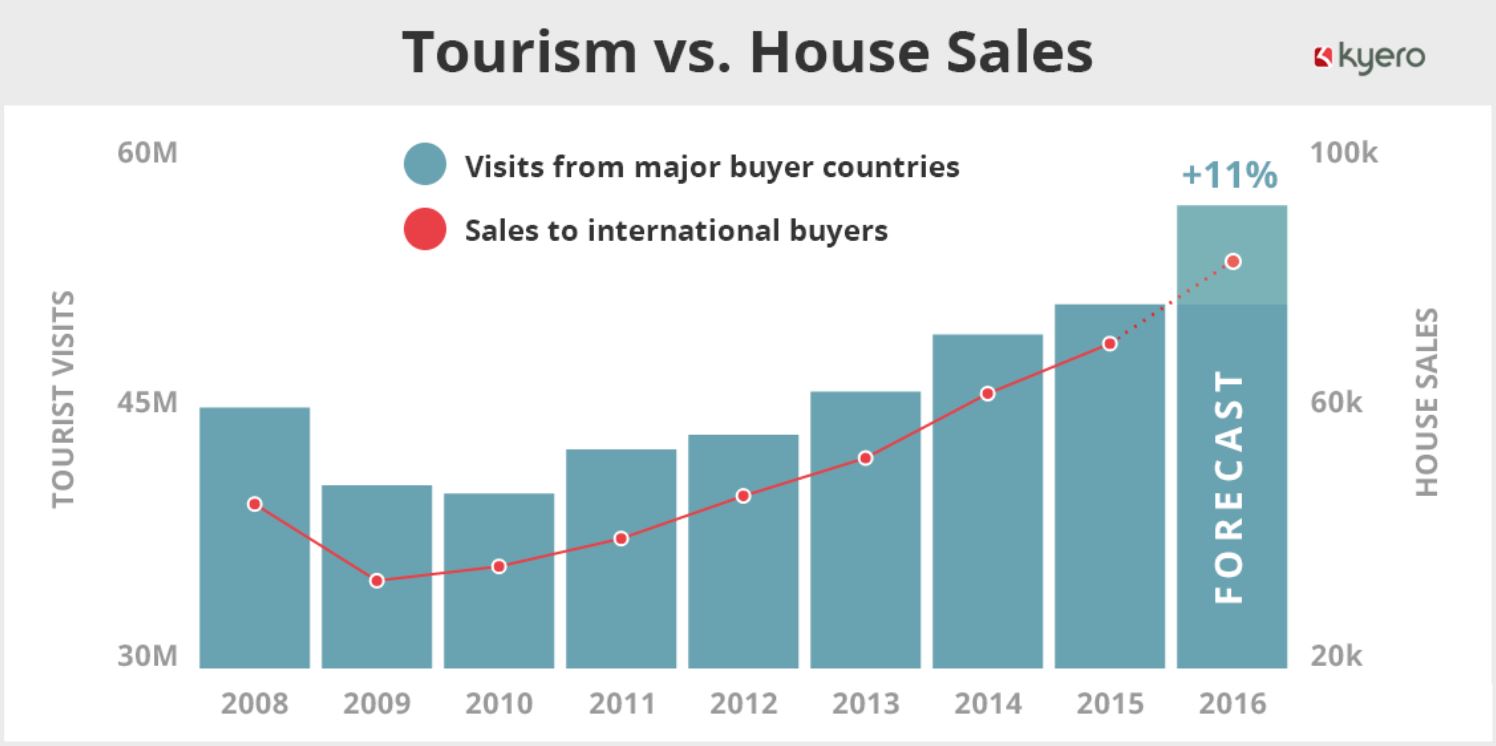 Source: Kyero
The Buyer Countries referred to in the illustration are the UK, Germany, France and the Nordic nations, who dominate the property market when it comes to sales to overseas residents—and are also the major players when it comes to international tourism to Spain. The record-breaking levels of visitors from abroad over the past few years helps explain why property sales to overseas clients rose by 60% nationally during 2015, according to the Council of Notaries. In Andalucía about a quarter of all properties were bought by foreign nationals last year—the vast majority of those in coastal resorts such as Marbella.
Improving economies in the UK and the Nordic countries in particular, as well as a relatively weak Euro have contributed to make Spanish property even more affordable, while the ever increasing number of tourists help put real estate in resorts such as Marbella 'in the shop window'.
DM Properties has noticed an upsurge in both property sales and vacation rentals in Marbella, showing that there is indeed a close correlation between the two sectors. Should you wish to buy or rent a property in the resort town, please contact us for a consultation—we are sure we will be able to help you.