Located within a quiet cul de sac in Sierra Blanca, this property offers the perfect luxury Marbella villa for those who like their home to be comfortable, welcoming, cosy and rich in ambience.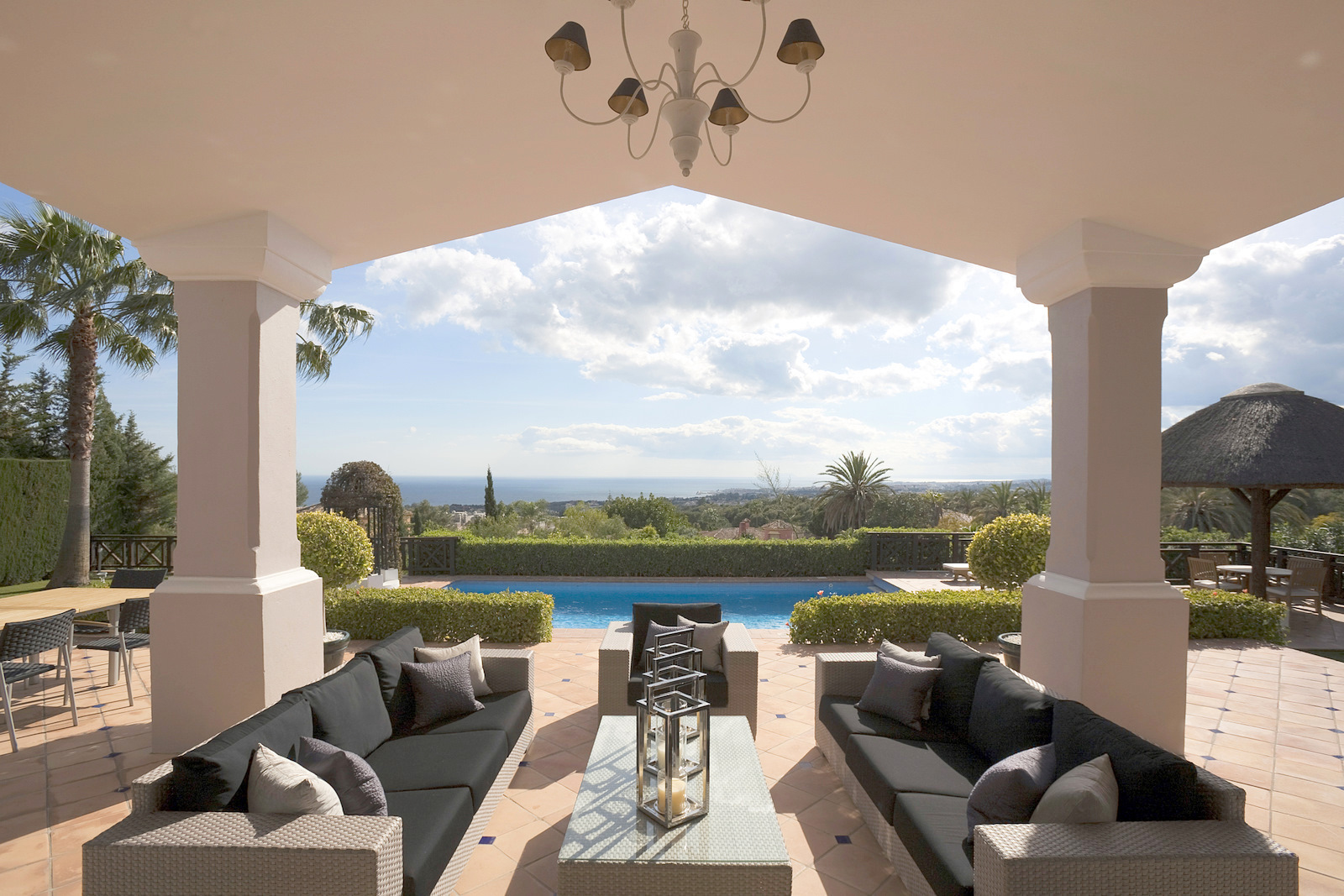 The automatic gate opens up to a peaceful private corner of Sierra Blanca, one of the most exclusive residential areas of Marbella. The beautifully maintained villa surrounded by a lush, manicured garden reveals a contemporary Provençal-inspired architectural style whose porte cochere adds to the sense of arrival as you step into this elegant home.
If ever a property proved that a home is not just about the number of rooms, the materials used, a tick-list of features and other types of inventory, it is this Sierra Blanca villa. Indeed, a home can be perfect on paper yet fail to win you over just as it can enchant you the minute you walk through the door.
Inside, this property has this effect, no doubt thanks to dimensions that are well-proportioned and make you feel at home, along with a symmetrical layout that is pleasing to the eye and avoids unnecessary corridors and other forms of so-called dead space – a sign of good architectural planning.
In fact, this is a property that makes excellent use of space in both aesthetic and practical terms to create an interior layout that is very pleasant and feels natural. From the front door you look beyond the living room, terrace and pool to a Mediterranean panorama, but in this home it is done with a sense of proportion that makes it all the more private and special.
A home that invites you in
Good distribution means you take two steps down into a stylish but cosy living room with fireplace that is connection to a covered terrace and flanked on the one side by an extension to the salon that can also be used as a TV room, a reading room or a study, while its counterpart is the formal dining room that links to a delightful contemporary kitchen.
The latter has beautiful wooden floors, rich ambient lighting, a breakfast bar and an outdoor dining area bordering a state-of-the-art Boretti BBQ kitchen. Once again the proportions are just right, and once again this is a room you would be happy to spend time in. Also on this floor are two charming bedroom suites full of light and garden views.
The top floor of the villa is entirely taken up by a luxurious master bedroom suite with terrace whose main focus is not surprisingly upon the magnificent sea views across the coastal area. The bedroom is flanked by elegant his and hers dressing rooms and the main bathroom is a private delight and a very personal retreat.
Built on three levels, the lower level of this Sierra Blanca villa is every bit as delightful and welcoming as the rest of the house, and really doesn't feel like a basement floor. This is partly because of the fact that it enjoys natural light and is linked via a lovely little terrace to the garden, but is also down to the charming layout and styling.
The two guest suites that connect with the terrace are therefore as charming as those found on the other floors, while the TV room/home cinema/entertainment room is ambient, cosy and very inviting – as well as conveniently linked to the home's bodega, where a good supply of fine wines is never far away when you most need it.
Its a lovely space and a lovely villa in which to entertain and call home. This applies to the interior living spaces as it does to the well-proportioned garden, which is once again neither too small nor too expansive. Enjoy the stunning view from the covered terrace, the pool deck and the gazebo in a home that you just want to live in.
Should you wish to know more about this property or other villas for sale in Sierra Blanca or other parts of Marbella, please contact Diana Morales Properties │ Knight Frank, the luxury real estate specialists since 1989.