There is no shortage of large, luxurious and impressive homes in Marbella with a long list of amenities and tick-list items, but every now and again you come across a property that truly stands out for its charm, character, ambience and yes, pedigree.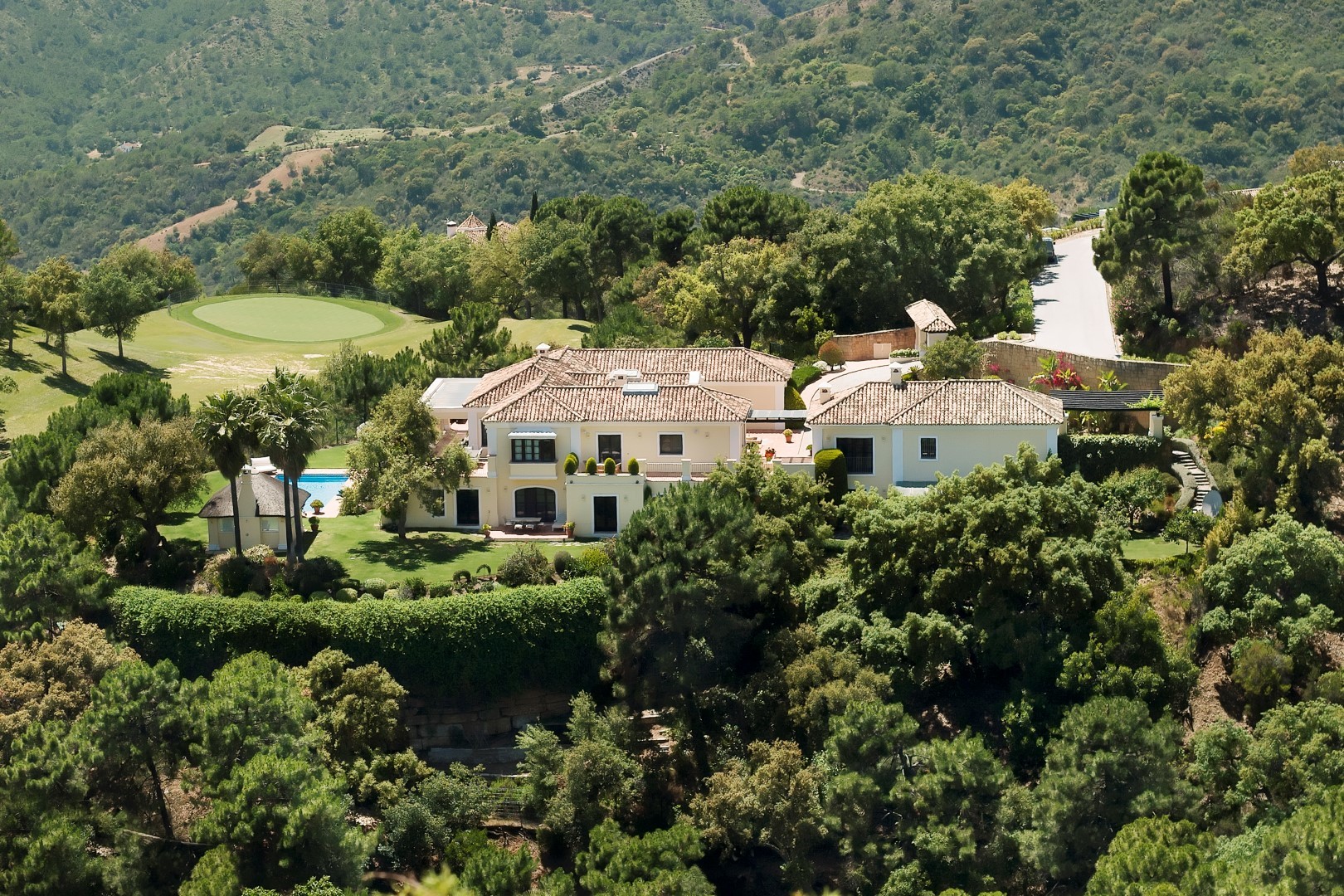 This beautiful villa in La Zagaleta is a fine example. Situated just a short distance from the top entrance to the elite gated community, it is easier to reach than most homes in Zagaleta yet is every bit as private and secluded as the most remote estates here.
A very peaceful, almost private road reveals the villa discreetly nestled between lush greenery, with an elegant driveway that sweeps down a gently gradient to a pretty forecourt that sets the tone for the rest of the home.
Here, amid stylishly landscaped greenery with tasteful water features you will spot a multi-car garage in the classic style of a stable house, complete with a very well appointed suite with main room, modern kitchenette and attractive marble bathroom that is currently used as an office but could also function as an attractive independent guest room, staff room, gym, children's playroom, nursery or studio.
To enter the main house you have the choice of the stylish main entrance, which leads past a pretty fountain to the hallway, or a side entrance to the kitchen via a room that may be a pantry but in reality is as well finished as the rest of the home. In fact, every part of the villa is of the highest standards.
A luxurious home made for enjoying
Many villas in Marbella are designed primarily to impress, often at the expense of true comfort and homeliness, but this villa does it the other way round as it was first and foremost conceived as a much-loved, welcoming home whose warm ambience, style and luxury not only make you want to spend time in it, but certainly impress as well.
The main living area on the ground floor level you enter consists of a spacious living room that exemplifies the above. It is connected to a formal dining room and one of the most appealing modern country kitchens you will come across. The owners, whose good taste and love for this home are palpable, used the leading Feng Shui master to provide the right balance and harmony to their home, and it works, above all in the wonderful kitchen that also features a large dining table.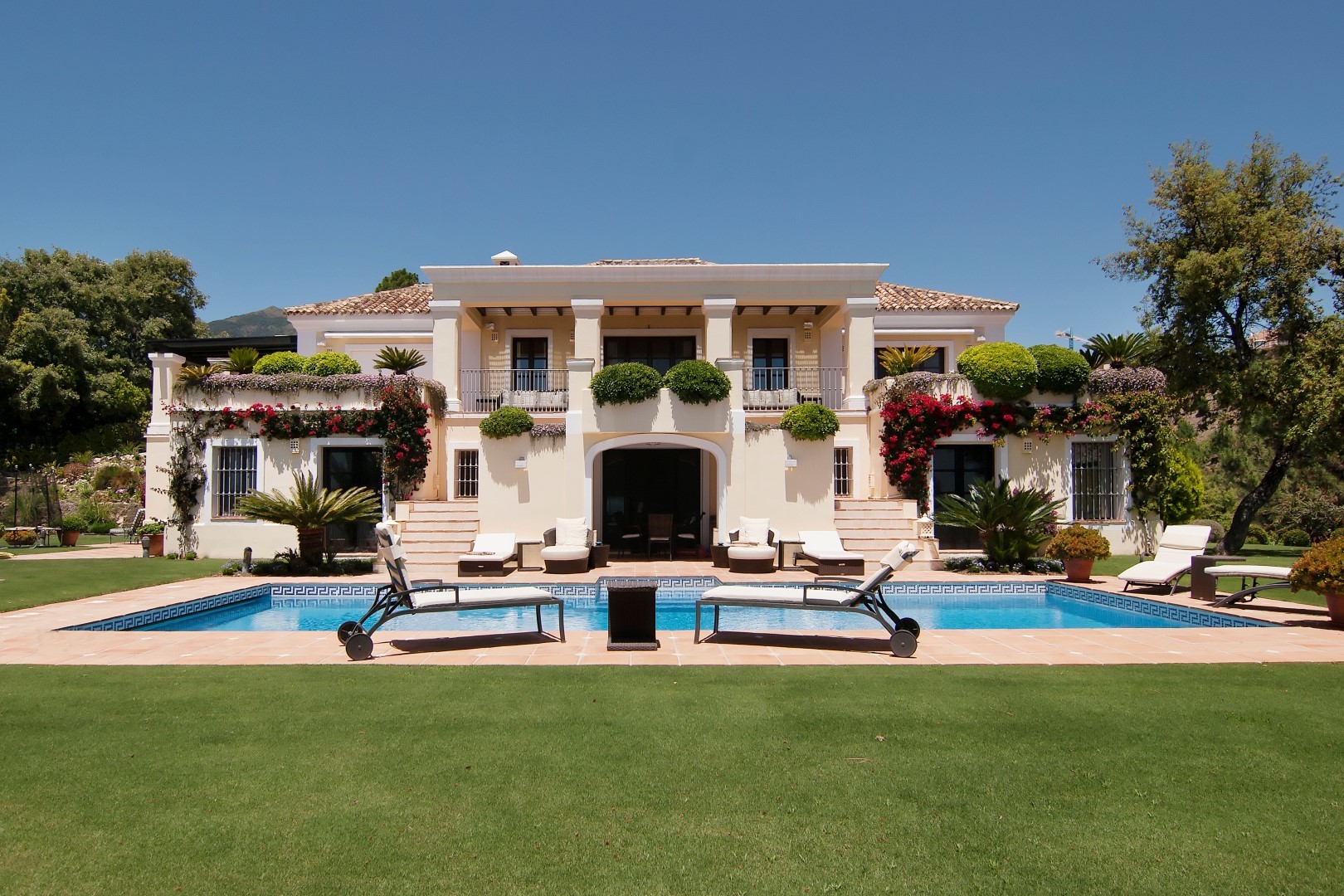 Every room in the house enjoys not just natural light but also beautiful and rather varied views, as the villa takes in 360-degree views of mountain scenery, the La Zagaleta golf course, the Mediterranean Sea and lovely aspects of the immaculate, verdant garden. Most also have a private terrace, making it possible to enjoy an al fresco breakfast off the kitchen, or to lounge outside your bedroom.
This level of the home contains a wing with two very private bedroom suites, including the master bedroom with dressing room and luxurious bathroom, as well as a secondary suite. Both have terraces that are very private and offer wonderful views of the surrounding greenery without being themselves overlooked.
Villa with two 'ground floors'
The living and dining rooms open up to a spacious covered terrace with outdoor dining and lounge areas, with stairs that wind down gently towards a pool deck flanked by beautifully laid out lawns. The soft undulation of the plot makes for a very pleasant flow to a home that does not feature the more customary upper and basement levels, but appears to have two ground floors. The result is a more attractive living environment rich in natural light, lovely views and the ability to step out onto a terrace and into the garden.
This very clever use of the plot's topography also makes the property more interconnected in a way that is highly convenient and stylish at the same time. This lower level also interacts with the garden, ensuring that the heated outdoor swimming pool, terrace and covered outdoor kitchen and dining room 'chiringuito' are within easy reach of the three spacious and well appointed bedroom suites with travertine marble that are to be found on this level.
The same applies to the stylish entertainment room made up of a professional bar, a billiards area and a very comfortable TV room with professional cinema equipment. Bordering this area are a gym and a spa area with sauna, showers, treatment room and beauty salon – all of which look out over the garden.
Add a wine cellar, a cloakroom, a laundry and lots of closet and storage space, and it makes for a very well rounded villa in which refinement, amenities, comfort and the welcoming ambience of a real home come together. The garage 'stables' feature a further independent guest or staff apartment in a La Zagaleta villa that is best described as an impressive, stylish home made to be lived in and enjoyed.
Update: This property is longer available. Please contact if you wish to receive further information on villas for sale in La Zagaleta Golf & Country Club.