Tucked into the folds of hills rising to the foot of the Serranía de Ronda Mountain Range, Los Almendros is a small and exclusive residential area made up of private villas and luxurious apartment complexes.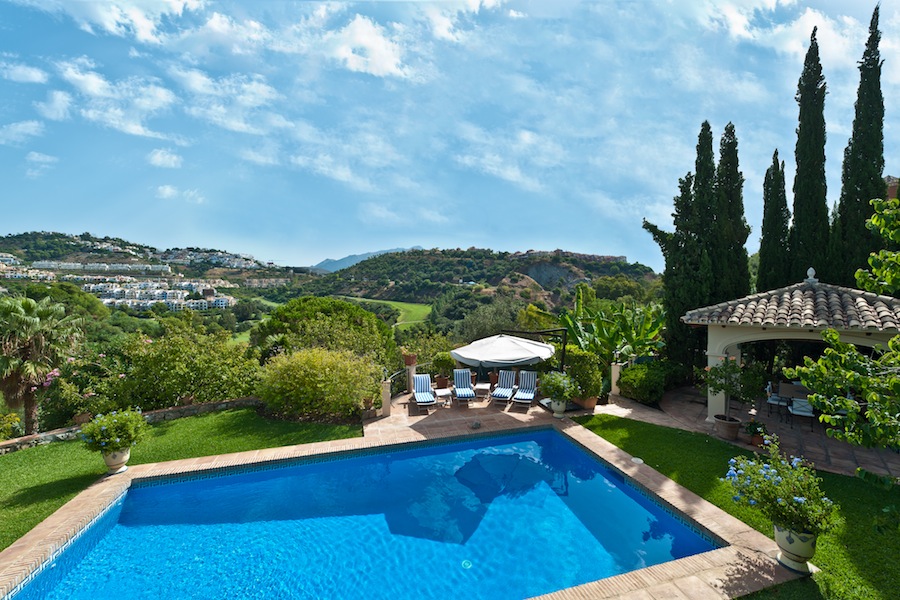 Somewhat overshadowed by its larger and better known neighbours, such as Los Arqueros, El Madroñal, La Zagaleta and La Heredia, Los Almendros enjoys many of the same characteristics and views, yet with a greater degree of privacy. It is the sort of area that has everything close at hand, including golf courses, tennis clubs, spas, schools, shops and the compact town of San Pedro Alcántara on its doorstep, yet suffers no transit traffic on its peaceful roads.
With the beaches of Marbella and Puerto Banús ten minutes distant and a natural area full of hiking trails extending inland from here, Los Almendros is in many ways one of the best-kept secrets of the Costa del Sol. Its private roads are leafy, following the folds of a hillside to the crest of another, amid views that span across San Pedro and the surrounding golf courses and residential areas to the sea, all the way to the African shoreline.
The villas in Los Almendros typically occupy large private plots, often with spectacular views, yet the low-rise apartment complexes that lay interspersed between them enjoy an even better vantage point from their panoramic pool decks and communal gardens. Among them are luxurious developments such as Cumbres de los Almendros, whose undulating terracotta architecture reveals hints of Ouarzazate in Morocco set against rich tropical foliage. Inside, the properties are modern and opulent, a favoured spot among especially Northern Europeans to come and live or vacation.