The inaugural edition of the DOM3 magazine has just been launched amid highly favourable reviews. As the annual publication of an organisation whose very raison d'être is promoting the highest standards of professionalism in all fields related to luxury properties on the Costa del Sol – especially in Marbella, Estepona and Benahavis – the magazine reflects this philosophy in its design, content and editorial quality.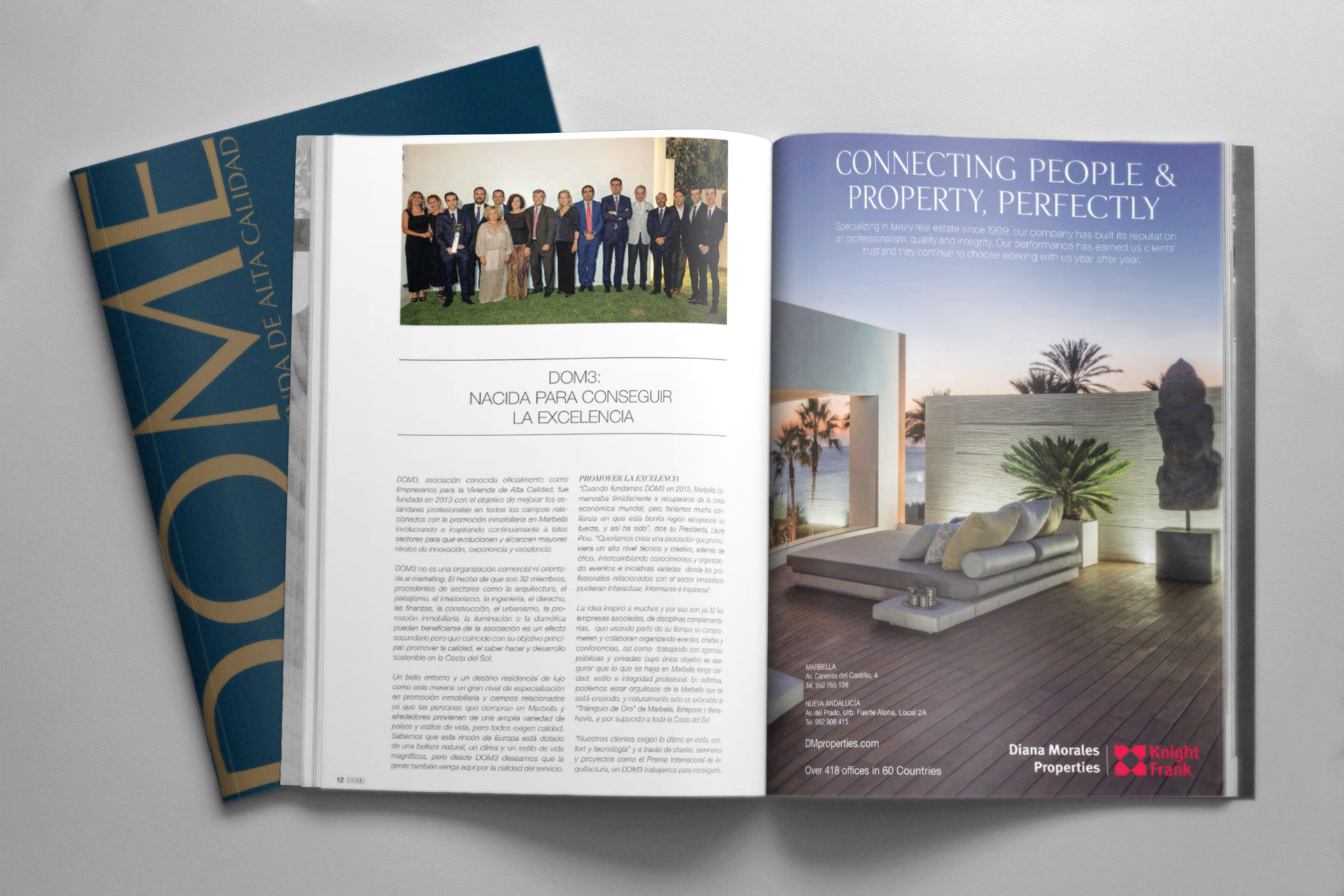 DOM3 is a prestigious collective of leading architects, interior designers, real estate agencies, property developers, construction firms and other specialists in and around Marbella. Other professional fields covered within its membership are landscape architecture, lighting, home automation, engineering, project management and many more.
The DOM3 mission
The members of DOM3 – to which Diana Morales Properties|Knight Frank belongs – have come together to promote the very highest standards of quality, know-how, expertise, professionalism, creativity, innovation and integrity in this region, driven by the desire to ensure that Marbella and its environment are the very best they can be to become a world-leader in high-end residential tourism. "Marbella is a five-star brand and it is our mission to nurture and build upon the characteristics that make it so," says Pia Arrieta Morales, director of DM Properties.
Part of the aim is also to showcase the classic virtues of Marbella, Benahavis and Estepona while bringing them fully into the 21st century, so technological innovation and creativity are high up on the agenda of the organisation whose bi-annual International Architectural Award "DOM3 Prize" is the ultimate reference in architectural excellence in the region.
The DOM3 website plays a central role in communicating the organisation's initiatives, as do the regular conferences, seminars and other events. The newly launched bilingual magazine is another important element in this process.
At Diana Morales Properties|Knight Frank we're proud of our association with DOM3 and look forward to many more publications to come. If you would like to receive a printed copy of the DOME magazine, please contact us.