A little to the west of Marbella, in fact just north-west of the small town of San Pedro de Alcántara, lies a valley dominated by the Marbella Club Golf Resort. Verdant and peaceful, it occupies a country environment just off the road that connects the coastal thoroughfare with the pretty mountain village of Benahavís.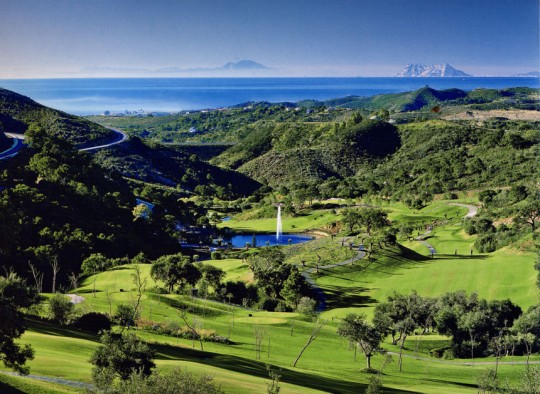 Although no more than five kilometres from the sea, this is a private world where tranquillity reigns in a setting where bright green fairways are encapsulated by forested hills. A break in the range allows for impressive views to the sea, merging blues and greens dotted with the whites and tans of luxurious villas.
Developed and operated by the same people who own the legendary Marbella Club Hotel, the Marbella Club Golf resort is focused upon a superb 18-hole golf course favoured especially by experienced golfers. Grand villas on large private tracts either border the course or look down upon it from one of the many little hillocks that also offer stunning views all the way to Gibraltar.
At the heart of the community is the pretty little clubhouse, whose outdoor terrace area enjoys an inspiring outlook over the course, the hills and an attractive manmade lake. Well facilitated, the golf club features a whole range of services, including a bar, dining and lounge area, pro shop and caddying and coaching facilities.
Another stylish facility that makes the most of the country club's wonderful location is its riding centre, whose stables and supporting facilities rank among the very finest in this part of Andalucía. Residents can either keep their own horses here or use the centre's fine animals to go out on relaxing rides through the countryside.
Founded in the 1990s, the country club borders the Monte Mayor Country Club, and has the distinction of offering a very rustic setting within minutes of Marbella, Puerto Banús, San Pedro Alcántara and Estepona. The villas are set on large plots in keeping with the country feel of the setting yet maintain the high standards of design, elegance and luxury typical of Marbella.
Varying between contemporary Andalusian country styles and very modern architecture, these grand homes also benefit from the connection to the Marbella Club Hotel, which entails special privileges and services for residents at the hotel's restaurants, nightclub, beach club and spa and Thalasso centre on Marbella's Golden Mile. By extension, this is one of the best addresses in town, blending rustic peace with all the trappings of a Marbella setting.