RELO® has announced that its national and global real estate network has a new identity: Leading Real Estate Companies of the World.
Formerly known as the RELO® network, the organization encompasses 650 of the foremost local and regional brands in residential real estate, with 4,700 offices and 120,000 sales associates in the U.S. and 24 other countries. Collectively, these firms sell 1.4 million homes annually valued at $380 billion, more than any national brand or franchise. Leading Real Estate Companies of the World has launched its new identity to better reflect its dominance as a real estate organization rather than one focused only on relocation.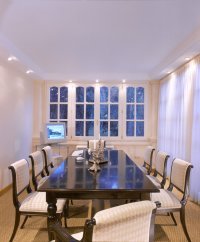 Leading Real Estate Companies of the World traces its beginnings to theformation of the RELO® network in 1963 and has continually been recognized as a leader among broker networks. In 1998, it underwent an ownership change that rapidly accelerated its growth by making it the home of all of the best independent real estate firms and giving consumers multiple choices in most markets.
"Our network is known for high standards, and our home sales records reflect that," says Leading Real Estate Companies of the World President/CEO Pam O'Connor. "We consistently outperform all of the national franchise brand networks in terms of total home sale units and volume. Consumers typically prefer to visit a fine local dining establishment for a special anniversary, or a unique high-end hotel for a special vacation rather than the cookie-cutter national chains. Likewise, when buying what is usually their largest asset – their home – consumers often gravitate toward that strong local real estate brand, where one can talk to the owner broker if necessary. Our affiliates are household names across the country, including six of the top 10 real estate companies in the country."
Leading Real Estate Companies of the World is international in scope, with members in many European countries, South Africa, Mexico, Canada, Australia, New Zealand, Bermuda, and the Caribbean. Its first International Symposium is scheduled for June of 2006 in Dublin, Ireland.
The long-established, trademarked RELO® name will continue to be used for the sister relocation company of the network, RELO Direct®, Inc., and for RELO® Home Search, the online program linking the IDX sites of affiliate firms to provide access to two million listings across the country.
Leading Real Estate Companies of the World (www.leadingRE.com) is the largest network of independent residential real estate firms, with 650 members representing 4,700 offices and 120,000 associates across the U.S. and in over 20 countries. Leading Real Estate Companies of the WorldÔ members sell over $380 billion in home sales annually, more homes than any national real estate franchise, and also lead the nation in the sale of $1 million-plus homes.
RELO® Home Search (www.relohomesearch.com), with access to 2 million home listings, offers one of the most robust online housing resources available. Pamela O'Connor, CEO and president of Chicago-based Leading Real Estate Companies of the World, is a frequent housing industry speaker and author.