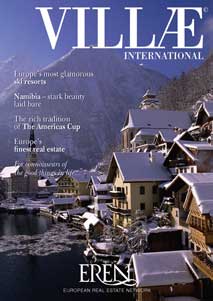 Welcome to the second edition of Villæ International magazine! The theme for this issue is focused on winter and therefore the emphasis shifts a bit from the Mediterranean, highlighted in the first issue, to the Alps.
The main features include a story of the most famous ski resorts in the Alps, house features in Germany and Austria, a rustic property in northern Spain, a small article on a Lazio mansion, a tour through central Europe with the Imperial Express, a luxury train not unlike the Orient Express, and also the Americas Cup, Barcelona designer Jaume Tresserra, and a piece on classical opera houses, etc.
Finally, we bring a bit of southern hemisphere sun with a photo showcase of the dramatic landscapes of Namibia.
The properties featured in this issue represent a small sample of the luxury real estate listed by EREN, the European Real Estate Network, affiliated companies.
For those looking to buy, EREN eases the way via a personal referral to the best choice of hand picked homes and estates in the most beautiful locations. For sellers EREN opens the door to a vast market of potential, qualified, buyers of residential properties within Europe.
Make the best of this opportunity to work with the most qualified and experienced brokers in each individual market.
Enjoy your reading!