The past few years have seen a marked design shift in Marbella, moving from modernised interpretations of classic Spanish country styles enhanced with Asian and Moroccan influences to a clean, white-plastered interpretation of modern architecture that is beginning to have a real Marbella feel about it.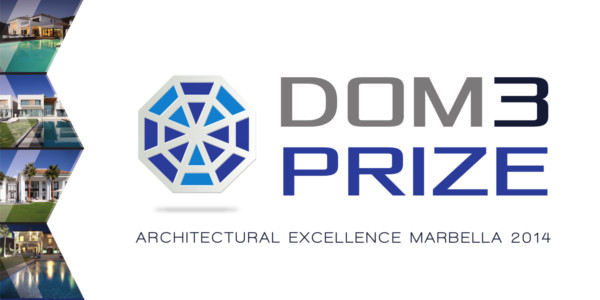 Another facet of this new trend is the inclusion of modern architecture, construction methods and materials, all aimed at optimal comfort, luxury, aesthetic appeal, ease of maintenance and environmental sustainability. We no longer speak of air conditioning and heating but of climate control, which is adaptable for every room in the house.
As an organisation dedicated to setting and promoting the highest standards in all elements relating to real estate on the Costa del Sol – from design and construction to landscaping, interior design, engineering, domotics, marketing and sales – DOM3 is keen to play a role in a new design wave that is reshaping and to some extent redefining Marbella.
With the property market recovering and construction activity set to increase in the near future, the styles and their accompanying technologies will affect not only the urban landscape of Marbella, but also its lifestyle. DOM3 wishes to reward excellence in this field whilst drawing international attention to the fantastic designs being created here.
It is with this in mind that the organisation recently announced the launch of the inaugural DOM3 Prize for architectural excellence Marbella 2014 during a press conference at the Puente Romano Hotel. From one legendary icon of Marbella to the creation of many more, DOM3 in collaboration with La Zagaleta invites architects both local and international to feel inspired by Marbella's location, topography, climate, nature, lifestyle and cosmopolitan population – not to mention such venues as the Puente Romano – to present a design proposal for the construction of a state-of-the-art villa that represents the very best of modern Marbella design.
As an important collaborating partner and official sponsor of this first edition, the exclusive La Zagaleta Country Club Resort will provide a stunning plot with imposing views and setting where the winning entry will take shape. Architects can contact DOM3 for further details and will be able to submit their projects until 30 May 2014 at 6pm.
The designs entered will be judged by a panel of award-winning architects including Salvador Moreno Peralta and Rafael de la Hoz, and the results will be made public on Friday 27 June 2014, to be followed by a gala presentation of the DOM3 Architectural Prize and 40,000 euro prize money in what it is hoped will become a leading annual international competition.
The winner will have the satisfaction of seeing their project realised in one of the most exclusive country clubs that Marbella has to offer. As a founding member of DOM3 and one of the sponsors of the initiative, DM Properties is very proud to be associated with this exciting event aimed at promoting the kind of architecture that not only creates a wonderful home but also serves to embellish its surroundings.
For more information contact the Secretary of the DOM3 Prize: secretaria@dom3.es