Over the years, DM Properties has built up a reputation as one of the most highly respected specialists in luxury real estate in and around Marbella. It is a name that results not from a lot of brash marketing, but earned from a longstanding dedication to service, integrity and specialist know-how of the luxury property market of the Costa del Sol.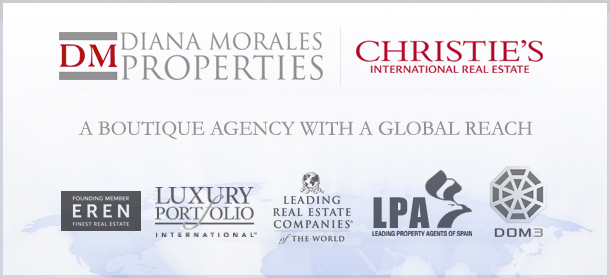 And yet, DM Properties is far more than a Marbella agent alone. We have been associated for many years now with the leading international networks that bring together the most prestigious real estate professionals from around Europe and the world. Our aim is to work not in isolation but forge important international links and collaborations that enable us to help find international clients properties in Marbella as well as sourcing international properties for people based in this area.
In an increasingly global market this is more important than ever, as our clientele has always been highly international but now can come from across western and eastern Europe, Russia, Asia and the Americas. Thanks to our strong international ties DM Properties is a highly international Marbella luxury property specialist capable of reaching far beyond the geographical confines of our specialist area.
Not only are we longstanding affiliates of such organisations as Christie's International Real Estate, Luxury Portfolio International, Leading Real Estate Companies of the World, LPA (Leading Property Agencies of Spain) and DOM3 (the association of businesses for high quality housing in Marbella), but we are in many cases also their official – i.e. the only – representatives in this region.
In addition, DM Properties is a founding member of EREN (The European Real Estate Network), an organisation that brings together regional and national leaders in top segment real estate from across Europe. DM Properties makes these commitments to collaborate with its international peers so that it can offer clients not only the finest properties in Marbella, but also a truly comprehensive selection of luxury properties from around the world, benefitting from international marketing platforms that include websites, promotional events and highly respected luxury real estate publications which in many cases are distributed to personalised mailing lists and at the finest of locations.
The trust and efficient cooperation we enjoy with our overseas partners was not built up overnight; it enables us to provide a truly international service and allows our clients to have full confidence when commissioning us to place their properties on the market or help them find the home they have are searching for.
You can find out more about DM Properties and its unique national and international reach in our websites: www.dmproperties.com and www.dmproperties-int.com.