As the ultimate expression of fiery passions, the tango cannot help but transfix participant and spectator alike. We invite you to share this experience at the Odisea del Tango (Odyssey of Tango) – a sensory voyage through the history of the tango offered by Musica con Encanto and sponsored by DM Properties.
Held on Saturday the 12th July at the Sala María Cristina of the Centro de Divulgación Musical del Mediterráneo in Málaga, the evening starts at 9pm and promises an experience to savour. Tickets are priced at 20 euros. For reservations and more information, please contact +34 689 000 944.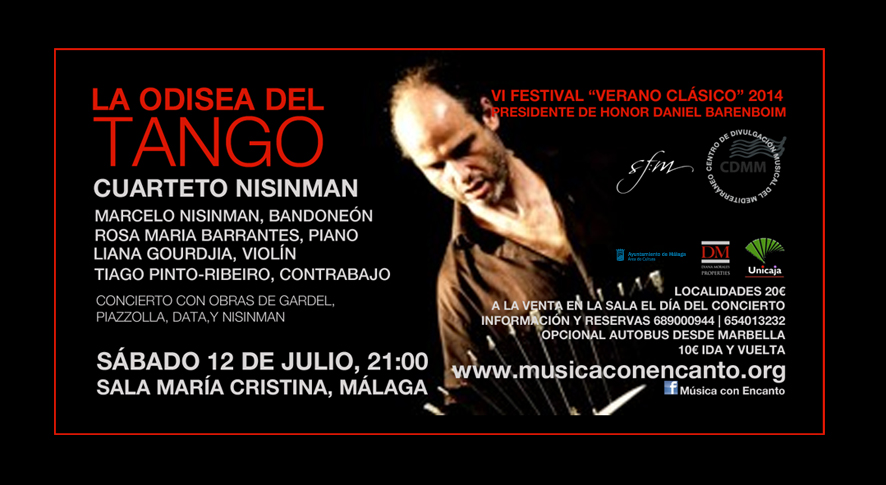 Tango is inextricably linked to Argentina, yet in its influences binds that country to the many cultures that have touched and shaped it. A land of open plains and cattle-rearing Gauchos, Argentina is also very much a nation dominated by its great capital, Buenos Aires. This port city, with its Parisian-style café society and broad avenues, was also marked by the immigrant slums that crowded close to the harbour. It is here that tango evolved out of a mix of European musical styles, the melancholy of port life and a rich South American dance tradition full of African rhythms.
When it began to emerge from amongst a broad range of relatively uncharted dances in the second half of the 19th century, tango was the expression of the sailor, the poor immigrant and those for whom dreams had become tinged with disappointment. Though presented as the rise and fall of love, passion and deceit between a man and a woman, this dance reflects broader societal realities too, thus appealing on two levels. Popular with the working classes of Buenos Aires and Montevideo, the tango also gained favour with those who danced it in fashionable establishments complete with a live band and champagne on tap.
Before long, early in the 20th century, the tango had caught on in Europe too, first becoming the rage in Paris before fanning out across the continent and then back across the Atlantic to the USA. Since then, its popularity has followed the ebb and flow of fashion and politics, yet most recently there has been a grand revival that has pulsed outwards from its country of origin. Tango is so popular now that it is once again a living, evolving art form capable of mesmerising young and old alike. In it a couple dance close together, but without ability to hide within the niceties of the waltz or foxtrot. Inspired in the taverns of Genoa, Naples and Marseille, the tango is also imbued with the proud stance of Spanish dance – a compelling combination in which passion and emotion are given full reign to lay bare the intensity of romance and human love.