Highlights has proved to be an excellent tool to showcase our properties. In this issue we are proud to offer some exceptional properties which excel for their quality of design.

Since our first edition our aim has been to make Highlights a useful aid to our property buyers and sellers. That's why we have added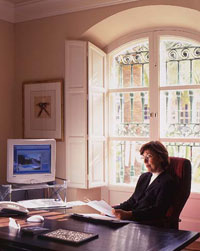 more articles and insights into property which we hope will be of interest to our readers, and will also help them to make the right decision when buying the property of their dreams. Once again we have included articles on valuations, selling tips and the Buyer's Guide because our clients find them useful. We have dedicated the centre pages of our magazine to expressing the opinions of prominent architects who have been established here on the Costa del Sol for many years. There you'll find their views and thoughts on the future of urban residential development in the area. We would have liked to include many more, and hope that in the future we will be able to count on their collaboration.
When talking about the future of urban development we must mention the infrastructure plans announced by the Administration which will take effect within the next several years, and which will contribute immensely to Andalucía's economic growth. Some of these plans can be seen in the article The Future is Nigh.
We also talk about how significant the collaboration of local, national and international agents is for us in helping us to market our properties and expand our area of service. Moreover, David Searl tells us about LPA, of which I am proud to be President this year.
Last but not least, we present you with a selection of our beautiful properties, encompassing a wide variety of prices and styles. We have also included an International section featuring some properties in Austria, Italy and Switzerland to give you a taste of the types of properties we can offer you through our association with prestigious real estate companies in Europe, Africa and America.
We encourage our readers to take a look at our web site, where you'll find a wider selection of properties, and of course invite you to visit us at our office in Marbella. Our multi-lingual staff will be delighted to help you.
We hope you enjoy this issue of Highlights and we look forward to seeing you soon.
Diana Morales