Good news for the Costa del Sol and Marbella.
In the presence of royalty and officials from all levels of government, the new terminal T3 was unveiled at Malaga Airport. The works have lasted 5 years and T3 is part of the ambitious 'Malaga Plan' for the expansion and transformation of the airport, which will be completed by the construction of two new approach roads and a second runway, which is hoped to be in use by 2011.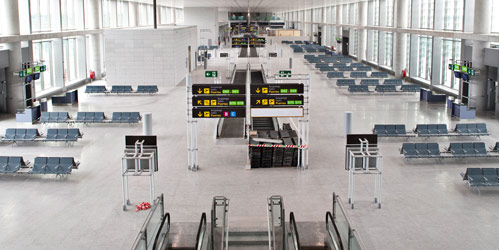 With the new facilities, Malaga airport will be able to double its capacity to 30 million passengers a year, and will have 3,700 car parking spaces, and all of this part of the concept of unique service, given that the old terminal will be linked with the new one. Malaga is thus being converted into the principal airport for Andalucia and southern Spain in terms of the volume of passengers, and the fourth for Spain.
Malaga will be able to count itself as one of the most up-to-date airports in Europe and the 15th March 2010 will be a historic date marking a milestone in the development and growth of economic, business, and particularly touristic activity, as King Juan Carlos I and the Ministry of Public Works, Jose Blanco, emphasized in theirinaugural speeches (spanish).
Video about the project (in Spanish): "Everything that can be imagined is real".
Here you can see a virtual tour of the new terminal and find more information about the project.