Some people get "marooned" in Tarifa, others get ricocheted back to where they came from, and some prefer just a taste of it, but all are captivated by its charm.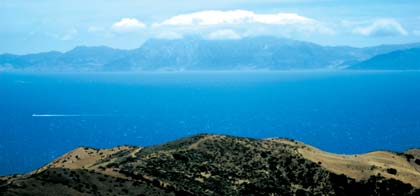 When looking across the Straits of Gibraltar on a clear afternoon, I can't help but take a deep breath as I contemplate the sun sinking into the waterline, as if from some Pacific shore. Only 14 kms away, Morocco's Rif mountain chain arrogantly overshadows the narrow stretch of water where the Atlantic Ocean spills into the Mediterranean Sea, forming a crossroads with the European and African continents.
Wind currents and the mixing of the tides in the only water passage into or out of the Mediterranean Sea, create an amalgamation of sea fauna, generating an unusually thriving underwater ecosystem. A huge amount of plankton lures any cetacean, sea mammal or alga that happens to be in the vicinity, hence there is an abundance of whales, dolphins and even the great white shark, which travels miles to get to this victual paradise. Something similar happens above sea level. Tarifa, the southernmost tip of the European continent, has become a melting pot of Hispanic and Moorish cultures, and a magnet to a host of different nationalities.
And Tarifa is not just a pretty place. The old town emanates a momentous past. Surrounded by stone fortifications, it displays a melange of both Arabic and Hispanic architecture. The stone castle, now named after King Sancho IV, has gone through profuse changes over the centuries depending on sovereignty.
Perhaps the most discernible of the ancient treasures is the Roman city of Baelo Claudia, where it is fascinating to wander amidst the relics of this ancient metropolis, alongside the beach of Bolonia, one of the most beautiful beaches in Spain.
The Coast of Light oozes with history. Centuries of battles and disputes have composed a unique piece of the past at this dividing line. As I reconstruct scores of victories and defeats through the ages, an oil tankard slowly edges its way across the water, with multitudes of dolphin gleefully leaping alongside.
Although the Coast of Light is an historical gem, my limitless imagination is soon reduced to wind, waves and white sand. Tarifa's inhabitants have little time for history, so nature and the elements reign in the "Capital of the Wind". Cosmopolitan, bohemian, fashionable and friendly, Tarifa attracts the young and the active, ocean lovers and artists, whilst locals watch dumbfounded as their land is invaded by a chorus of nationalities who have come to settle in this radical paradise.
15 yrs ago Marbellites would go on little escapades for a romantic weekend at the Hurricane hotel, where one could get a little privacy, away from a demanding social scene on the Costa del Sol. Moonlit dinner for two, protected from the wind by lush gardens and engulfed in the fragrance of fresh spices, to wake up in the morning to an infinitely empty beach and crystalline water. If I remember correctly it took about 3 hours to get to Tarifa on a one-lane "carretera", plagued with trucks and dangerous left hand turns.
But time goes by. Now there's a score of fantastic little hideaways for romantic weekends, a wide choice of restaurants with succulent dishes from cuz-cuz to sushi, and if you're not just trying to get away, great places to see and be seen. Not only that, but with the inauguration of the new highway, it only takes an hour to get there.
Tarifa is definitely IN in the summer, but don't beat yourself up for not having dived head first into the July /August traffic jam to get there. You may have missed some great parties, but after August the traffic thins out, local bar and hotel owners are more receptive, "For Rent" signs disappear, and the sunsets are spectacular. Autumn happens to be a specially enjoyable and relaxing season. In autumn Tarifa can breathe! Come September, the sun stays resolute, but the make-shift discos and summer chill-outs close, leaving only the most genuine places open.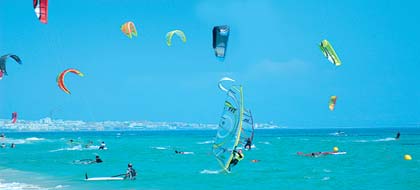 The wind starts to pick up in autumn, which doesn't mean it howls every day. It means that adventure lovers can practice their sports in optimum conditions. Extreme sports thrive in Tarifa, and in autumn, wind and kite-surfers find much more space to move. Dozens of kites suspended in the air share protagonism with windsurf sails on the shores at Punta Paloma, the biggest sand dune in Europe where tourists flock for a therapeutic mudbath which softens and rejuvenates the skin. If, on the way back, you get close enough to watch the surfers, you will be amazed by their great leaps and pirouettes practically on the shore. The eight km of beach between Punta Paloma and Tarifa are spacious and inviting to swimmers and there's always a constant breeze to handle a whole day's sun without de-hydrating, though sun screen is imperative. The beach in Tarifa has a sand bank that allows you to wade out at least 100 metres into the ocean.
Some people get "marooned" in Tarifa, others get ricocheted back to where they came from, and some prefer just a taste of it, but all are captivated by its charm.
Tarifa is so remote that aside from the native "Tarifeños", only a particular clique dare choose it as their permanent residence. It is a land of extremes that seasonally puts its inhabitants to the test. The summer frenzy, the solitary winter, the spring flower power and the Autumn ease.
Old town Tarifa is made up of cobbled streets and alleyways that open up to benched squares surrounded by balconies. Open wooden doors proudly exhibit interior courtyards overflowing with plants and flowerpots and beautiful antique ceramic tiles. A typical old lady sells fresh fruit and vegetables on the street corner, and has been for years. The streets are alive, and every other entrance is a quaint restaurant, a sidewalk café or a tapas bar. Trendy bars abound and stylish restaurants compliment the local cuisine.
There are enchanting hostels perfect for a romantic weekend away from the Costa del Sol bustle. Most are refurbished village townhouses, with beamed ceilings and patios protected from the wind, and interiors with style and a character all of their own.
Tarifa is a rising star, and it's rising fast. Outside and within the castle walls, streets with trendy shops sell surf gear and hip wear. Specialized in surf, wind surf and kite surf, Tarifa has created a fashion all of its own. Local surfboard and textile manufacturers use home talent for designs. Great colours, catchy logos and flattering cuts make it so that nobody leave without a garment or two in their satchel.

The road towards Cádiz is speckled with enchanting hotel hideaways, lush camping sites and intimate restaurants that add to Tarifa's renowned charisma. The laid back atmosphere is attracting celebrities and chic New York hoteliers with romantic ideas. How about a roof top movie projected on a rustic white-washed wall, dinner watching a meteor shower, a road-side volleyball game, or a Balinese or beachfront garden for an afternoon chill out, where one can lounge comfortably sipping on a mojito and listening to international dj's cutting the ultimate grooves?
But the best thing about Tarifa are the simple pleasures, like taking a long, regenerating stroll down an immaculate, white shoreline; the crisp, fine sand massaging the feet, whilst crystalline Atlantic wavelets wisp the calves, and little fishes nibble at the ankles. Kilometres of empty white sand beaches, behind which evergreen forests and pinecones carpet the countryside, are perfect for seashell collecting, horseback riding, cycling, swimming or just soaking up some sun.
Property Prospects
Tarifa is so protected that its countryside has re-mained unchanged for decades. Military surveillance, archaeological relics, a migratory passage for birds, terrific wind storms and national reserve have all kept Tarifa unspoilt by overdevelopment, and though road infrastructure is bringing it closer to local civilization, Tarifa still boasts hectares of empty stretches of prime, seafront property. What also keeps developers at bay are the strict building laws, which are not apt to change too quickly. Despite this, big parcels of land with unforeseen potential are being snatched up, and there is a genuine lack of properties to sell. Abandoned farmhouse ruins, restoreable structures and magnificent views to Morocco could be quite a feasible investment proposition.
Due to a wave of potential clients interested in this area, DM Properties has done some detective work, and built up a good relationship with local land and homeowners, and a thorough investigation of the ins and outs of buying property on the Coast of Light. If you are also interested, give us a call. +34952765138
Article published in the third edition of 'Costa del Sol Highlights' showcasing the finest properties in Marbella and on the Costa del Sol, Spain.