Taking its name from Marbella's Golden Mile, the New Golden Mile refers to the areas beachside of the N-340 road and immediately next to the road on a mountainside position between the Casasola area to just after the Kempinski Hotel, all of them within the municipality of Estepona.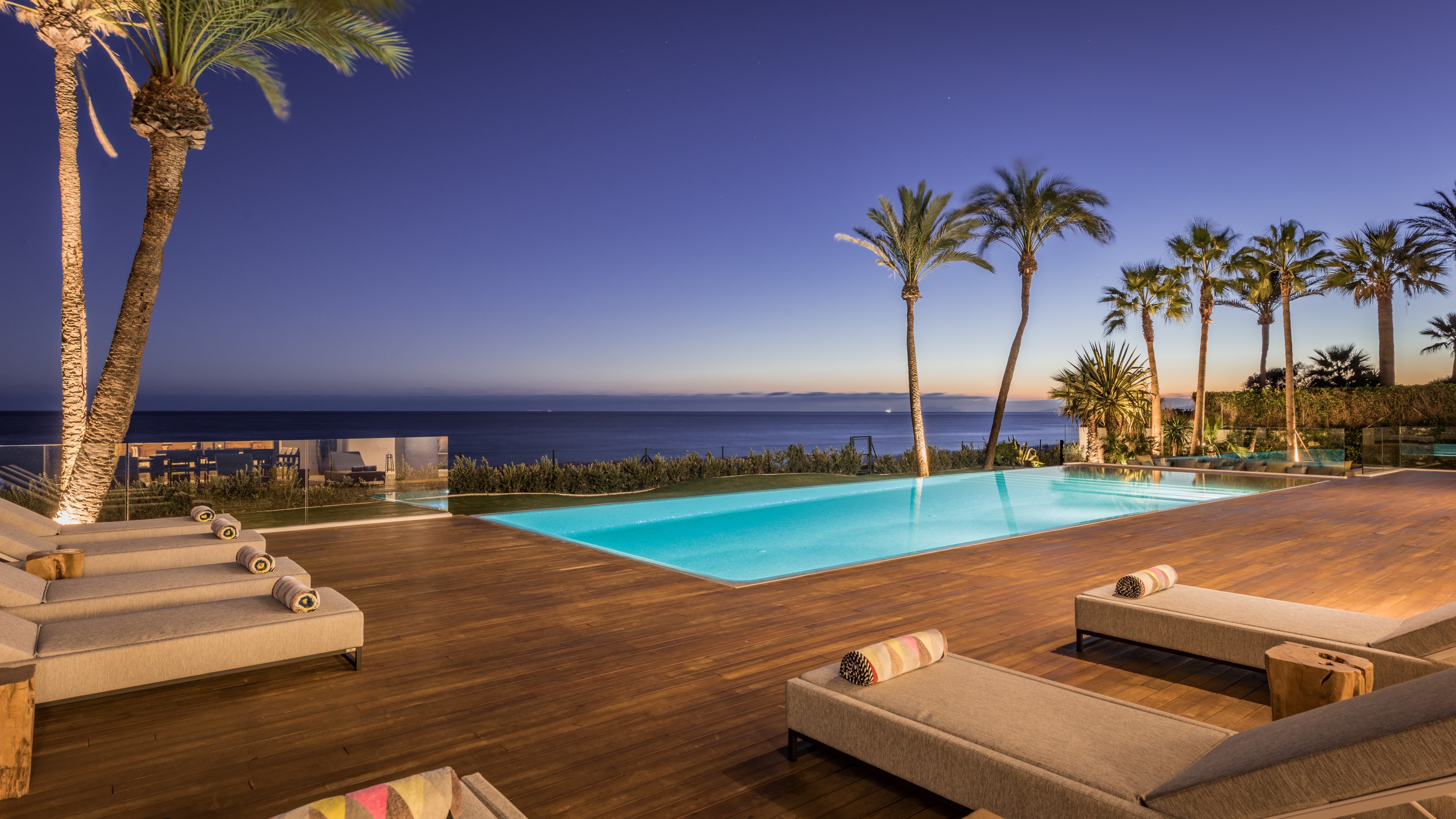 The area has been greatly developed over the past 20 years and offers a variety of complexes and residential areas to cater for all budgets and likes. The term has also been expanded to include other areas and sometimes residential areas that lie just after Guadalmina on the way to Estepona are referred to as being within the New Golden Mile. For the sake of clarity and to avoid confusion we will use the term loosely and use it to define the areas between Casasola (just west of Guadalmina) and Estepona.
The New Golden Mile is home to several new developments and is not fully consolidated yet in some areas. There are a mix of beachside luxury complexes and holiday resorts as well as very established residential areas of villas, apartments and townhouses. Luxury apartment complexes such as Doncella Beach with its neoclassical design. Torre Bermeja and Cabo Bermejo, designed by internationally renowned architect Melvin Villarroel and boasting his signature gardens and round edges. Los Granados Playa, offers luxury apartments within a gated complex, with 24 hours security, and sporting facilities with the same quality provided by the Los Granados developers along all their developments. The Kempinski Hotel Private Residences are a great solution for clients looking to enjoy the services of a five star hotel and the rental management offered by the Hotel. Additionally, beachside complexes such as Les Rivages, Las Nayades, Guadalmansa Playa, Alcazaba Beach, El Campanario or Los Granados del Mar offer good quality homes at more affordable prices than the previous developments as well as luxury services such as 24 hour security, and sporting facilities in some cases.
The areas dedicated to Villas on beachside position are quite few actually. El Presidente is home to villas, townhouses and some apartment complexes. Casasola, which actually just borders the sought after residential area of Guadalmina but is separated from it by the Guadalmina river and therefore falls under the municipality of Estepona. Casasola, like Guadalmina is home to substantially large villas, most of which have been refurbished or are in need of some updating as the average age of a property here is around 25 years. Likewise, El Paraiso Barronal with frontline beach villas, is another area to watch for.
The mountainside areas of the New Golden Mile have been greatly developed over the years but there are some areas, such as Los Flamingos, still offer the possibility for further development and building plots. Los Flamingos is home of the famous 5 star Villa Padierna Hotel where Michelle Obama stayed in the summer of 2010, and is a gated area of villas, and apartments boasting stunning views from complexes such as Royal Flamingos or Alanda Tee 5. Further on along the coast towards San Pedro is El Paraiso, an established residential area where you can find villas, apartments and townhouses and where there are few plot available for development. The golf course of El Paraiso is one of several golf courses along the New Golden Mile making this an attractive destination for golf lovers.
Service-wise, the New Golden Mile offers pretty much all your basic services, from cafes/restaurants and supermarkets to sporting facilities and banking. This of course, is a great advantage as it is almost guaranteed you will not have to drive into Marbella or Estepona towns for your shopping. Additionally to the Villa Padierna, luxury beachside and beachfront hotels such as the Kempinski Hotel, Las Dunas or the Senator Banus cater to an increasing demand for quality holiday accommodation as well as offer the catering services and standards required by many residents and visitors to the area.
Half way between Marbella's cosmopolitan hustle and bustle and Estepona's Andalusian town lifestyle, the New Golden Mile is a perfect blend of both worlds.