When Sierra Nevada was announced host to the 1996 World Cup Ski Championships, great investments were made to bring the ski station up to European standards, and serious reconstruction took place.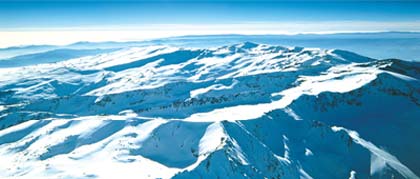 The two lane mountain road became a three lane highway, ski lifts of great capacity were installed, the mountain was widened hence the groomed pistes doubled, snow machines were installed, hotels and accommodation were built and the village was equipped with subterranean parking with a capacity for 2,800 vehicles. The new infrastructure was to host other international events all year round.
Since then the Sierra Nevada has hosted the World Cup in Alpine Skiing, the World Air Games, the Paragliding World Championships, the Mountian Bike World Championships, the Ballantines and Red Bull Snowboarding Competitions, and was candidate to the 2010 Winter Olympics. In short, Sierra Nevada is a world class ski resort, with two great assets, powder snow and hot sun, only comparable to Sun Valley, California. DM Properties have been enjoying Sierra Nevada since 1976. Who said in southern Spain you miss out on a white Christmas?
Article published in the third edition of 'Costa del Sol Highlights' showcasing the finest properties in Marbella and on the Costa del Sol, Spain.