Essential is guest for a day at a stunning hilltop villa in the grounds of Marbella Club Golf Resort.
The author G.K. Chesterton wrote "There are no rules of architecture for a castle in the clouds." Although wisps of early morning mist can often be seen floating below this stunning hilltop eyrie in the Benahavís countryside, it is no head-in-the-clouds flight of architectural fancy. Rather, its designer drew on various style rules to create a house that has the nobility of a mansion but the down-to-earth feel of a home – practical, cosy and specifically designed for a Mediterranean family lifestyle.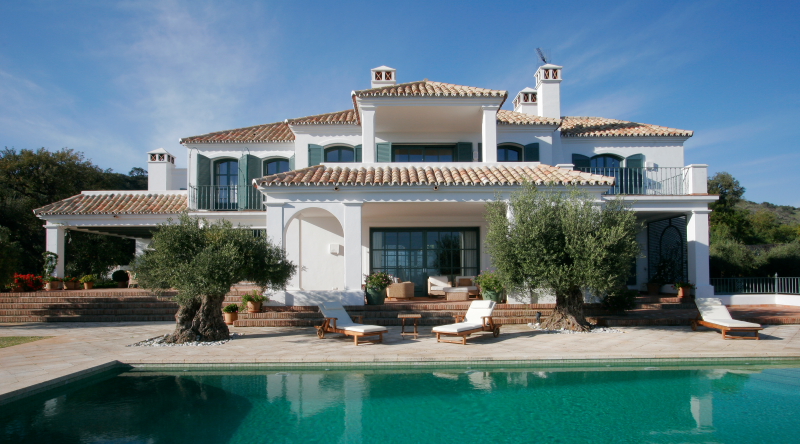 The house was built as recently as 2003 and is perfect for gracious living "en famille" or for entertaining in style, with four en-suites bedrooms plus a separate private apartment with an additional en suite bedroomsfor friends on holiday or visitors who prefer not to drive home after the party. There is a welcoming feel the moment the visitor crosses the threshold, the décor refined and understated – nothing too elaborate or jarring. The layout is symmetrical, with two wings built around a central arched courtyard which contributes to the sense of privacy while bringing the beauty of nature and the outdoors into the house and keeping it cool on the hottest summer days. This charming open space, covered with climbing vines and scented with jasmine, is the beating heart of the house. The south-facing garden outside is a mass of colour which tumbles down the mountainside from a sleek summer terrace flanked by dwarf olive trees. But the star attraction is the view. Reclining on a sun lounger, the infinity pool appears to merge with the Mediterranean so that it would almost seem possible to swim to the horizon without touching foot on land.
Paradise on Earth
The road to paradise is often circuitous and this earthly Eden lies at the end of a four-kilometre road which winds away from the coast through rolling, pine-clad hills leading to a hidden valley of startling greenness. The house occupies one of the prime hilltop plots in the privileged Marbella Club Golf Resort whose immaculately-manicured fairways spread out along the valley basin. This is a private resort for the exclusive use of home owners with a clubhouse and equestrian centre – your very own private country estate. (Two golf memberships are added extras included with ownership of the villa.)
Skirting the golf course, the road tracks uphill past several magnificent villas almost to its summit where this five bedroom villa occupies pride of place. There is parking for three cars under an arched, dry stone car port concealed below road level and there are two entrances to the house. A heavy timber, antique Ronda door, ornately carved, appears to be the main entrance although it also leads directly to the guest apartment. A second, trellised entrance, so thickly interwoven with jasmine tendrils it is almost totally concealed, leads into a stone-flagged walkway looking down onto the charming courtyard – the first of this house's many "wow-factors". Adorned with colourful flowers, water trickling restfully from an ornamental fountain, this is the perfect spot to enjoy those rare moments of solitude. Surrounded by a beamed, arched gallery, it's possible to sit and contemplate in one of the comfy rattan basket chairs even when it's raining.
Harmonious Living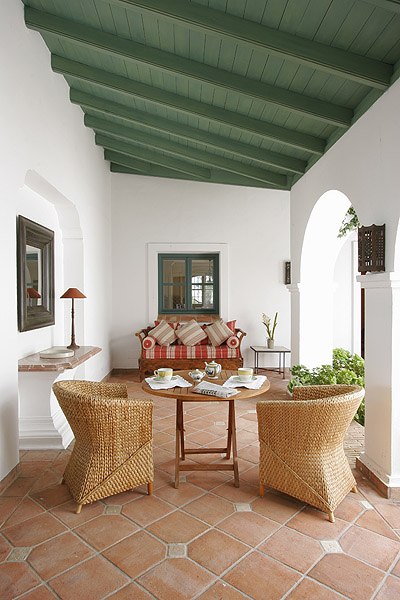 The gallery leads into an imposing entrance hall with guest cloakroom and down two steps to the ravishing, semi-open-plan drawing room where French windows offer the first tantalising glimpse of that priceless view. A hooded open fireplace provides a cosy focal point in winter months. The owners have favoured neutral colours – warm beige walls, off-white curtains and sofas, cream lamps.
This pastel backdrop harmonises with the richer shade of the traditional Andalusian terracotta flooring throughout the house, while providing continuity with the colour theme beyond the windows on the outdoor terrace which takes over the role of al fresco drawing room in summer months.
A separate television/living room provides a thoughtful space where teenagers can watch MTV or the men of the house can support their favourite football team without disturbing other family members and guests.
The winter dining room adjoins the drawing room through two open archways. It too has a fireplace and there is room to entertain a party of 10 comfortably at the rectangular, polished oak table. Outside, under a pergola, is a second, west-facing dining area with built-in barbecue for entertaining on balmy summer nights. The kitchen leads off from this which is eminently practical (not far to walk to top up the salad bowl or fetch another bottle of ice-cold Moët). The kitchen is charmingly rustic, with a range-style cooker, work units painted in distressed cream and room for a sizeable central table – perfect for family gatherings over a hearty farmhouse-style breakfast.
Suite Dreams
For a more intimate breakfast, the secluded east-facing terrace of the ground floor guest suite is the perfect spot for catching the early morning sunshine. All the suites are painted in strikingly different colour schemes and the handmade, salmon pink tiles in the bathroom of this suite attract particular admiration from all who see them. The bedroom walls are painted in cornflower blue with a pretty wall frieze.
On the staircase leading to the upper floor a stunning, decorative arched window allows light to flood in, while a modern, wrought-iron chandelier draws the eye to the vaulted ceiling. All the windows in the house are framed in solid iroko wood, painted in a lichen green, and have matching exterior wooden shutters. Solid carved oak doors are another recurrent theme throughout, adding to the character of the house and the sense of noble rusticity.
Dramatic views and vaulted beamed ceilings are features of the superb master suite, painted in a buttery cream. An open fireplace, baronial wrought iron wall lamps and an elegant brass four poster bed hung with diaphanous curtains adds to the spirit of romance. The bathroom has a semi-circular bath tub, double-sized shower with glass door and there is an elegant Japanese screen which can be positioned for extra privacy. The dressing area is distinguished by its bank of fitted wardrobes which are a notable feature in all the suites – clearly the lady of the house is a connoisseur of clothes and understands the need for plenty of hanging space.
Two other guest suites occupy this floor – one with an east facing terrace with walls sponged in a combination of pale blue and pink, and a blue-tiled bathroom; lemon walls and a taupe-tiled bathroom create a very different ambiance in the second suite with south-facing terrace. The guest apartment in the east wing has a delightful sitting room and is decorated in the same tasteful and timeless style, creating a wonderful feeling of warmth and serenity.
SPORT AND LEISURE
The house also has a lower level and with a wealth of possibilities, all of which the owner is exploiting. It houses an air-conditioned wine bodega with wall niches to hold dozens of bottles of varying grape varieties and vintages and a gravel floor which can be dampened to preserve the correct level of humidity required for storing fine wine. Another room has been designed to house a spacious gymnasium and, leading off from this, a sauna and steam room is under construction. There is a separate shower and changing room and access directly to the garden and swimming pool up steps covered by trailing grape vines – perfect for a refreshing dip after an energetic workout.
Room with a View
And then, perhaps, a cocktail before dinner, taken on the summer terrace while drinking in that stunning view which, on a clear day, stretches as far as the eye can see along the eastern and western Costa del Sol and south to Gibraltar and the coast of Africa beyond. This is undoubtedly the house's double wow factor. Steps lead down to a less formal garden shaded by gnarled oak trees and planted with dama de noche, rosemary, sage, thyme and lavender whose heady fragrances perfume the air. High up in the hills almost scraping the clouds, it is hard to imagine that the bustling metropolises of Marbella, Puerto Banús and Estepona are so close at hand. The silence here, broken only by birdsong and the hum of bees, is truly golden and you can almost imagine you are the only person left on earth.
This property is for sale through Diana Morales Properties.
Additional features: Underfloor heating and air-conditioning throughout, double glazing; plot 5,100m2, built 733 m2. Please request price and further details at enquiries@dmproperties.com or call us at 952 765 138. www.dmproperties.com.
Article by Belinda Beckett, Essential Magazine December 2006