Our area
Marbella
Gourmet dining, designer shopping, world-class golf, sizzling nightlife, perpetual sun, modern infrastructure, good security, magnificent beaches – Marbella has it all.
Need even more inviting statistics? How about fifteen golf courses within a 15-minute drive, 26 km of sun-splashed Andalucian coastline, skiing at Sierra Nevada just 2 hours away and an airport within a 3-hour flight distance to most European cities? While it has become a center of commerce, it still charms with its Casco Antiguo, or Old Town. Narrow alleys, centuries old, lead to modern shops, a Moorish castle and a 16th century Town Hall of Marbella.

In Marbella, a whole range of property exists from mansion to apartments, with the luxurious "Golden Mile" topping the list of elegant addresses of Marbella. With so many attributes, Marbella is hard to beat as both a travel spot and an address.
East Marbella
Distinctly different from Central Marbella, this scenic locale enjoys lovely woods of pine and oak and beautiful beaches locally renowned for their lovely sand dunes. Along this less developed stretch of coast, luxury hotels hopscotch golf courses eastward from Marbella to Mijas, Benalmádena and Fuengirola.
In Hacienda Las Chapas, Los Monteros and Elviria, elegant villas are the norm. In East Marbella, year-round residents rub elbows with tourists. While it still benefits from modern medical facilities, top-notch schools and shopping complexes, this is a quieter approach to Marbella living.
Puerto Banus
World famous Puerto Banus in Marbella is best known for its marina and luxury yachts. This is 'Paradise Found' for shoppers; only the most fashionable shops and designer goods may be seen here. For discounts, every Saturday, bargain hunters from the entire coast flock to the Bullring's Flea Market.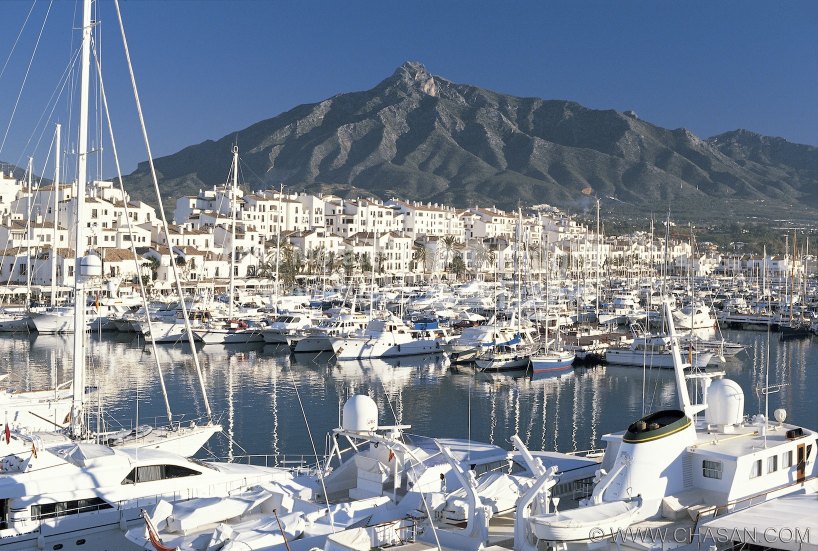 When stepping out, the sheer variety of restaurants, bars, nightclubs and cafés here will surprise the first time visitor. Built over 40 years ago, Puerto Banus has grown into its own unique destination. With stylish apartments reflected on the Mediterranean in the foreground, and the magnificent La Concha Mountain in the background, this is a postcard perfect Spanish destination.
Nueva Andalucía
Extending from world famous Puerto Banus to the base of the neighboring foothills, N. Andalucia is a very upscale residential area of Marbella that enjoys close proximity to the championship golf courses of Las Brisas, Aloha, and Los Naranjos. Not far away, La Dama de Noche and La Quinta also beckon to golfers. This expanding international community benefits academically from multilingual Aloha College.
The residences here vary from quaint hillside villas and alluring golf apartments, to elaborate mansions built right on the links. Ample stores and restaurants, in nearby Puerto Banus and San Pedro make this an ideal address.
San Pedro de Alcantara
This rapidly expanding community at the western edge of Marbella, benefits from its wide range of stores, craftsmen and services. While just 2 km from Puerto Banús and 10 km from Marbella, San Pedro is a tourist attraction in its own right thanks to its wide variety of boutiques, shops, art galleries, restaurants and bars.
Restaurant-goers often travel 7 km further north, to the hamlet of Benahavís, and its 20 plus establishments devoted to fine dining. Those looking for hotels will find rest at the Guadalmina Spa and Golf Resort, Cortijo Blanco or NH San Pedro amongst others.
The golfer is well served here with many options. The links at Guadalmina, La Quinta, Los Arqueros and those in Nueva Andalucía are just a short drive. Just west, Atalaya, El Paraíso, Los Flamingos and the Marbella Club Golf Resort prove irresistible to the Costa del Sol's many golfers.
Estepona
Just outside the hustle and bustle of Marbella, the old town of Estepona offers a unique option as an address. This town of 37,000, nestled on the coast halfway between Marbella and the golf community of Sotogrande, is a study in contrasts. The city center retains the charm of Old Spain, while master-planned, upscale developments grow out of its east and west flanks.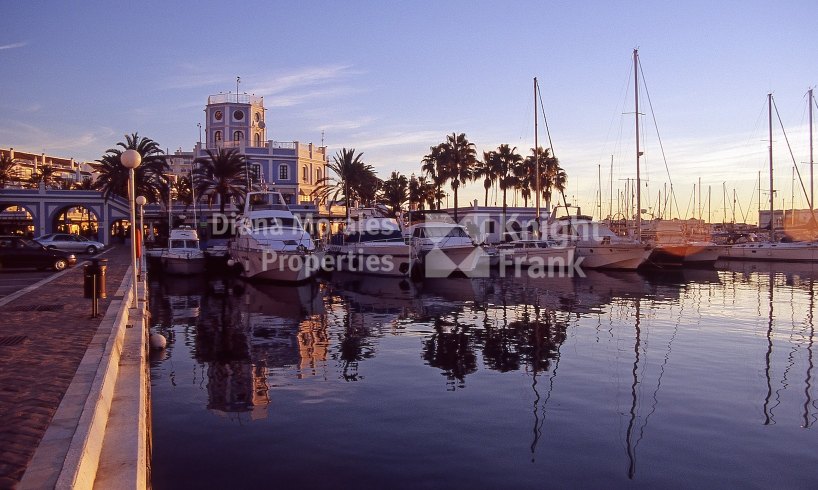 Boaters will appreciate the marina at the western extreme of Estepona's boardwalk and its proximity to both La Duquesa Port and Puerto Banus, just west and east respectively.
Only the best in accommodation will be found at the luxury five star resorts of Las Dunas and the Kempinski Resort Hotel. Here, vacationers have many options. Golfing, fine dining, ample nightlife and horseback riding are just some of Estepona's many attractions. Most notable, however, is the Selwo Safari Park where hundreds of wild animals can be appreciated roaming free in a natural, yet controlled, setting.
Benahavis
Benahavís, is not just an authentic Andalusian village with narrow streets and houses of whitewashed walls surrounded by lush greenery and unspoiled nature. The municipality, located right next to Marbella, stretches over 145 km2 and rivals Marbella itself as a living and visiting destination of international repute. Crossed by rivers Guadalmina, Guadaiza and Guadalmansa, Benahavís is well connected to Málaga airport which can be reached in about 60 minutes. A variety of golf courses, a spa resort hotel, public swimming pools and tennis courts, and hiking trails make Benahavís a great address to consider.
Sotogrande
Just 30 minutes from Marbella, and 20 minutes to Gibraltar and its airport, Sotogrande enjoys a quiet luxury all it own. Stately homes sprinkle the hillsides, nestled among world-class golf courses and quiet woods; sporting opportunities abound here. Ryder Cup venue, Valderrama, is but one of six courses in the area. The polo grounds, the stylish marina, and the windsurfing at Tarifa, all beckon to the sportsperson. Nearby, the quaint towns of Vejer, Jimena de la Frontera, Casares, Gaucin and Ronda — and the sherry estates near Jerez and Sanlucar — all beg to be explored.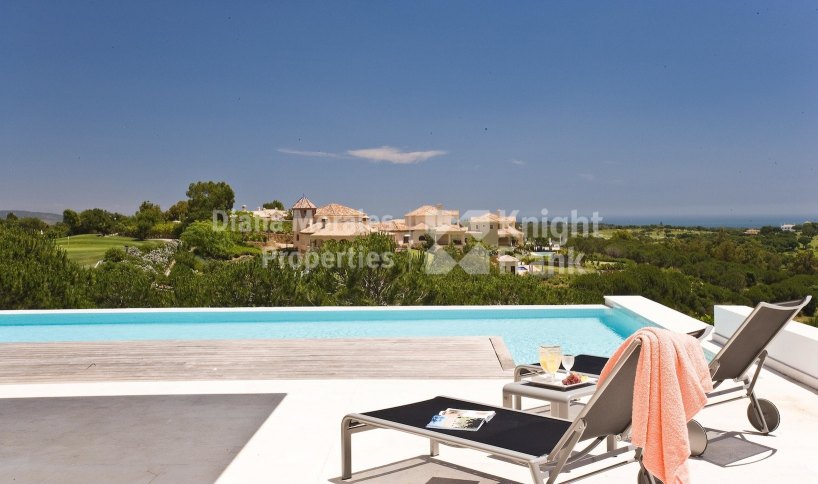 Inland
Just a short drive through the mountains behind Marbella, one finds the real Spain. Here, the traditional whitewashed villages speckle the spectacular — yet tranquil — Spanish countryside. Recreational opportunities abound here with camping, fishing, walking and biking topping the list.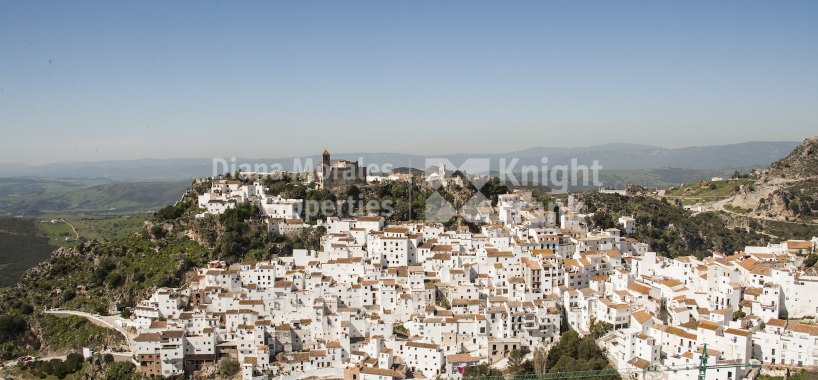 The area's Moorish history is echoed in its exotic village names. Towns such as Mijas, Ojén, Monda, Coin, Istán, Casares or Gaucín, all beckon to the curious visitor with their alluring charms.