Knight Frank
Established more than 120 years ago, Knight Frank is the largest independent property consultancy in the world with a global reach of over 532 offices across 60 territories.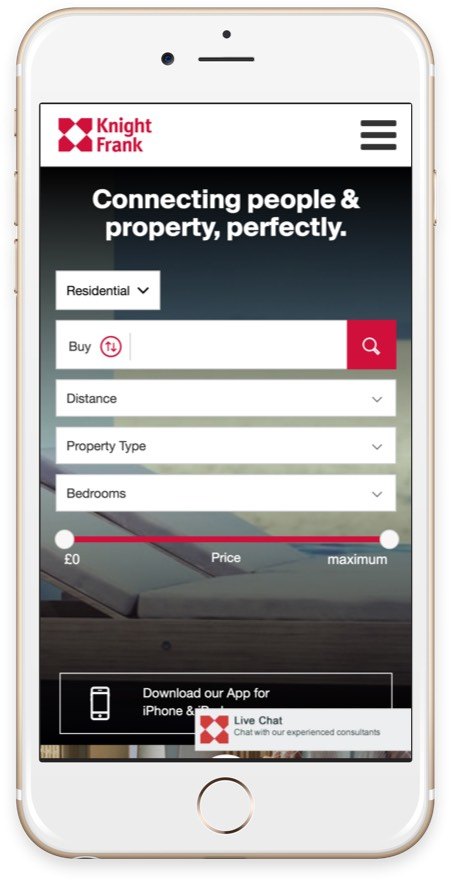 It is renowned for delivering consistent professional advice and its network of overseas offices possess first-hand knowledge of the local markets whilst working closely with the global headquarters in London to provide a seamless service to clients. Through an international network and a shared global database Knight Frank can access the wealthiest buyers and finest properties around the world.
With over 18,170 people across the globe, Knight Frank's partnership culture puts clients' needs at the heart of everything they do. This ensures that a life-changing process for many, whether buying, renting or letting a property, is handled with care, discretion and unrivalled professionalism.
With over 1 million visitors to their award-winning website with its multi-lingual function, which automatically translates over 12,500 properties into 18 languages, Knight Frank reaches a much wider audience and intelligently uses this Technology to drive the buying, renting and selling of property. Clients use 'My Knight Frank' to register and manage their own requirements, receive personalised alerts for property and research, as well as create their own property library to rate and review. Moreover the App searches for property by lifestyle or GPS location and features all of Knight Frank's research reports.
Knight Frank's world-class research team leads the field in understanding the key drivers of the international markets. As well as providing regular research reports from the Global Residential Market Forecast to the Prime Global Rental Index their analysts offer bespoke consultancy services to developers, lenders, investors, government departments, institutions and public sector bodies. The highly regarded Wealth Report, which is produced once a year, is the definitive global perspective on prime property and wealth, while the Global Briefing blog provides market updates, feature articles and topical interviews relating to all things property. Working closely with the overseas offices, their indices track the dynamics of market cycles and help clients to make the right decisions. These sophisticated forecasting tools support their work and maximise the value of clients' properties and shape strategy.
Recognised as the trusted advisors of choice, Knight Frank and Diana Morales Properties combine local knowledge and global expertise to give you the very best property advice.
As a member of the Knight Frank global network, Diana Morales Properties is able to offer you access to over 12,500 of the very best properties for sale and rent in the most sought after locations around the world. Together we can look after your personal and professional needs as a result of our global reach, exceptional people, enviable track record, award winning technology and in depth research.
Back to our partners page.