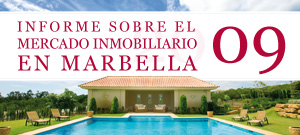 The economic crisis which is hitting Spain in particular, and the World in general, has set off alarms in all areas of the population. Small and large investors, as well as property owners face the difficult task of having to reduce their investments.
"Bricks and mortar" has always been a refuge to which one could recur to in bad times but in the face of the current and particular situation of the property market in Spain, is it convenient and profitable to invest in Spanish property? Will property keep losing value during 2009? And finally, what is the particular situation of Marbella property within the context of an international crisis?
In the face of this situation, at DM Properties Marbella we thought it would be convenient to elaborate an exhaustive analysis of the present situation and future of the area. Diana Morales, director of DM Properties Marbella, exclusive affiliate of Christie's Great Estates, with over 20 years of experience in the Marbella property market, explains in a clear manner the issues one must consider when evaluating the decision of purchasing or selling a property in Marbella and the Costa del Sol.
Take some minutes to read our Marbella Real Estate Market Report 2009.