When Marbella was only a big village and everybody knew everybody else, there was no need for the first few estate agents to form a network.
In fact, they already had a network because they had coffee together and met one another regularly on the street. They exchanged information about the market and worked together with clients as a matter of course.
With the rapid growth of Marbella into a true resort city and the Costa del Sol into a major second-home area, the situation has changed. There are now thousands of properties being marketed, both new and re-sale, and more thousands of clients from various countries looking at them.
There has also been enormous growth in the number of new estate agents operating along the coast. Attracted by a booming market, some of these new operators have used questionable methods that draw bad publicity for Spanish real estate in general. This caused concern among the established agencies that the industry needs to be regulated and controlled.
The lack of a body which could carry out this oversight and the need for a more organised form of networking among the established agencies has brought about the creation of LPA, Leading Property Agents of Spain.
Six experienced and independent real estate agencies worked together for more than a year to form LPA. They are Diana Morales Properties, Holmes Property Sales, Marbella Residences, Panorama, Fincas R. Germaux and Villa Marketing.
Diana Morales of DM Properties, president of LPA, says, "When you take the most experienced estate agencies on the coast and make their combined listings available to each individual agency, the seller has the advantage of personal attention along with exposure to a wide audience of qualified prospects."
"As we are often the first and principal contact in Spain for non-resident purchasers, it is our moral obligation as well as sound business practice to impart accurate knowledge and information to prospective buyers," Morales noted.
The LPA is an association of well-established, professionally qualified and reputable real estate agents. They adhere to a code of ethics and are dedicated to giving highly personal, professional and quality service to both their buyer and seller clients in the promotion and sale of properties in Southern Spain. The six original founders have now selected a further eight agencies who meet the standards as candidate members. "By invitation only" may sound a little high-flown, but any new candidate must be recommended by three present members in order to be considered.
LPA member agents actually see each other personally. Their network is not simply a matter of being able to punch up another agency's listings on a computer screen. They talk to each other regularly, have lunch and meet to discuss property. This direct personal contact among the agents can be important to a seller in several ways. Sometimes an owner wishes to sell his property discreetly, without listing it. He puts out word through LPA member agencies whom he trusts because of their long association. The LPA agent then offers the property, in confidence, to a buyer he feels is qualified. Another benefit of face-to-face contact is, to put it bluntly, that each agent keeps his eye on the others. If a member might be tempted towards a questionable business practice or an ethically unsound decision, he knows that he must personally face the other members on a regular basis.
Of course all property sellers wish to obtain the highest possible price when selling their Costa del Sol home. This desire, especially in the recent boom times, leads some sellers to set their asking prices unrealistically high. An LPA member agent knows the market and he makes every attempt to ensure that properties listed with them are fairly priced. In the end, this works to the advantage of the seller because a fairly priced property usually moves much more rapidly than one that is priced too high.
LPA member agents live and prosper by a code of ethics ensuring fair business practice. The LPA members have established their reputations by years of trustworthy dealing with property sellers and buyers. They know that today's buyer is tomorrow's seller and repeat business comes only from satisfied customers. Good ethical practice is good business.
The fact that LPA member agents often personally know the sellers and their properties over the years is an important factor in negotiating and finally closing a property deal. Many things can go wrong with property purchase but an experienced professional can usually avoid the pitfalls and bring the transaction to a satisfactory conclusion for both parties.
In order to establish and promote a high standard of serious professionalism, the LPA has also inaugurated a series of seminars on real estate topics. The first seminar was recently held at the Hotel Puente Romano where members heard talks on legal aspects of the contract between the property seller and the estate agent, and problems of property valuation.
Spanish lawyer Aurora Herrera Llamas of Perez de Vargas Abogados in Marbella warned the agents that many of their standard agreements with sellers did not provide adequate protection for either the clients or the agents. She urged the LPA to prepare model contract forms which would be the same or very similar for the individual agencies to use.
Architect Jose Juan Rodriguez Castro of the Krata Sociedad de Tasaciones, a principal property evaluation firm in Malaga, showed the group a step-by-step procedure for standard property evaluation techniques acceptable to banks for mortgage purposes and to the Spanish tax administration as well.
LPA members and guests discussed the points during the cocktail hour which followed. "This combined social and professional meeting point is one of the most important aspects of the LPA," said President Morales. "We have here a chance to exchange information and opinions face-to-face, which is becoming more difficult in today's world."
"This personal contact is of special importance in our work as property agents," she said. "The great advantage of an association like the LPA is not simply the access to the large combined data base, it is really about serious professionals working together."
The LPA has a web-site, www.lpaspain.com, where a selection of properties from each member agency is exhibited. There is also a private section for internal use of its members, which contains all property listings of all members. One great advantage for buyers is that they have access to a larger number of offerings. Sellers enjoy a wider exposure of their property and the possibility of reaching a larger number of potential buyers.
LPA President Diana Morales says, "By sharing our experience and joining our efforts, we are able to offer property buyers a more professional and effective service."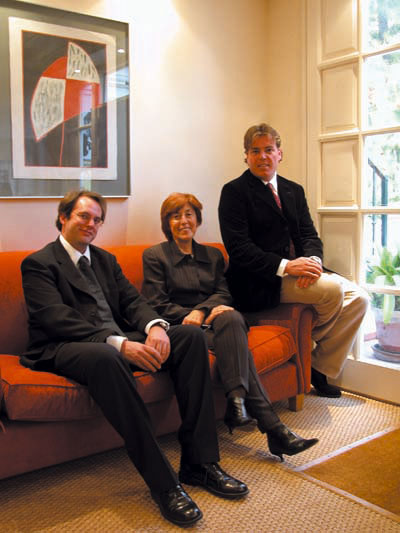 by David Searl