Since DM Properties embarked on our association with Sotheby's in 1987 to promote some of the most spectacular properties on the coast, we have attracted worldwide media attention.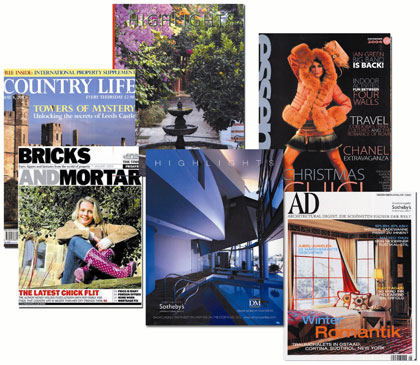 Our properties have been featured regularly in specialized TV programmes, glossy magazines, and the real estate sections of prestigious newspapers.
Not only do we have a network of more than 500 offices worldwide, but also exceptional resources for marketing and exposing your property across the globe. The magazines exhibited above are an example of our marketing tools. Sotheby's Preview gets to a privileged 200.000 readers and is the kind of magazine that lies on the coffee tables of the finest homes.
Architectural Digest is the jewel of the Conde Nast collection. Country Life is a prerequisite in real estate, and a collector's piece. Essential is Marbella's most widely read and distributed glossy free distribution magazine, and Villas is one of Europe's most beautiful real estate magazines; a perfect window for a beautiful residence.
Article published in the third edition of 'Costa del Sol Highlights' showcasing the finest properties in Marbella and on the Costa del Sol, Spain.