The third edition of Highlights marks a distinct turning point in the presentation of our properties, in the same way the real estate sector is experiencing dramatic change and reassessment. The thriving 'bull economy' seems to finally be on a down cycle, and this will have its effect on all markets. In the past, I have struggled through a cycle or two, and strangely as it may seem, the outlook is bright.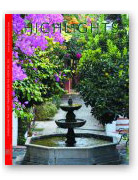 The recent slowdown in the global economy has triggered a noble reaction of calm and perseverance, which is having a synergetic effect in every aspect of business and social life in the western world. The whole world is taking a step back, out of a blinding economic frenzy, to unveil the scenario of the future. Though the joy has been somewhat marred, a less frivolous forward-sightedness may take the lead.
As the world gets back on track, the ambiance is one of caution and consensus, which means that while the stock market dusts itself off and business gets back into action, residential real estate is gaining importance. As a result, the market will progressively become more qualified, more professional, and more realistic, in order to deal with clients who have their eyes wide open. It's the end of the makeshift era, and now the only real players are those who have invested time and dedication, honestly and earnestly, who have nothing to fear. Quality development and construction will set our future standards, and a more sophisticated service sector will put Marbella on the map, not only as a tourist resort, but as a year-round residence.
Change is the sign of the times. It keeps us on our heels and stimulates us to grow and become better at what we do. That's where we are headed… In my opinion, we can expect increased investment in real estate, especially in safe, sunny markets like the Costa del Sol.
Article published in the third edition of 'Costa del Sol Highlights' showcasing the finest properties in Marbella and on the Costa del Sol, Spain.