We are very proud to be included in such an illustrious company as Sotheby's, not just for our self-esteem, but also as international recognition that, in this part of Andalusia, there are properties which, by their architectural and artistic merit, hold their own with the finest on the Mediterranean coast and in all Europe.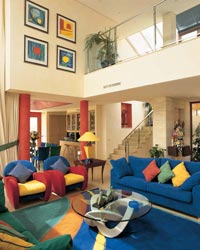 Furthermore, through our new venture, the LPA, a collaboration between the leading local real estate agents as well as the Spanish real estate association, Nac Premier and, globally, Sotheby's International Realty, DM Properties handles requests both from buyers and sellers in Spain and across the globe.
Through our growing network, DM Properties is achieving its objective: handling the most prestigious portfolio of residential properties, covering local, national and international markets and reflecting Sotheby's claim as being "The only truly international real estate brokerage by offering the world's finest properties and services".
No less important is Sotheby's association with the US-based Synthesis Realty, through which we can now offer to high-end developers the full gamut of services from project conception to marketing and sales, using our combined experience, professionalism and ability to maximise the commercial success of their real estate projects.
Article published in the third edition of 'Costa del Sol Highlights' showcasing the finest properties in Marbella and on the Costa del Sol, Spain.