Offered by DM Properties
Cortijo Los Gavilanes – Country estate by the Mediterranean
An authentic Spanish country estate within sight of the Mediterranean and in close proximity to Marbella is hard to find, but Cortijo Los Gavilanes proves that such a rare combination can exist. Set within its own extensive grounds, this stylish country abode blends the benefits of its glamorous surroundings with a peaceful and private setting enveloped by natural beauty.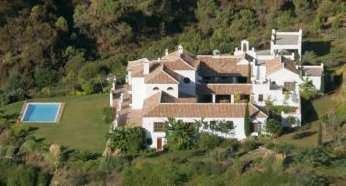 Although it has the look and feel of an established, authentic Spanish country home, Cortijo Los Gavilanes is the summer home of Lord Bradford, who lovingly created this idealised vision of a proud Andalusian estate after finding the perfect spot for it. "We had owned a holiday home in the Marbella Hill Club since 1983, which we enjoyed visiting whenever we could. We loved the Marbella area and made many good friends there, but always fancied the idea of building a country house of our own," says Lord Bradford. "The problem was finding the right spot for it, but when a friend showed us a magnificent 150-acre estate in 1999, set within a beautiful green valley, with tracts of pine forest and its own water supply yet less than seven kilometres from the sea, we knew we had found the place we'd been looking for."
When the planning permission came through, it was for a farmhouse, as the estate includes 16 acres of avocado and mango plantations. "It suited us well, since we had decided to build our version of a traditional cortijo, but naturally one with all modern amenities." Helped greatly by their architect, Eduardo de Llamo, who understood perfectly what they were trying to achieve, and project manager Peter Emmerich, whose input was invaluable in keeping the project on time and within budget, the Bradfords created a stylish country home that blends in beautifully with its stunning setting. Designed and constructed in the tradition of the old Andalusian country estates, the cortijo is centred around an inner courtyard with orange trees and fountains, covered and shaded terraces, and patios ideal for the year-round outdoor lifestyle that the region's mild climate affords. In and out, elegance blends with rustic charm to provide a living environment that is at once sophisticated and disarmingly simple.
One enters this country house through a beautifully designed and finished porch, which leads through the Andalusian courtyard to the stately main entrance. The combination of rustic elegance and solid simplicity, with its absence of over-styling, breathes old country breeding, giving this home an established feel far beyond its actual years. From, here, the country kitchen, guest rooms and staff quarters are close by, while elegant reception rooms with high vaulted wooden ceilings, terracotta and wood floors, handmade tile bathrooms, antique doors and handsome fireplaces in all main rooms are some of the other features of this remarkable home, which is distributed mainly on one floor. Double doors lead to the imposing hallway with guest cloakroom and stairs to the master suite, which occupies the entire upper floor, offering up inspiring views across the valley occupied by the estate.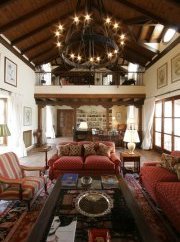 The wrought iron chandeliers, stone fireplaces, wooden beams and solid doors were made by local craftsmen using age-old Andalusian styles and techniques, while a lighter note is added by entertaining rooms decorated in an exotic, Moroccan fashion. It all blends in beautifully with the inevitably British touches that the Bradfords have brought to the country home, creating a melange that is as successful as is the combination of country styling with modern infrastructures and comforts. "Much of our time at the cortijo is spent outdoors, so this was a very important part of the house, requiring equal detail and devotion as we determined the ideal position, style and décor of the various terraces and patios that look out on to wonderful surroundings. From this vantage point, you look landwards to the backdrop of the Sierra Bermeja Mountains and seawards for stunning views across an avocado orchard that sweeps down the valley towards the Mediterranean."
"Creating the garden was a further labour of love," recalls Lord Bradford. "We built up the front with huge rocks, then carefully planned the layout of all the beds and plants that went into them, and even put in lighting so that everything could be illuminated effectively at night." The result is a country garden whose rugged beauty matches that of the lush surroundings. "We had to have a private tarmac road laid to provide easy access between the house and the two entrance gates, but for the rest the valley and the fruit groves have been left untouched." They now provide a private green belt around Cortijo Los Gavilanes, embracing it with lush beauty and providing a unique living environment of complete rural tranquillity, privacy and natural beauty at less than seven kilometres from the Mediterranean Sea and its resort towns.
Writen by Michel Cruz. Images by Pedro Garrido.
Article published in Villae International magazine, first edition 2006. Copyright of EREN, The European Real Estate Network.