We would like to share the following article with you, featured in this month's edition of Unique Homes magazine and titled "It's a Small World After All'.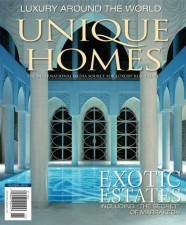 The article gives a brief insight into various real estate markets around the globe through brief reports from local experts on prices of properties, types of buyers and what is being sold. While property prices have gone down in all segments of the market, the search for the truly unique and exceptional property is still on and the sale of some of these magnificent estates during 2010 are proof that quality paired up with prime real estate location holds its value over time. "Worldwide wealth is up and there is value to be found in many corners of the globe. Internationally, luxury real estate has never looked like this."
Diana Morales comments on the Spanish Luxury Property Market
"In Spain, primer properties in desired luxury markets have fallen between 10 and 20 percent from peak, but motivated sellers are discounting prices by as much as 30 percent. Increasingly, savvy buyers are recongnizing the opportunity. 'It is an optimal time to buy for those with cash', says Diana Morales, chairman of Diana Morales Properties on the Costa del Sol. 'It has all added up to a soft landing for that portion of the market that stands out of for its quality, revealing that the intrinsic demand for fine homes in good locations remains essentially as high as ever'."
For more information on some of our unique properties on the Costa del Sol please contact us or browse through our Costa del Sol Luxury Property selection.