In certain circles when people speak of 'an important' home they are referring to a property such as this. In an environment where fawning superlatives are considered gauche this rather understated description says more than enough, conveying the sense of a property that can hold its own with the finest anywhere in the world.
This superb villa is indeed in what can be considered to be in an 'international' category. In such cases the competition is more international than local, with peers in locations like Rhode Island, the Côte d'Azur, California and private Caribbean islets.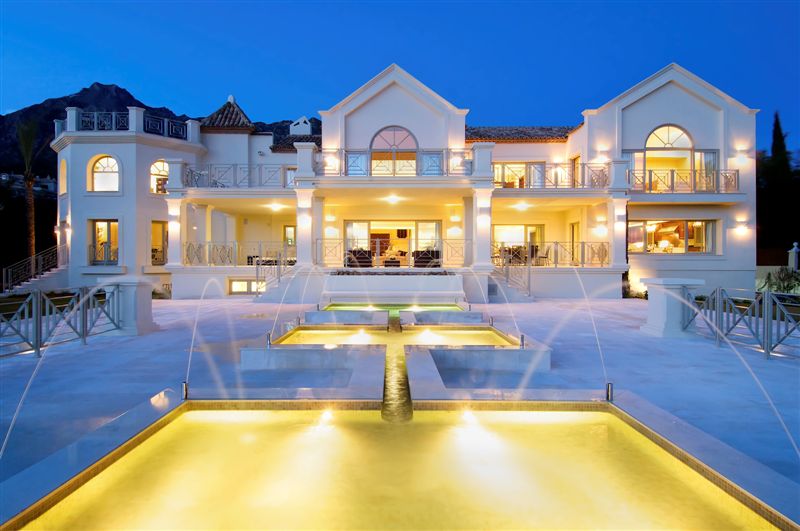 More than just a luxury villa, this is an outstanding home on expansive grounds that evoke the sense of a private estate within one of the finest locations in Marbella. Indeed, with such a property nothing but the best spot at the finest address would do, and the elevated position in Sierra Blanca ensures the views spanning a 180 degree seaward arc are inspiring, competing with direct vistas of La Concha Mountain on the other side.
A few minutes and you're in Marbella, Puerto Banús or on a golf course, but from this position you behold it all before you. Two separate gates converge on a spacious forecourt in the classic style, while a discreet driveway leads to the spacious underground garage that connects to the technical utilities rooms. A more conventional entrance is made through the front door, which opens up to the living quarters, stylishly laid out in a classic configuration in which the perspective view across the terrace to the imposing fountains draws the eye.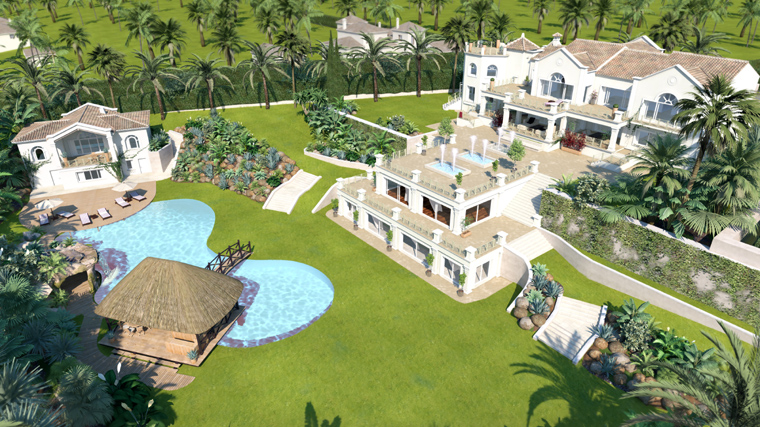 At night this is a feature that enchants and provides a visual reference of great effect, but it is only one of several distinguishing features of this fine property. The ground floor is dedicated to the living areas, which flow from the entrance hall to a gentleman's study, a series of bedroom suites and a sophisticated but intimate lounge with a separate sitting area, a room that can be used as a reading room or children's play area, a dining room and finally the tastefully styled hand-built Clive Christian kitchen with pantry, bar and breakfast table.
All these rooms are connected to the sweeping covered terrace, and as elsewhere in the property the views over the beautifully arranged grounds are impressive, though nowhere more so than from the private quarters on the first floor, where a large terrace surveys the greenery beneath and an open expanse of Mediterranean Sea. Here are a series of private bedroom suites, with the main suite as the jewel in the crown, complete with sitting area, comprehensive dressing room and a bathroom in which a singular solid marble bath steals the show.
Not to be outdone by the main living areas, the basement level, which also features a purpose-built private cinema, uses large panoramic windows and skylights to allow natural light to flood into its billiards room, gymnasium, modern wine cellar and an indoor swimming pool with sauna, steam baths and showers that would put many a five-star spa to shame. Included is a range of hydro-jet features to be enjoyed either indoors or in the outdoor pool just across the immaculate lawn.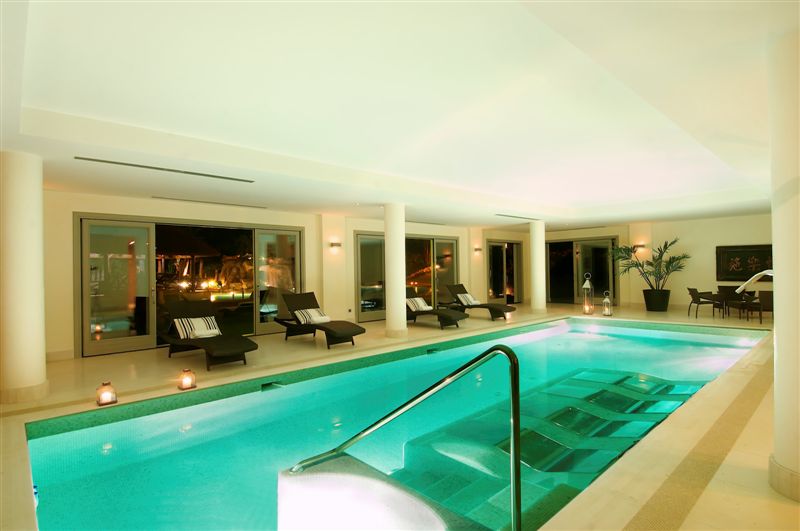 Here, surrounded by tropical greenery and waterfalls cascading from a rockery is the saltwater pool that stands out as another distinguishing feature of this stately contemporary home. The centre point of this lower terraced area shrouded in privacy and greenery is a cabana style hut that provides a shaded spot overlooking the pool. It has space for further facilities such as showers and an outdoor bar/kitchen, though currently these are provided in the nearby guest cottage – in this case a rather understated description of a delightful two-bedroom property that replicates the spirit and qualities of the main house on a smaller scale.
Designed to be entirely independent if so desired, the cottage even has its own driveway, affording guests, children or staff complete privacy and freedom of movement.
Complete enough to be classed an 'important' property, this home also has the refinement and bearing to comfortably wear that title.