People speak of La Zagaleta, El Madroñal and Sierra Blanca, but the finest view of all is a well-kept secret.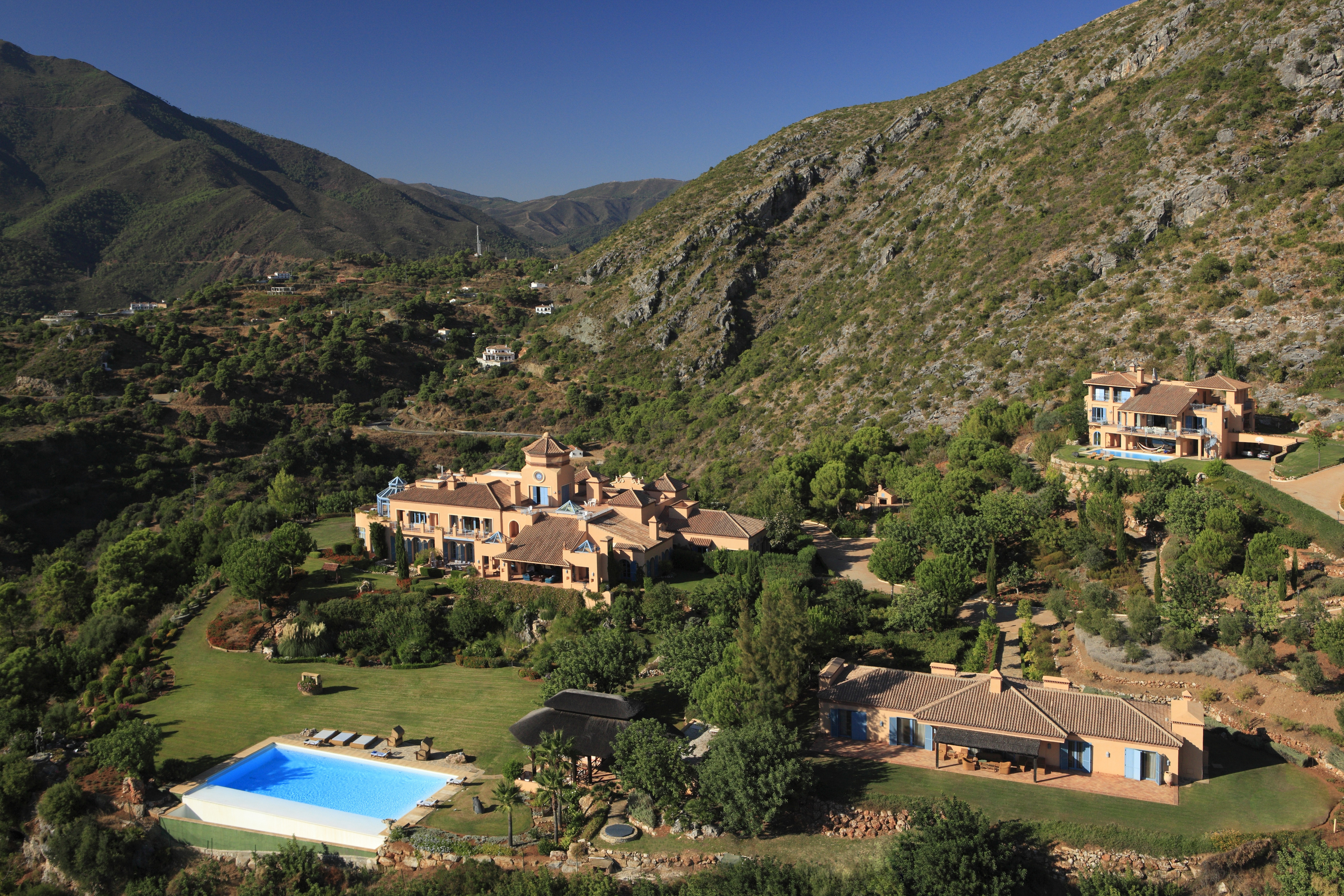 On the road from Marbella to Istán, in an idyllic setting between mountains, lake views, verdant hill country and the most stunning vistas of the sea, lays a refined estate ensconced within earthly beauty. This private domain of 5.7 hectares occupies a largely level land in an elevated position that takes in all the beauty and splendour of its surroundings.
To the north are the ridges of the Serranía de las Nieves, a protected nature reserve, to the east the curvature of Marbella's La Concha Mountain, to the west the waters of the Istán lake, glistening in the sun with the peaks of the Serranía de Ronda rising up behind it, and to the south the Mediterranean Sea.
From the many perspectives to be enjoyed from this marvellous estate – be it on a terrace, by the pool or strolling through the manicured grounds – you could easily imagine yourselves in the Southern Alps, yet in this 'Alpine scene' one would have to include other landmarks, for on clear days the eye travels straight across the sea to Gibraltar and North Africa.
Silhouetted against the sky in ever-changing hues of blue, orange, pink and, ultimately, black, their outlines form a regular companion from the many vantage points the estate offers. An exquisite country estate with the very best credentials, this property offers the ultimate combination of chic rustic living combined with a location just minutes away from Marbella and Puerto Banús.
An estate in the true sense of the word
Close enough to drop the kids off at school, shop or head off for a game of golf, this is nonetheless a sizeable estate set in beautiful country scenery. The driveway, which winds its way through natural pine and olive groves, leads on to a large forecourt in the classical tradition. It provides access to the domain's three properties: the main home, a second villa and a guest villa.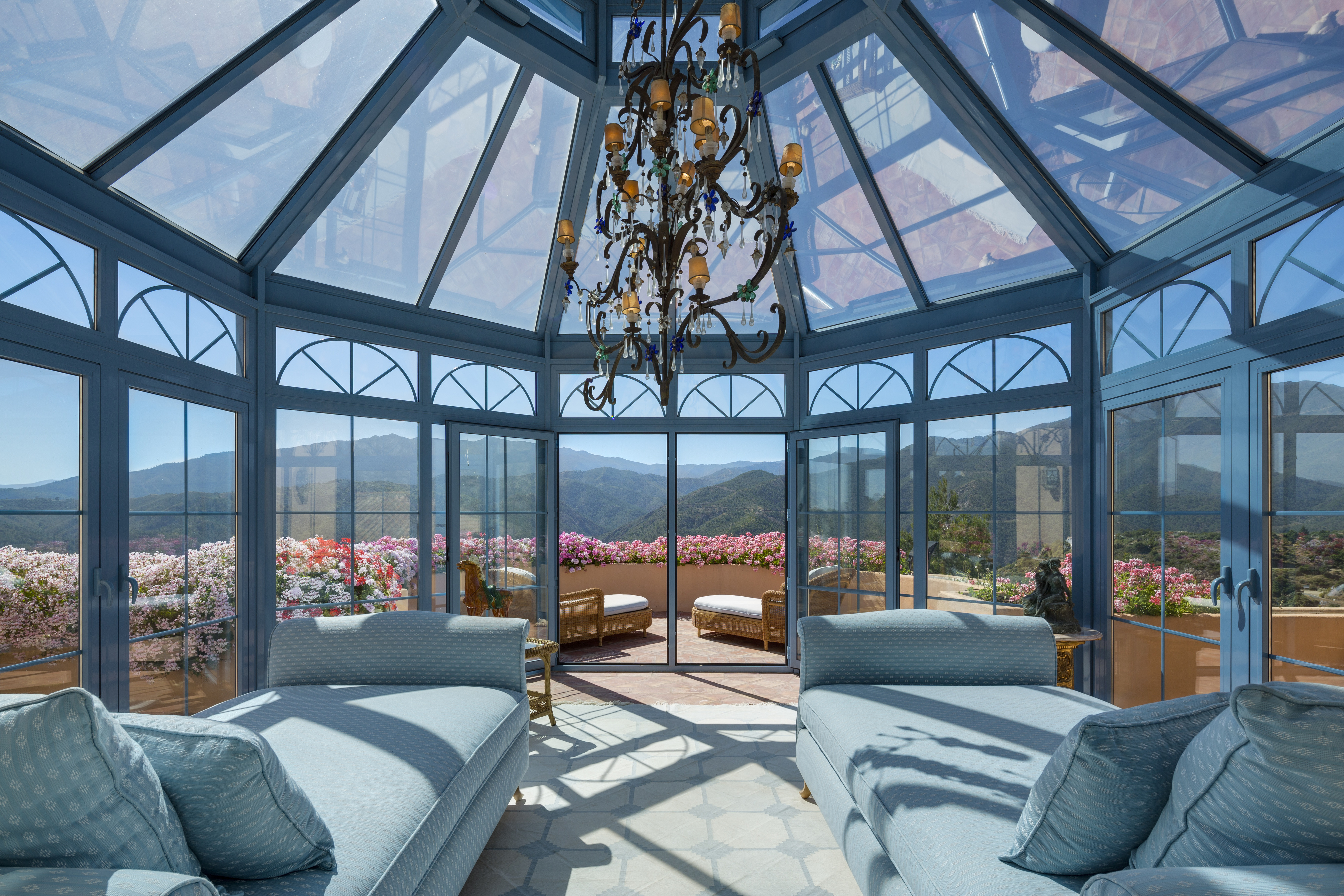 Between them they cover a built area of just under 3,400m2, with almost 600m2 of terraces and a total of 13 bedroom suites, two private pools and sufficient parking facilities for the entertaining a property such as this is just made for. Extending between these three properties are the beautifully kept grounds that bind the villas into one magnificent country estate on the edge of Marbella.
Main mansion
The main property is an elegant and imposing home conceived and decorated with style, personality and savoir-faire. Step through the grand entrance door and you enter a classical courtyard whose proportions, artwork and furnishings hold a distinctly Asian enchantment made up of Indian and Oriental elements.
Proceed into the reception rooms and you realise this is a property belonging to someone with the confidence to design her home around her personal taste and sense of wellbeing. A long-time resident of Marbella, she left the highly exclusive beachside area of the Golden Mile to create a refined labour of love in this spot.
"I fell in love with the setting and it all flowed from there," she says. "From then on it was a question of creating a home where my family and I, our friends and our guests could feel happy surrounded by beautiful things and above all, the beauty of nature." Whether it is the orientation, the setting, the views or the layout and décor of the villa, but a true sense of wellbeing pervades.
The main open-plan living area is large enough to include a salon, a cosy family room with bar, a formal dining room, private office and a card table, yet so well designed that each of these areas is also intimate and welcoming in itself. From here one can proceed to the expansive terrace – with its lounge and dining areas, not to mention breathtaking views of the grounds and the surrounding countryside – to the elegant guest suites and ground floor master suite, and to a country style kitchen where you simply want to spend as much time as possible.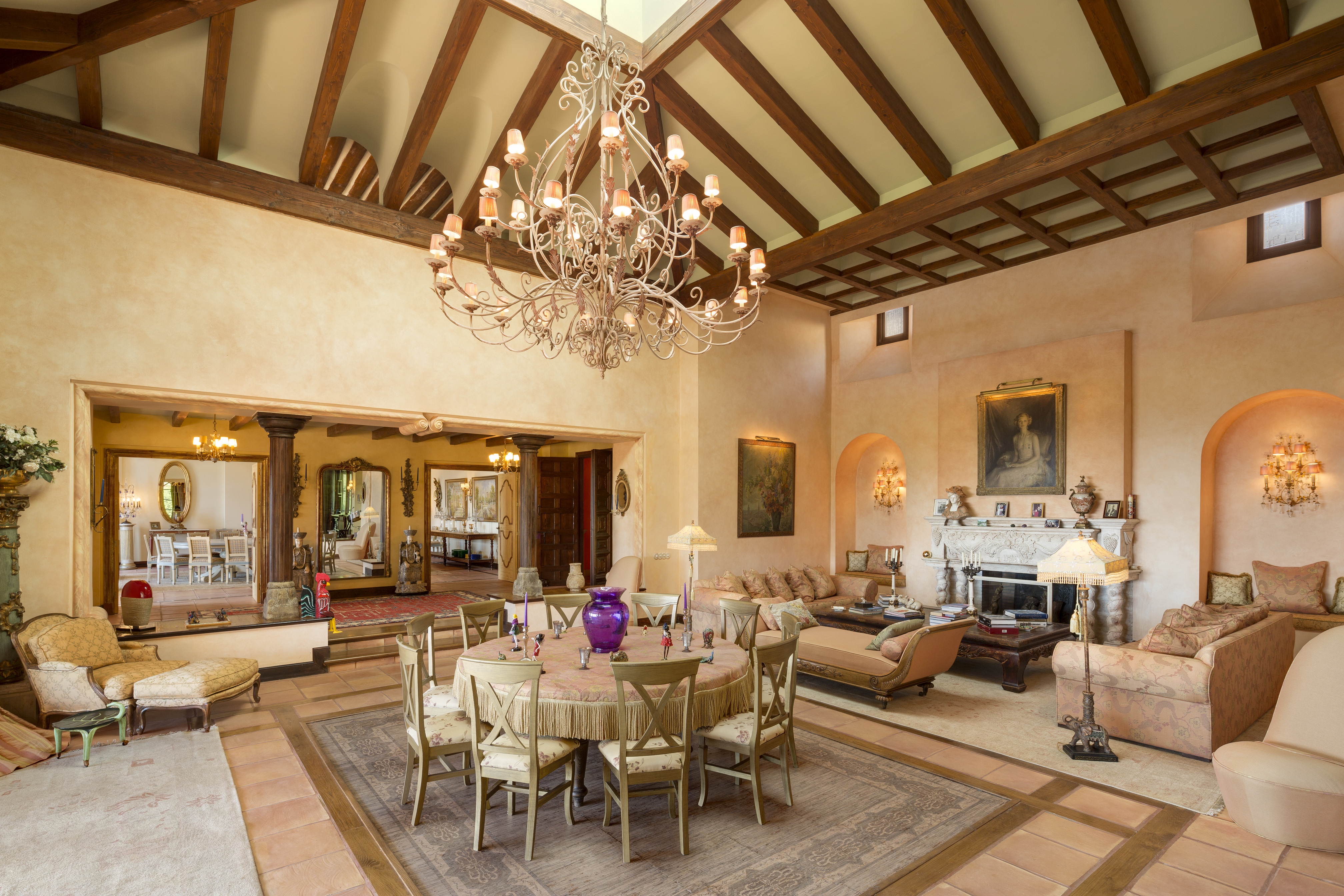 In addition to a working, open-plan country kitchen this space also includes a dining room, a wonderfully comfortable lounge – as elsewhere with a grand classical fireplace – and a private terrace with its own take on the vistas. It is not unlike a beautifully styled apartment in its own right, but then so is the master suite on the upper floor, which offers a gorgeous bedroom and terrace, a walk-in changing room, an opulent bathroom with some of the best views in the property and a private little cooking area that negates the need to walk 'all the way down' to the main kitchen.
A cinema and entertainment room with bar, once again conceived and decorated around the idea of sheer joie de vivre, offers a fresh take on the genre, while the many different terraces connect with the rolling greenery of lawns that cascade gently towards a rather impressively positioned infinity edge swimming pool and deck with its own cabana.
Other properties
A blend of Andalusian and Tuscan architecture is added to with Provençal-style shutters in all three properties, with the second home a truly impressive and spacious villa in its own right – complete with large, luxurious living spaces, a top range kitchen, elegant bedroom suites, a panoramic swimming pool set in beautiful gardens and a multi-car garage.
The third property, also discreetly positioned to ensure optimal privacy and independence, is a charming smaller villa with the same standard of taste and quality in its lounge, kitchen, bathrooms and welcoming guest suites.
Set in a private domain surrounded by natural beauty and magnificent views yet conveniently close to Marbella, this is an estate with no equal in this region.