There was a time when a terrace was simply a section of paved terracotta stone that extended from the living room and formed a transition zone between the interior of the house and the garden area. Covered or open, or indeed a combination of the two, it was a space where you could sit, relax, sunbathe or enjoy a meal al fresco, overlooking the garden, pool and quite often wonderful sea and/or mountain or golf views.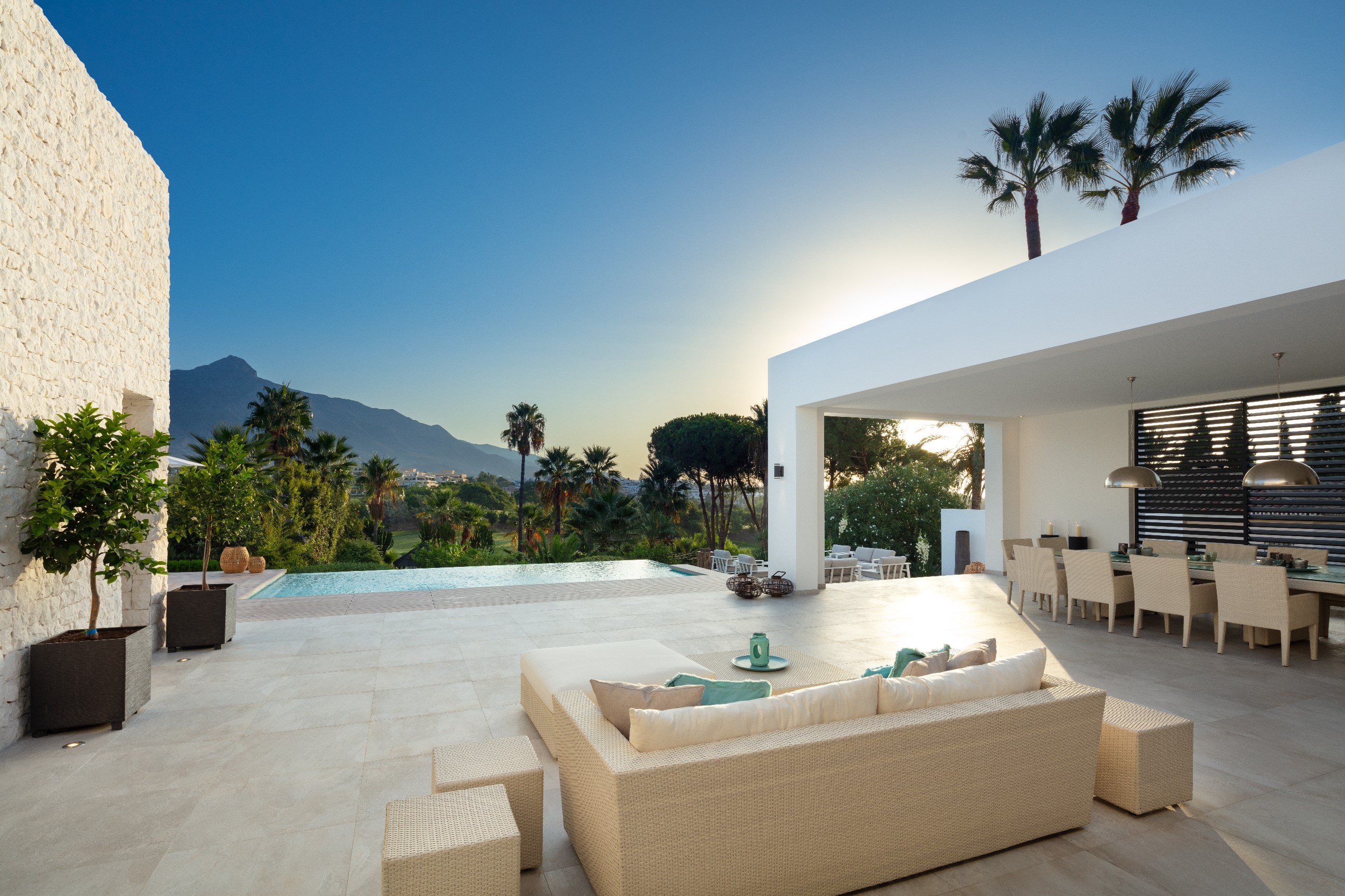 As time went on the terrace became more sophisticated, and initially more integrated with the pleasures of a garden that gradually included swimming pools with sundecks, large Balinese style beds, cabana bars and sometimes even built-in kitchens with barbecues, showers and changing rooms. The terrace's focus was drawn towards the garden and its role as a transition space between indoor and outdoor parts of the house grew all the time, also in apartments and penthouses.
Today, terraces are not just a very important part of a Marbella home, they are increasingly focused on providing a place in which to offer this region's refinement and comfort within its famously warm year-round climate. In other words, the terrace allows you to make the most of the unique Marbella way of life, and as a result it has been evolving and improving all the time – incorporating more and more style, refinement, comforts and amenities along the way.
A true lifestyle setting
More than ever, this makes the modern terrace the ultimate lifestyle setting, for now it blends the sophistication of an open-plan living and dining area with the views of being in an open air setting. Non-slip tiles, Jacuzzis, infinity edge pools, outdoor lounge, dining and chill-out zones in some cases complete with a modern 'Gin bar' and barbecue or wet kitchen are new features of today's terrace, and nowhere is this more so than in Marbella, where the climate is ideal for it.
The more luxurious penthouses and villas also feature such new luxuries as a sunken seating area with modern fire pit, outdoor cinema area and in some cases even small spas including heated outdoor pools, steam rooms and saunas. Today, the terrace is everything you want it to be, but above all the ultimate extension of your home's interior style, comfort and amenities.
Diana Morales Properties|Knight Frank is the specialist in luxury Marbella homes for over 30 years, so contact us if you are looking for the finest selection of property for sale in Marbella and surroundings.