Once again, Marbella will glitter with stars this summer as leading lights from different genres of music light up the night sky. But who will sparkle the brightest?
The two principal venues are the renowned Puente Romano Tennis Club and the atmospheric Quarry of Nagüeles, home to the 2012 Starlite Festival.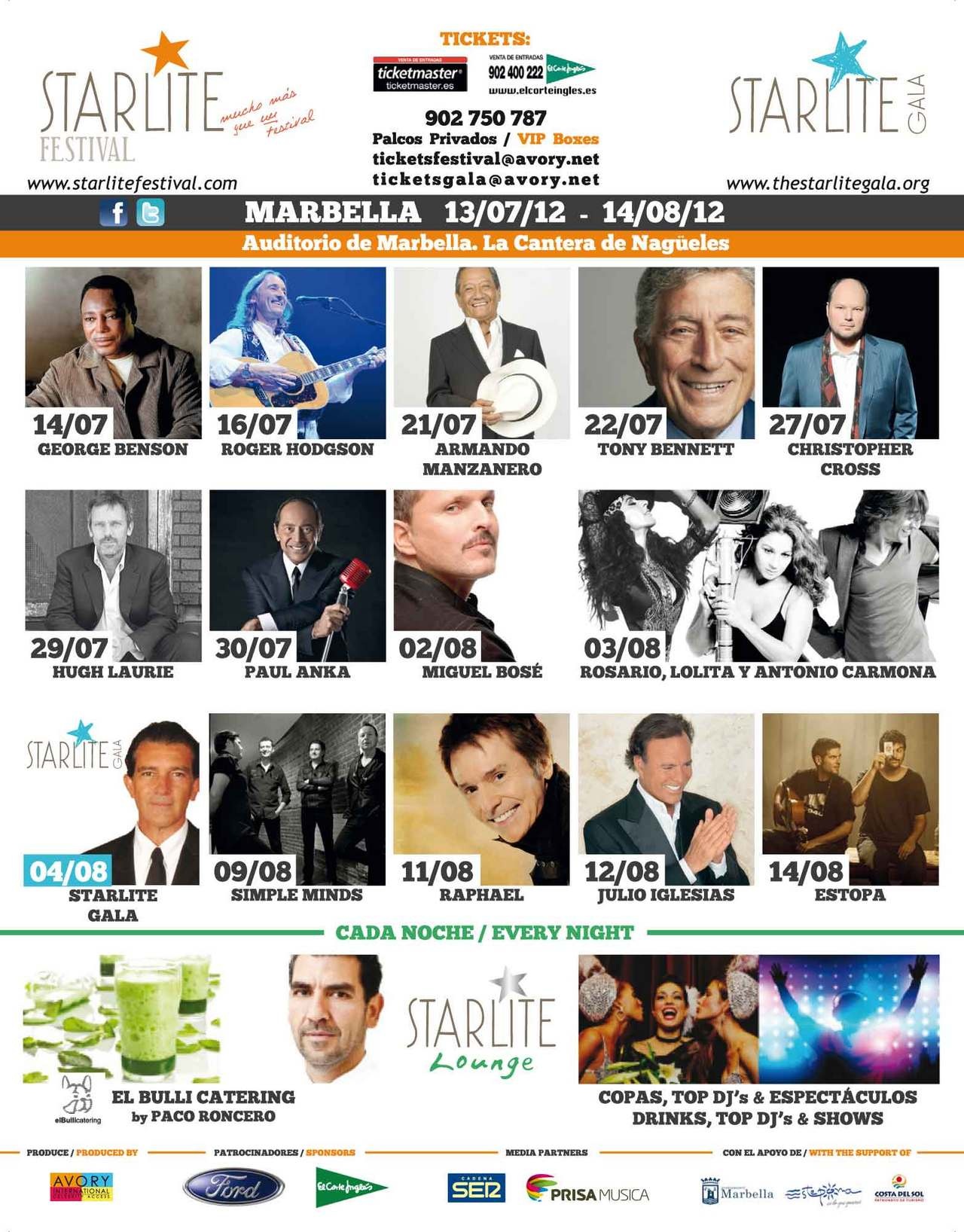 Starlite Festival
The Starlite Festival will take place in the auditorium created inside the quarry of Nagüeles above Marbella. Originally the brainchild of Julio Iglesias, Plácido Domingo and Alfonso Von Hohenlohe nearly 30 years ago, this venue aims to reintroduce Marbella to the 'glamour of its golden age' with a series of 14 concerts taking place over 30 days of partying.
Saturday 14th July
Opening the Festival will be guitarist George Benson, winner of ten Grammy Awards across several categories including jazz, R&B and pop. He played his first gig at the age of eight and brings to Marbella a lifetime of experience. He'll Give Me the Night, and you too.
Monday 16th July
Tenor singer songwriter Roger Hodgson will be performing some of the classic hits he created as the voice of British progressive rock band Supertramp back in the 1970s.
Saturday 21st July
Armando Manzanero is the songwriter behind many hits made famous by artists such as Frank Sinatra, Johnny Mathis, Tony Bennett and Elvis Presley. He himself has recorded more than 30 albums and is one of today's most highly respected Latin musicians.
Sunday 22nd July
Legendary crooner Tony Bennett had his first number one hit nearly 60 years ago, but captured a new audience after his recent duet with Lady Gaga when they sang 'This Chick is a Tramp'. We can't promise Lady Gaga but you won't be disappointed by this amazing artist's talent and charismatic charm.
Friday 27th July
Texan singer songwriter Christopher Cross will perform some of his best-loved hits for which he has won numerous Grammy Awards, a Golden Globe and an Oscar.
Saturday 29th July
Hugh Laurie is in the Guinness Book of World Records as the most watched leading man on television. He's also a voice artist, comedian, writer and director and will be performing songs from his blues album, Let Them Talk.
Monday 30th July
Canadian Paul Anka, who sang with Tom Jones, Elaine Paige, Celine Dion and Sammy Davis Jr on his Duets album had his own group by the age of 12. His lifelong love of performing will shine through as he reminds us of his hits right through from the Rat Pack days to now.
Thursday 2nd August
Spanish pop star Miguel Bosé who writes words and music for grown ups, fusing influences from all over the globe, will show that he can still make grown women simper when he sings in Marbella.
Friday 3rd August
Three of Spain's most popular artists Rosario, Lolita and Antonio Carmona will perform their blend of flamenco and rumba hits to have you dancing in the aisles.
Thursday 9th August
Don't You Forget About Simple Minds playing some of the greatest hits that have earned them over 60 million album sales, a Q music award and five number one albums.
Saturday 11th August
Spanish singer and actor Raphael has entertained the Spanish-speaking world for more than five decades. One of the first artists to achieve a uranium record in the world for sales of over 50 million albums, he can also count among his accolades 326 gold and 40 platinum records.
Sunday 12th August
The bestselling Spanish-speaking artist Julio Iglesias has sold more than 300 million records in 14 languages and released 77 albums. He's been famous for more than 40 years for his romantic ballads. It was his dream to create this amazing venue and he will celebrate the achievement by performing to his fans at the end of his tour.
Tuesday 14th August
Estopa brothers José and David Muñoz say they don't like to be easily categorised but will play a blend of rock, rumba, flamenco and the sound of the street. They're touring 64 cities in six months and have sold more than four million albums.
Ticket Sales: El Corte Ingles or www.ticketmaster.es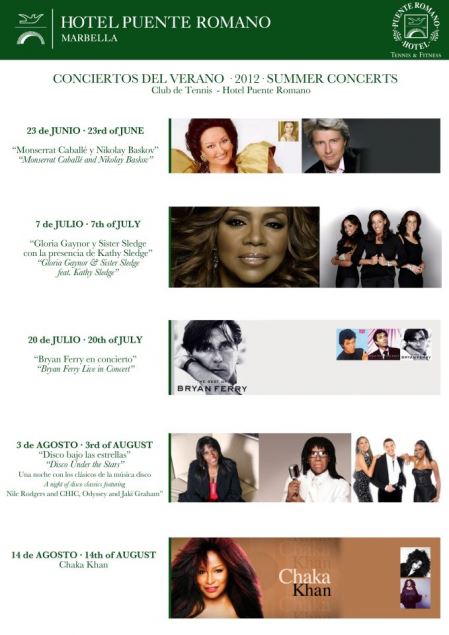 Puente Romano Concerts 2012
Saturday 23rd June
Spanish operatic soprano Montserrat Caballe is perhaps best known internationally for her Barcelona duet with Queen's Freddie Mercury, which topped the charts in 1988. She was joined on stage by her daughter Montserrat Marti and together they performed operatic favourites by the likes of Puccini and Rossini to raise funds for The Children for Peace charity.
Saturday 30th June
Live Nation is the proud promoter of Sting's Back to Bass tour, celebrating the 25th anniversary of his solo career after his success with The Police in the 1970s and 80s. His set list included stripped back versions of his most popular solo and band hits.
Saturday 7th July
Disco survivors' Gloria Gaynor and Sister Sledge featuring Kathy Sledge performed great songs from the disco years that you never can say goodbye to. Ladies, don't you remember singing I Will Survive with you hairbrush microphones?
Friday 20th July
Bryan Ferry began in glam rock but has embraced many styles over the years. In 2007 he made an album of Bob Dylan covers showing just how versatile he has become. Expect some Roxy Music classics plus solo hits like Slave to Love.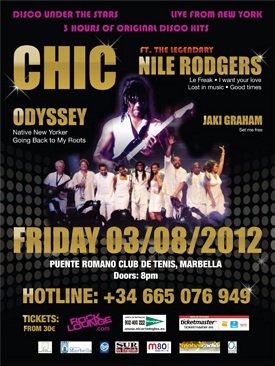 Friday 3rd August
Being billed as the best value concert this summer, Disco Under the Stars direct from New York will have you boogying in your seats. Headline act and 12-piece band CHIC featuring the legendary Nile Rodgers is performing a three-hour show along with Odyssey and Jaki Graham. We defy you not to dance to their disco classics: Le Freak, Good Times, Everybody Dance, Set Me Free, Inside Out, Going Back to My Roots, Native New Yorker and so many more. Flares, platforms and glitter at the ready! More information available from www.rocklounge.com.
Tuesday 14th August
The 10-time Grammy Award winning singer songwriter Chaka Khan will be flying over from the States to perform a selection of her funk hits and feel good classics from the disco era for the Marbella crowd.
Ticket Sales: Telephone: 952 768 222, El Corte Ingles or www.ticketmaster.es