This year, natural living magazine La Chispa is organising the fourth edition of the highly popular Festival Arte Sano, which also coincides with the celebration of the magazine's tenth anniversary. The festival, created in the spirit of the magazine, is a great coming together of health, wellbeing, arts, crafts, ecology and, above all fun, bringing the 'alternative Andalucía' to the coast.
The festival will be held at the beachside promenade (Paseo Marítimo) by the Playa la Salida beach of San Pedro Alcântara, which has proved such a popular venue, and runs from Saturday 28 to Sunday 29 July. It starts from 11am in the morning right through to midnight, and contains a wide diversity of activities and experiences, including live music, entertainment, workshops, arts and crafts, chill-out areas and children's activities, not to mention delicious healthy food and a very special atmosphere.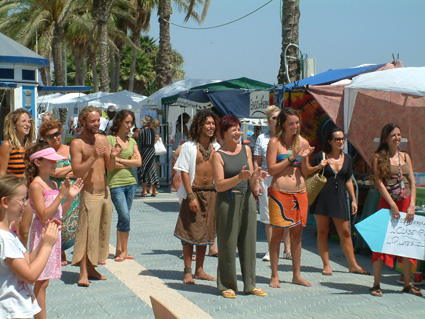 Whether you're into health and natural beauty, personal development, discovering how fine food can also be good for you, like traditionally inspired arts and crafts, enjoy outdoor music and entertainment, a reviving massage, or just want to rummage around an alternative market or relax in the sun while the kids enjoy themselves – you'll be able to find it here. Good live entertainment from some of the best bands on the coast accompanies delicious food with an exotic twist and an ambience that brings the surfer's vibe of Tarifa right to your doorstep.
Those who have an interest in technology, and more specifically technology designed with environmental sustainability in mind, will also enjoy displays of the latest products and gadgets to hit the market – including the chance to try them out for yourself. These include anything from solar-powered gadgets and clever eco-friendly ideas to electric vehicles just waiting to be tested.
Building on the popularity of the previous editions, this summer's Festival Arte Sano will also celebrate the tenth anniversary of La Chispa Magazine, and promises to be a sizzling hot event!
ENTRANCE IS FREE