The finest, most luxurious apartments have the ability to offer the comfort, style, space and privacy of a true villa. Of these there are many fine examples in a place such as Marbella, so it is truly special when you can say of a property that it is singularly attractive and, quite frankly, unique.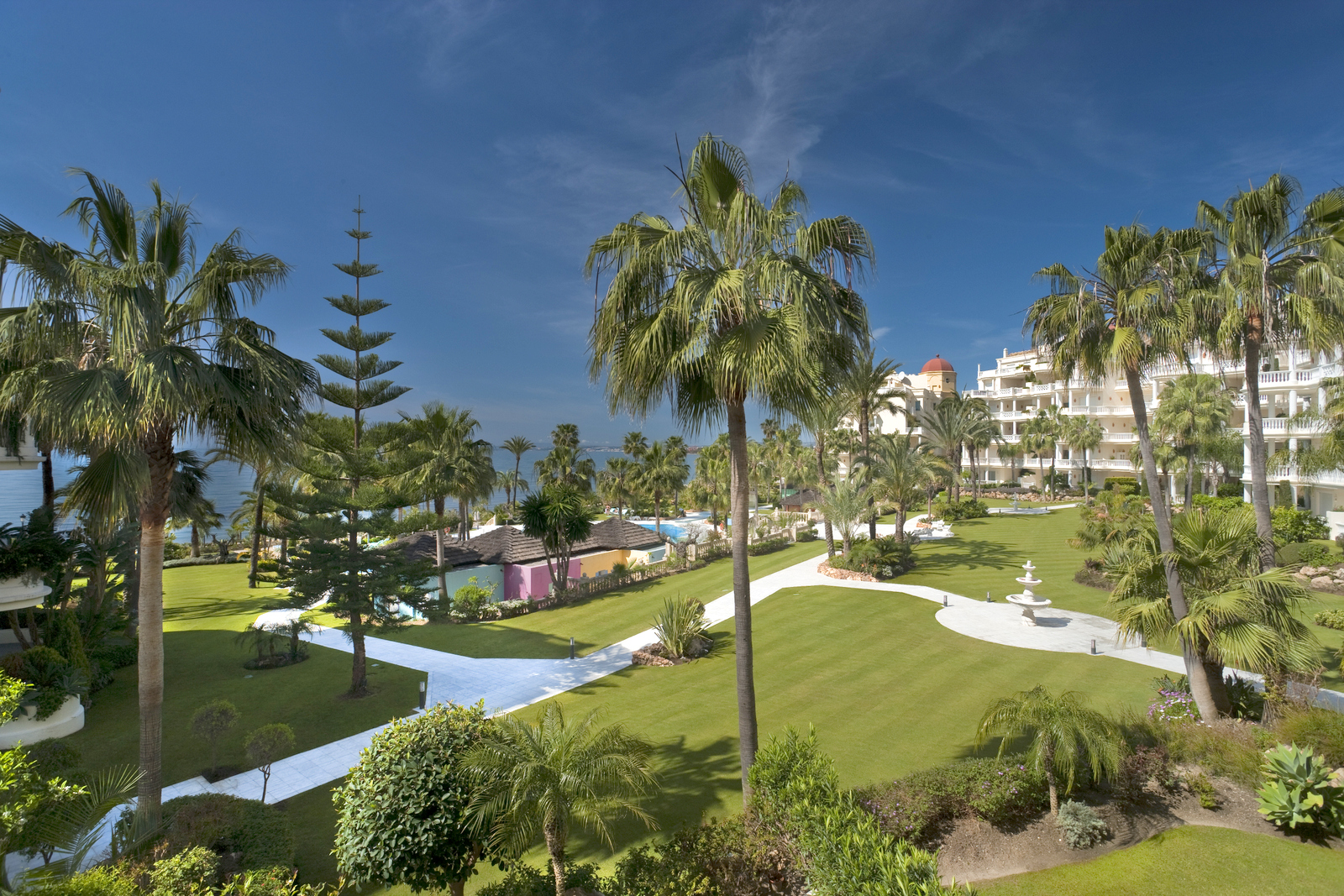 This expansive apartment on the New Golden Mile is exactly that, offering a sense of elegance, comfort and refinement to match the finest villas in Marbella whilst also sporting a stunning beachfront location that few villas can boast of. Indeed, combine the sophistication of a villa with the convenience and sea front setting of a luxury apartment complex, and the result is this inspiring home.
The environment
The gated community of Las Dunas Park ranks among the most exclusive complexes of its type in the area, occupying a distinct category of top-segment beachside properties that present the Marbella lifestyle at its very best. Once you pass through the gate into its elegant surroundings, you enter an environment of private beauty that feels very much like a verdant oasis on the edge of the sea.
Immaculately maintained, its pathways match the classically inspired architecture, leading to a crisp lawn that flows down towards the expansive pool deck. The latter features a swimming pool that is maintained at 28°C throughout the year and a charming chiringuito cabana bar that is manned during the summer. The small collection of pretty, brightly coloured cabin houses adds a touch of Caribbean extravagance.
A rather unique feature, they are used as convenient little poolside houses by those residents lucky enough to own one. The cabana that could also be bought with this apartment is, not surprisingly, one of the finest, complete with its own luxurious marble bathroom, built-in kitchen and compact but stylish dining and lounge area that opens onto a private terrace.
Another unique characteristic of Las Dunas Park is its link to the five-star resort hotel, health and beach spa that has reopened in the spring after an extended refurbishment to its suites, spa, restaurants and grounds. All these facilities, as well as a complete concierge service, are part and parcel of owning a home at Las Dunas Park.
The home
It is this parkland setting that the apartment looks out over, with unimpeded views beyond it to the Mediterranean Sea. From here Gibraltar and the coast of Morocco come into spectacular focus too, rising up out of the distant horizon. Situated on the first floor, the property is reached through an elegant portal, and since it has been created out of two luxurious Las Dunas Park apartments it occupies the entire first floor of this wing.
This means that you effectively step out of the lift into a private entrance marked by solid marble and a fine-lacquered front door. Once inside the apartment you realise just how unique this home is, with a gorgeous open-plan layout that is created from the clever fusion of two apartments and reminiscent of stylish New York loft properties. This easy flowing distribution effortlessly links entrance to the stylish lounge and on to the cosy sitting area with fireplace.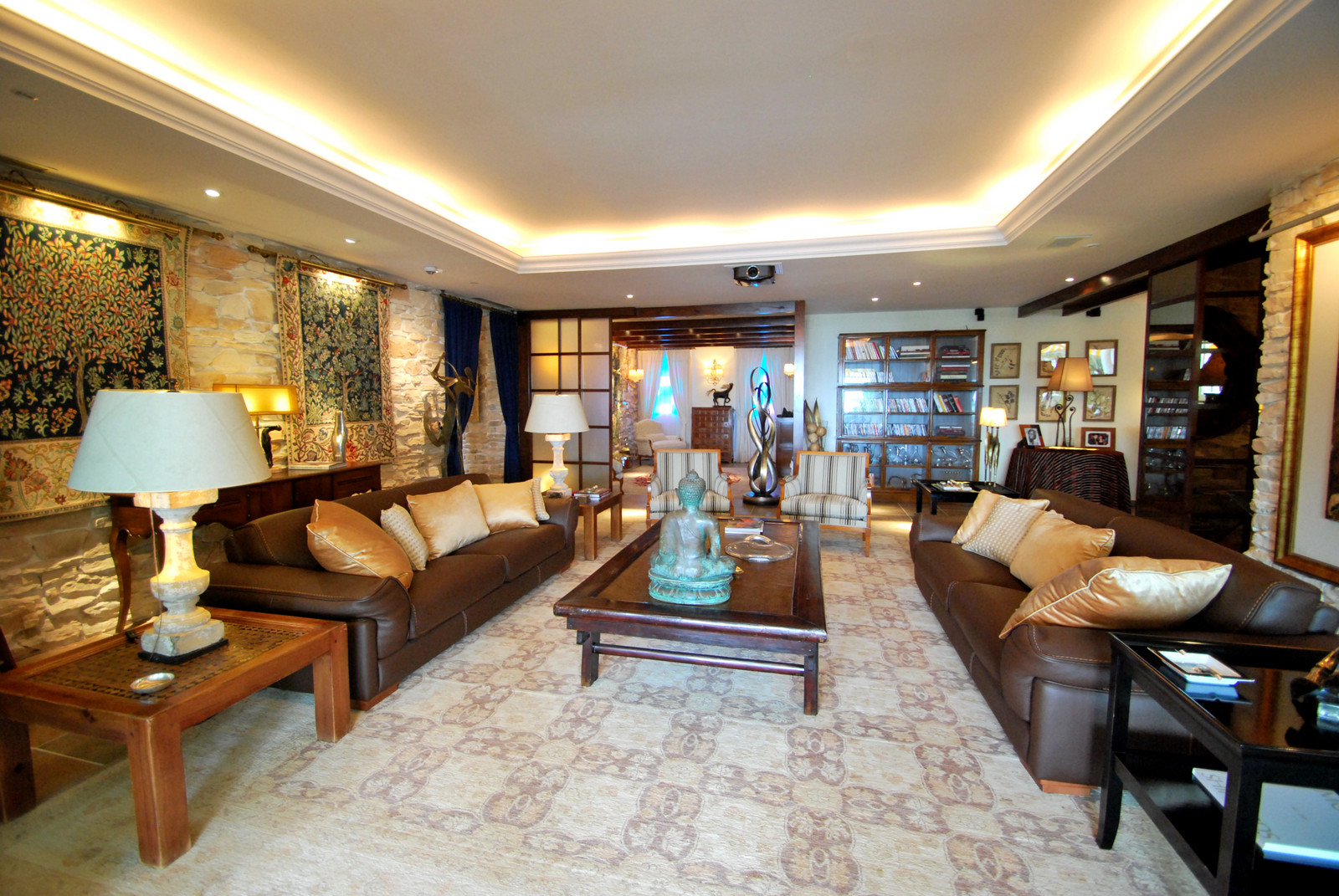 In the true style of a sophisticated loft apartment, this area features an open flow that connects a built-in bar, charming yet professionally equipped kitchen, the formal dining room and also a small room with secretaire. The space created is at once spacious and intimate, and can in places be separated by Japanese-inspired sliding screens. Refined and impressive, the interior speaks of quality and taste yet is also warm and comfortable, creating an environment that you want to spend time in.
This clever interaction of rooms and redefining of their conventional description produces an impressive wine cellar in the dining room that is a design feature in its own right. Using its 18-metre long fronting, the expansive terrace has been used to create a lounge and dining area whose folding concertina doors can be closed to create an enclosed area that links the indoor and outdoor areas, which has its own sitting and dining corners.
The latter can also be accessed via the private terrace areas of the three luxurious bedroom suites, each of which features an entirely independent suite including a bedroom, dressing area, sumptuous marble bathrooms with stained glass windows that allow light to enter yet offer privacy, and an additional space that can be used as a private study, lounge area or even an exercise area. One of these already features a sauna, while the property is also serviced by its own professionally equipped laundry situated close to the apartment's storage room and private parking spaces.
Unique in its layout and ambience, this exquisite home brings the refinement of a New York loft apartment to a privileged Marbella setting on the edge of the Mediterranean, creating a top-level villa lifestyle within an expansive, concierge-serviced apartment with few peers in the entire region.