Comparative Prices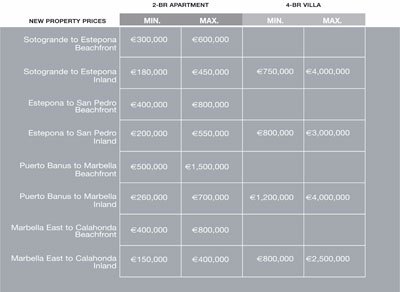 We went to some trouble to make the accompanying table of approximate maximum and minimum prices in the various zones along the Costa del Sol.
We did this because people like charts and tables. They think they are getting a handle on the situation. Now we tell you that the chart is almost useless for all practical purposes.
Yes, it shows you that property prices are generally lower along the coast east of Marbella towards Fuengirola. It also shows you that prices tend to be highest around Marbella itself and the stretch of beachfront known as the Golden Mile around Puerto Banus. No surprise there. These were the first villas and apartments built in privileged locations. You also see that there are no new beachfront villas for sale. Maybe you had guessed that already. Beachfront land goes for luxury apartment developments today, not for individual dwellings.
You see by the chart that prices tend to be somewhat lower east of Marbella and also to the far west towards Sotogrande. But the chart doesn't tell you that prices are lower in the Calahonda area because it has been intensely developed with pleasant but modest blocks of flats. Many buyers prefer this bustling atmosphere, both for holidays and year-round living. Prices are lower towards the Manilva-Sotogrande end of the coast because development has only recently begun. This often means that local services and amenities have not caught up with the new demand and that early buyers will have to deal with construction still going on around them. An owner in the Calahonda area will always find a ready market if he chooses to sell because the price suits most pocketbooks and there is a steady flow of possible purchasers. The buyer along the Manilva-Sabinillas stretch of coast or hillside knows that his property will be worth considerably more than he paid within a few years as the area develops and becomes more homelike. There is a lot to know when making your selection.
If real life came in a neat package like the price table, it would be much simpler. But it isn't, and that is why you need an experienced estate agent to lead you through the maze and advise you on all the factors that don't show up on the chart. The agent will analyse your particular wants and needs and help you decide intelligently. If you are figuring to enjoy your purchase for a few years and then sell it on, maybe the newly emergent areas will be best for you. If you want a lively atmosphere among fellow Britons, maybe the coast between Calahonda and Fuengirola would suit you.
If you are one of those fortunate few looking for something truly special and for whom money is no object, then you need the help of an experienced local estate agent even more. There are no new villas being built on the beach because the number of people who can afford one is extremely small. An experienced agent, however, can help you find one of the few re-sales of beachfront villas. Quite often, these exclusive properties never come onto the open market. They are discreetly offered through an agent who has established confidence with the owner over the years.
Then you look at the chart and you see that prices inland are lower than first-line beach prices. You get the idea that perhaps you cannot find the luxury you are looking for with an inland property. There is more to the story, however. Some of the coast's most high-end properties are now being developed on hillsides which are technically inland, but which have panoramic views over golf courses down to the sea and across to Africa. New roads and bridges put these very desirable properties at fifteen minutes drive from the beach so they are not exactly "inland".
And so it goes. The price table gives you an approximate idea but only an experienced property agent can put you fully in the picture.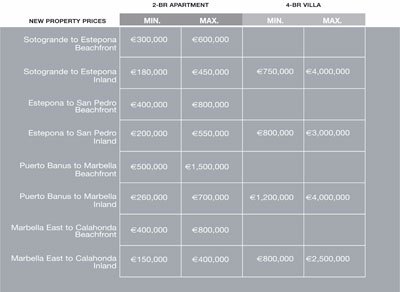 By David Searl