Sotheby's European Marketing Expert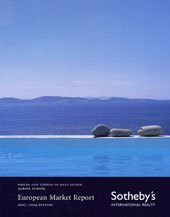 As part of a more than 250-year-old organisation, Sotheby's International Realty (SIR) has been serving its clients' real estate needs for more than 20 years on a worldwide basis.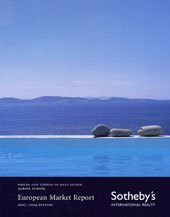 In Europe, SIR is proud to be represented by more than 42 Exclusive Affiliates, independent local real estate brokerages that have been chosen for their expertise in fine real estate and dedication to customer service.
Sotheby's International Realty Europe is thereby serving its clients needs through its Exclusive Affiliates and company- owned brokerages in 16 countries with more than 100 offices.
2003 will prove to be a year of significant growth for SIR Europe. SIR's new offices in Paris (operated by Lamy) serve the continuing high demand of international clients for high-end properties in this thriving European capital. In June, SIR has signed a comprehensive master license agreement with its former Exclusive Affiliate "Lew Geffen Estates" in Johannesburg, South Africa, according to which Lew Geffen will establish a comprehensive network of SIR brokerages all over South Africa within the next 36 months. In addition to establishing new affiliate and franchise operations all over Europe, SIR is planning to open company-owned brokerages in Munich and Frankfurt, Germany, by the end of the year.
Despite the difficult political and economic environment, 2003 has proven to be a remarkably stable year for European luxury real estate so far. After four years of continuous growth, most European markets for luxury real estate are experiencing a consolidation of prices on a high level. However, realistically priced properties in good locations continue to sell all over Europe.
SIR's unique position as Europe's leading broker for luxury real estate is reflected in the impressive range of its constantly improved marketing services which include such unique features as worldwide distributed colour brochures, the proprietary auction and real estate publication PREVIEW, and our comprehensive website www.sothebysrealty.com. Moreover, SIR Europe and its unique offerings are featured almost daily in the most important European media such as the Financial Times (UK), The Wall Street Journals (Europe and U.S.) or Die Welt (Germany). We would be delighted and honoured to serve your real estate needs in the future.
Article published in the fourth edition of 'Costa del Sol Highlights' showcasing the finest properties in Marbella and on the Costa del Sol, Spain.