This superb contemporary villa in Cascada de Camoján – the most exclusive part of luxurious Sierra Blanca – combines modern refinement and style with a layout, setting and amenities that make it an ideal home for luxury 21st century living and entertaining.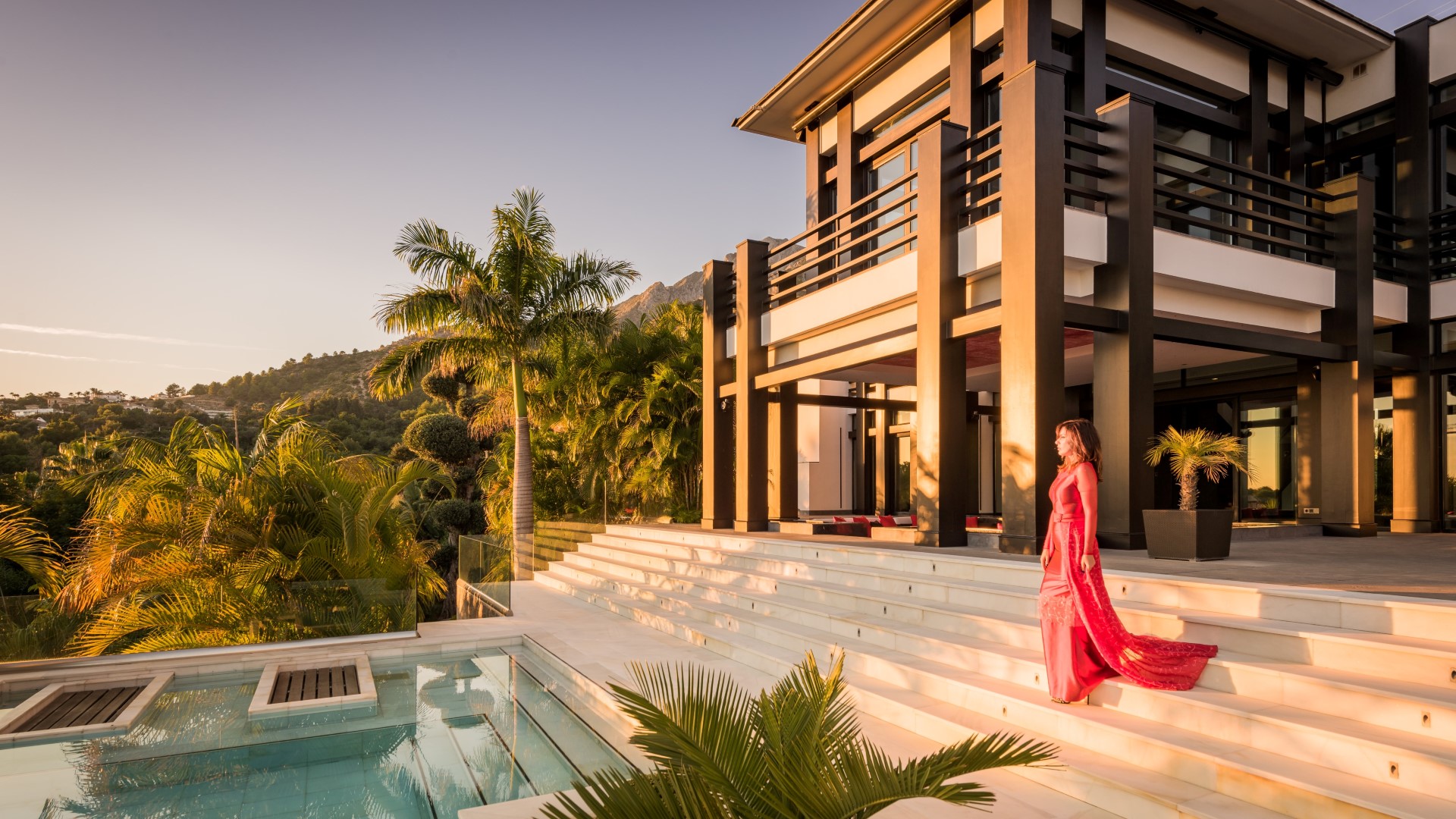 Built to exacting German standards, the property is located in the secluded, green gated community of Cascada de Camoján. From here it enjoys a fantastic panorama that takes in Marbella town, Puerto Banús, the verdant coastal area and the Mediterranean Sea in one glance. Turn the other way and you gaze upon untouched natural beauty at the base of Marbella's La Concha Mountain, which offers up a great variety of hiking trails in a classic hill setting.
It is a perfect location for a luxury Marbella home, offering peace, privacy and security at a few minutes from all the amenities of the coastal area, and just made for refined modern living – and entertaining. The villa offers a modern interpretation of contemporary style, with imposing architectural design and comfortable interior spaces that are welcoming in a very distinct way. Sophistication is a word that springs to mind as you enter the home, and indeed, stepping into the entrance hall is like opening the pages of a design magazine.
A modern state-of-the-art kitchen with its own breakfast area and panoramic terrace occupies the left flank of a villa whose opposite side is home to a spacious yet intimate living room with different seating areas. They too connect with the large terrace that seems to blend with the horizon, creating the sense that you hover between sea and sky. This almost liquid perspective comes to life even more as evening sets in, and you could just imagine lazing by the pool during the day and hosting a stylish gathering at night.
The top-range kitchen looks fantastic but is also capable of catering on a professional level, so drinks and snacks would be served on the terrace, with groups gathering at the pool or the sunken outdoor lounge – complete with modern fire pit – as the setting sun colours the sky orange and shades of blue and purple. Guests can be accommodated on the lower floor, where the rooms have access to an English patio and a soothing private spa area.
The home's occupants, meanwhile, can continue to enjoy the privacy and comfort of their home on the first floor, where the private quarters are just that. Split into two wings, they include a spacious master suite with dressing area, make-up room, ravishing bathroom and private terrace, another large suite and a panoramic glass-fronted gym whose imposing coastal views are a far cry from the gymnasiums often found in basement areas. For modern style, entertainment potential and sheer sophistication, this contemporary villa for sale in Cascada de Camoján is one-of-a-kind among the finest modern villas in Marbella.