Another record year as real estate market cools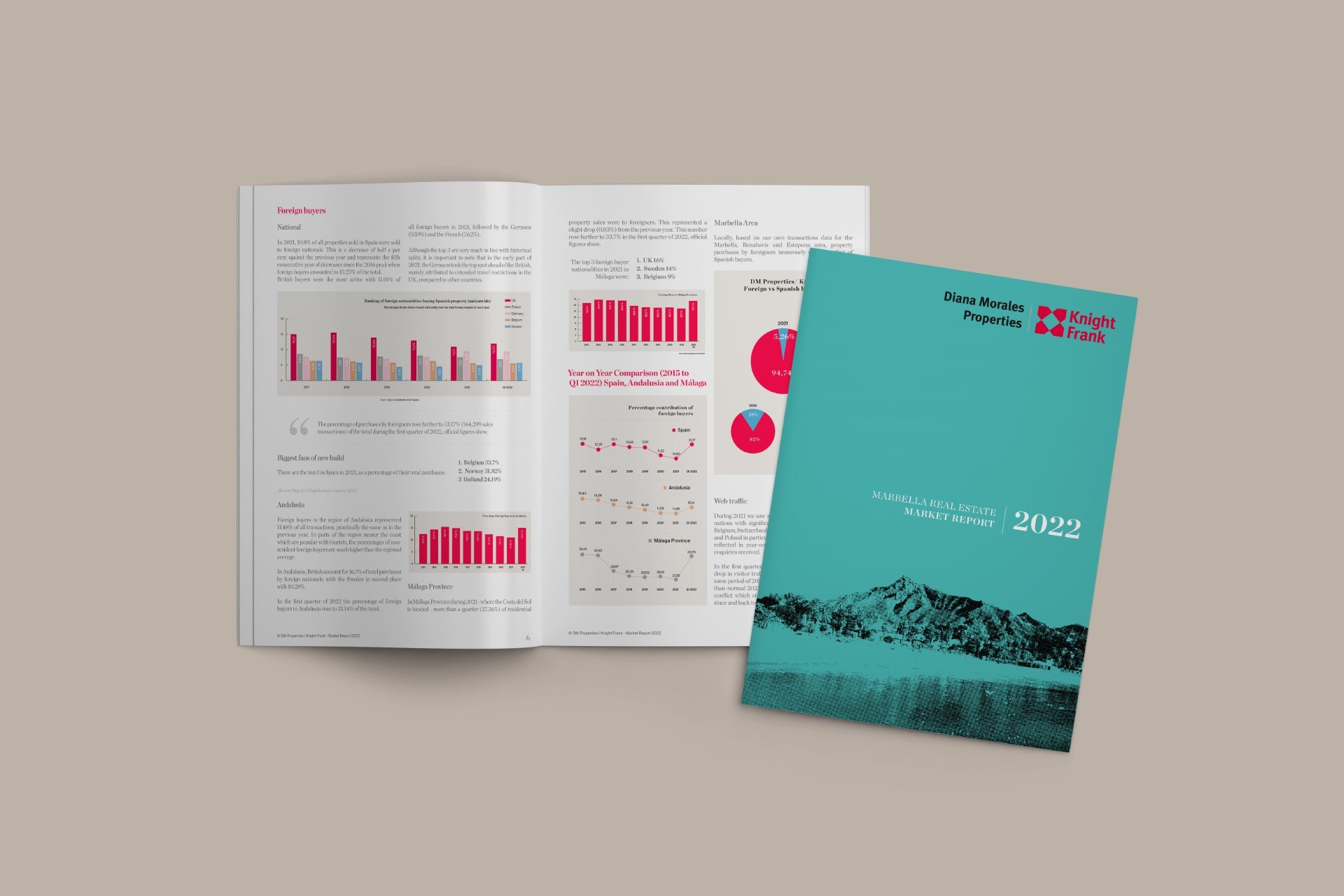 Despite fears of recessions across the globe and forecasts of property prices likely to drop by the second quarter of 2023, Marbella's luxury real estate sector is enjoying another record year.
As of mid-Q3 2022, DM Properties Knight Frank matched the same level of transaction volume of 2021, but saw a 30% increase in the value of the sales. The general sentiment among estate agents in the Marbella area is that, although sales volume has slowed since June this year, sales are of a higher value with an unusually high amount of properties sold with asking prices exceeding €10m.
Prices and Demand
DM Properties Managing Partner, Pia Arrieta Morales, confirms that from her conversations with owners here in the Marbella area, there has been "an increasing sense of wanting to sell sooner rather than later." However, she says this is not due to their financial pressures, but "mainly due to wanting to have liquidity or as part of an investment strategy to sell at a higher price before that looming recession hits." We believe these are the early signs of a gradual transition from a sellers to a buyers market. However, Pia asks: "can we really say this for Marbella, where in prime areas, demand continues to outstrip supply and in a market where sellers don't really "need" to sell?." Meanwhile, official figures from Spain's Land Registry show that during the 3rd quarter of 2022, the rate of increase of property prices in Spain slowed to +0.1%, below the 2.4% seen between Q1 to Q2 of this year.
Rebalancing
Here, prices are still rising in most sought-after areas within the so-called 'Golden Triangle' - an area comprising Marbella, Benahavis and Estepona - just not at the pace they were. This is in line with global trends. "Marbella is a second, third home destination, and our clients buy property based on financial strategy and diversifying portfolios rather than as a 'need' - i.e property as a 'safe haven' - as well as the joy of owning a property abroad. Likewise, sellers will usually sell for the same reasons, with perhaps the additional motivation sometimes being the little use of properties on their part" comments Pia.
"Knight Frank expects a notable slowdown in the remainder of 2022 and 2023 with mainstream markets affected most due to their greater exposure to mortgage rates." Pia Arrieta Morales
But Marbella is not a mainstream market. Although rising mortgage rates naturally have an effect in home buying, in the high end of the real estate market here in Marbella buyers are often cash buyers, and financing the transaction is often a case of seeking favourable terms rather than a necessity. "While most of our clients do not need financing to buy" Pia adds that "when a mortgage is taken it is mainly due to a calculated financial move as part of their overall estate." Knight Frank research suggests that global housing markets are entering a new cycle as interest rates in some advanced economies reach levels not seen for 14 years. However, Marbella's luxury sector is mostly a second home foreign market, in fact at DM Properties - Knight Frank more than 90% of our buyers are not Spanish nationals.
Although on a country-by-country basis, rising interest rates and cost of living crises will affect the timing on when buyers will move forward with a transaction, this diversity spreads the risk and thus, the sales patterns are usually less volatile than those relying on a single domestic buyer market. In many ways, Marbella is more resilient than many global cities due to Covid aftermath. Buyers are increasingly prioritising quality of life for themselves and their families over other factors which were more present before the pandemic.
Outlook
There are 3 key reasons we think notable price falls will not affect Marbella in 2023:
1) Demand: Demand remains robust in the prime areas of Marbella.
2) Supply: Still suffering from a historic backlog of undersupply.
3) Mortgage market: Banks adhere to a much tighter set of lending criteria and the proportion of households on fixed-rate mortgages is significantly higher than in 2008.
Incentives for foreign buyers
Additionally, the advent of remote working and digital nomads has also increased the demand for property in the Marbella and Costa del Sol generally. Spain's Startup Law which is expected to come into effect in January 2023, includes a wide range of fiscal and legal benefits for "digital nomads" entrepreneurs and remote workers that settle in Spain. These individuals will have the option of residing and working in Spain for 5 years, and will be eligible for a special tax regime, paying Non-Resident Income Tax. In September, Wealth Tax was scrapped in Andalusia, in another step toward boosting the ease of doing business in the region. Wealth Tax was previously levied on the net value of Spanish assets for non-residents, and on worldwide assets for residents, above €700,000 according to a progressive scale of up to 3.5%. This year we have also seen the permanent implementation of the reductions of  Transfer Tax to 7% and Stamp Duty to 1.2%.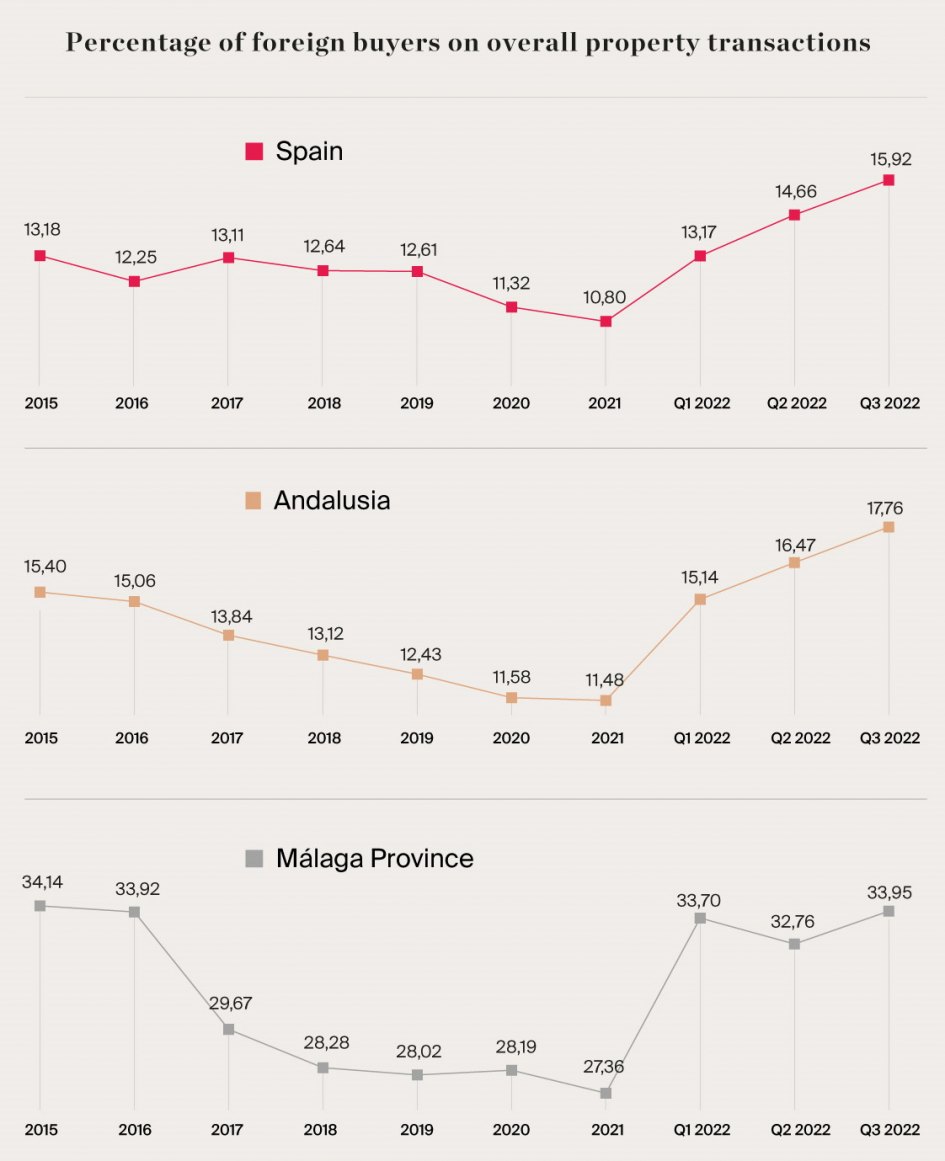 National
There were 167,892 property sales in Q3 2022 in Spain, 2.4% higher than the previous quarter and the most since the third quarter of 2007. Official figures for the 3rd quarter of 2022 reveal that international buyers accounted for almost 16% of all residential sales of Spanish properties. This represented the 6th consecutive quarter with increases, Land Registry data shows. In terms of nationalities, the top three in terms of percentage of foreign buyers and transaction volumes of Spanish properties remained consistent with previous quarters: British (9.30%, 2,446 sales), German (8.04%, 2,113) and French (6.21%, 1,633). However Swedish buyers, in recent times occupying 5th place, were overtaken by Polish buyers.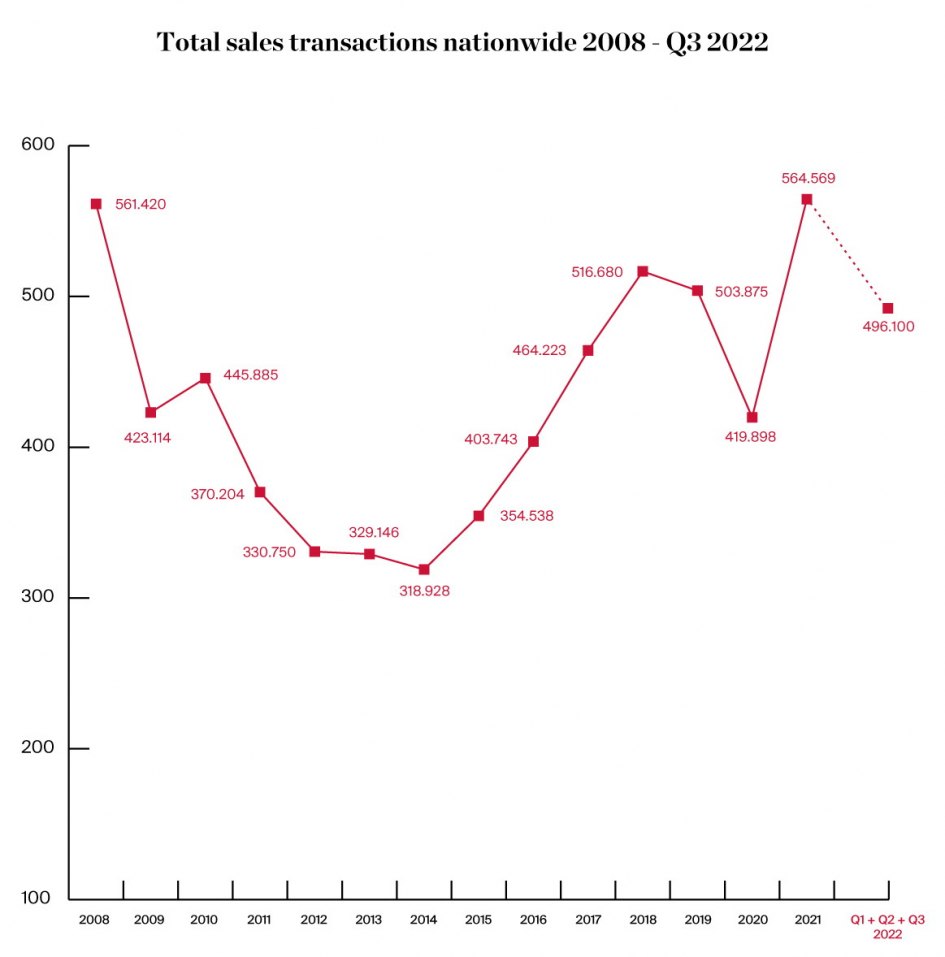 Local
Provisional official figures suggest that total property sales in the so-called Golden Triangle - comprising the municipalities of Marbella, Benahavis and Estepona - during the first half of 2022, were the highest since at least 2017.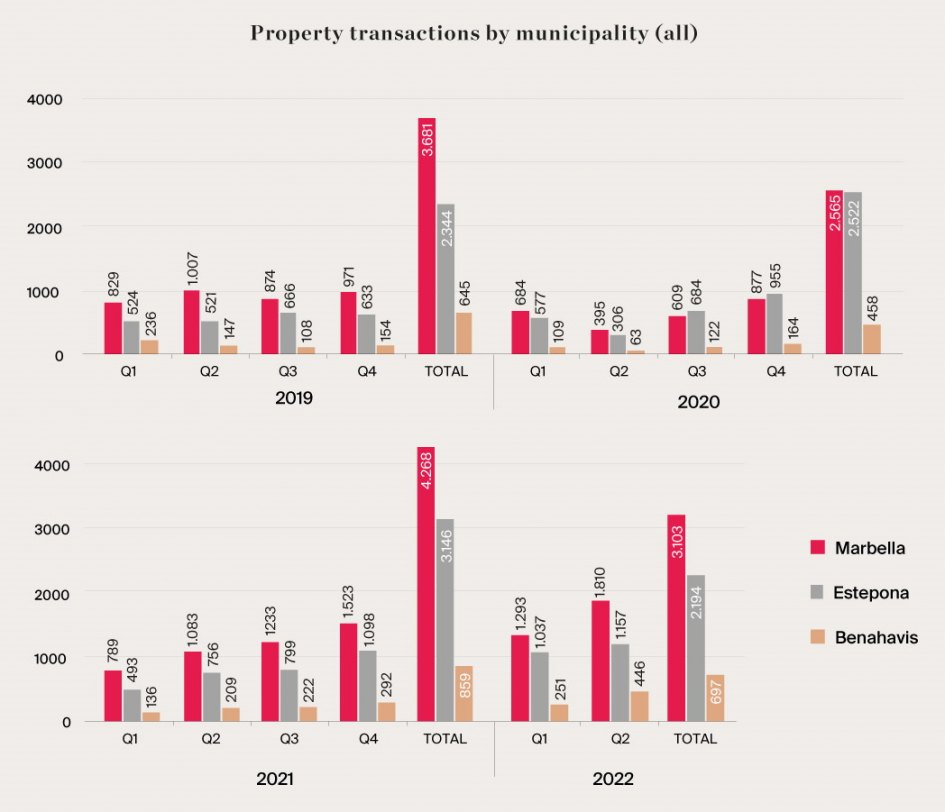 Website Traffic
In 2022 website traffic so far has normalised, approximately 25% lower than the record volume of visits we saw in 2021, which was 29% higher than in 2020 and +36% against 2019. The drop in website traffic was evenly seen from visitors located in Spain, United Kingdom, France, Belgium, Netherlands, and more substantially from Sweden (-39%). It should be noted that visits from Sweden last year 2021 were up more than 50% on previous 2 years. We believe that this fall in traffic from Sweden is not only due to a rebalancing of demand vs a record 2021, but also due to a worsening slump in the Scandinavian country's economy. Interest from two nations bucked the trend in 2022: Ukraine and the US. It is fair to assume that the reasons for the increase of visitors from Ukraine are related to the conflict. Meanwhile, the increase from the USA is likely spurred by the strong US dollar-euro exchange rates seen this year, the highest in 20 years.