El Martinete, Marbella's most iconic beachfront mansion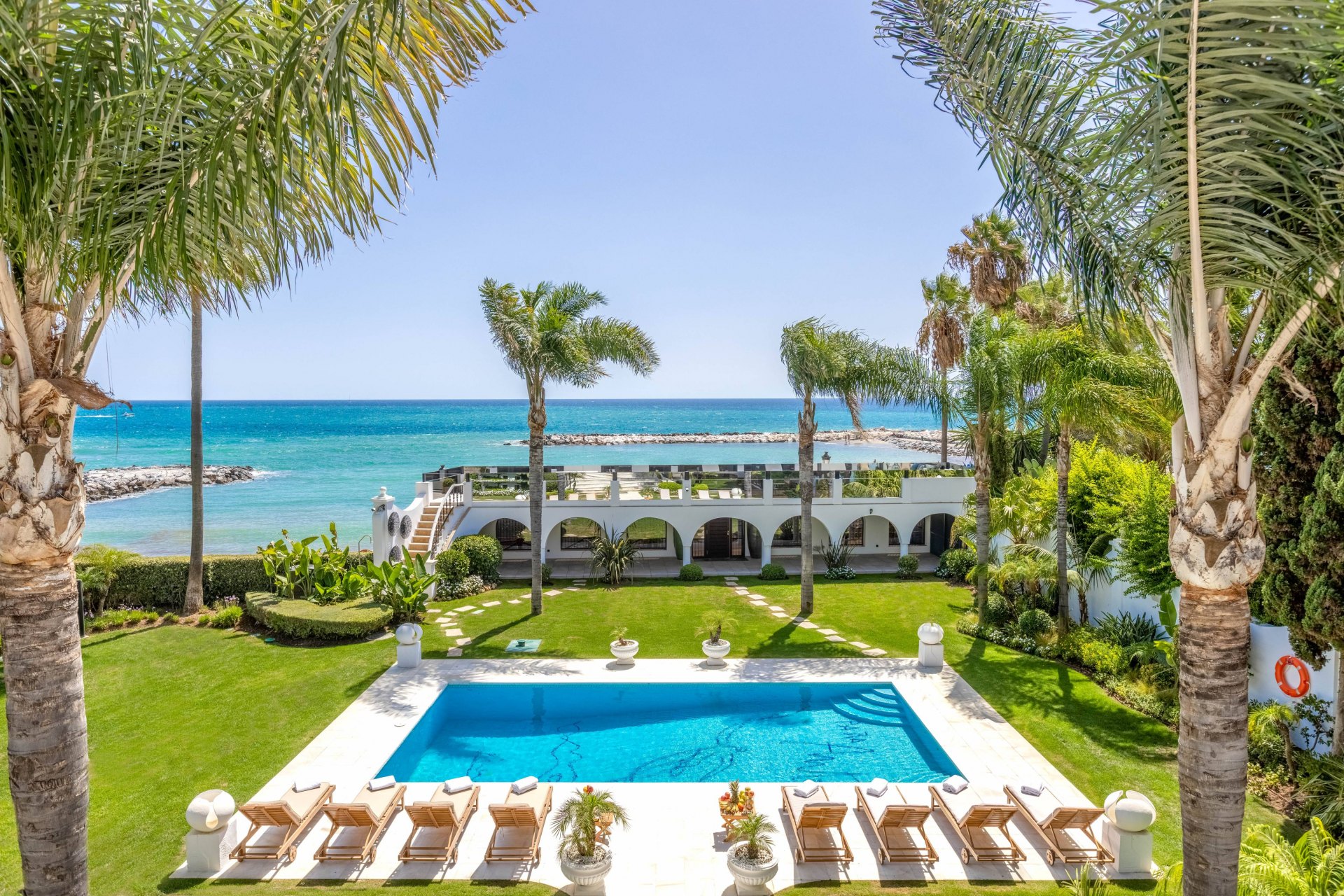 We are thrilled to present you with one of our most spectacular exclusive listing, a one-of-a-kind property for sale in Marbella's frontline beach. Its rich history and prime location make it a highly sought-after, rare prize on the Costa del Sol. From its origins as a gathering place for Hollywood stars and aristocrats, its proximity to the glamorous marina of Puerto Banús and sophisticated Marbella, villa El Martinete is truly unparalleled.
El Martinete is a unique property that offers the perfect blend of old-world charm and modern amenities, with the added allure of a rich and glamorous history. The legendary estate represents a link with Marbella's origin as a hot spot for the international jet set with its most famous feature, a drawing by the artist Picasso for the former owner, Antonio 'El Bailarín' Ruiz Soler, set for posterity in the tiles of the swimming pool.
An historic part of Marbella's glamorous past
The designer and original owner of El Martinete, Antonio 'El Bailarín' (The Dancer) Ruiz Soler was one of the luminaries of flamenco dancing in the 1950s. His favoured form of flamenco, Martinete (meaning 'hammer'), a percussive, fleet-of-foot style that resembles the hammer of a blacksmith's anvil, gave the house its name. Known for his passion and dedication to the art of flamenco, and he built El Martinete as a retreat for relaxation and entertaining.
Antonio toured the world for 24 years, taking America by storm and making movies in Los Angeles where he was feted by royalty and film stars of the era, Ava Gardner and Vivien Leigh among them, who also came to visit his home when in Europe. It is the patina of glamour bestowed from this era that confers a unique character few homes in the area can boast thanks to the old-school glamour of its Hollywood connections.
Perhaps the most famous, and unique, feature of this remarkable property is La Danza, a drawing by another of Antonio's acquaintances, the artist Pablo Picasso. Invited to Picasso's 80th birthday, the artist was so delighted after watching him dance, he 'seized a pencil, sketched a portrait of the dancer and dedicated it to him'. Antonio cherished the drawing and had it set in the tiles of his swimming pool where it remains to this day. The original drawing is now held in a museum but the design lives on for future generations in El Martinete.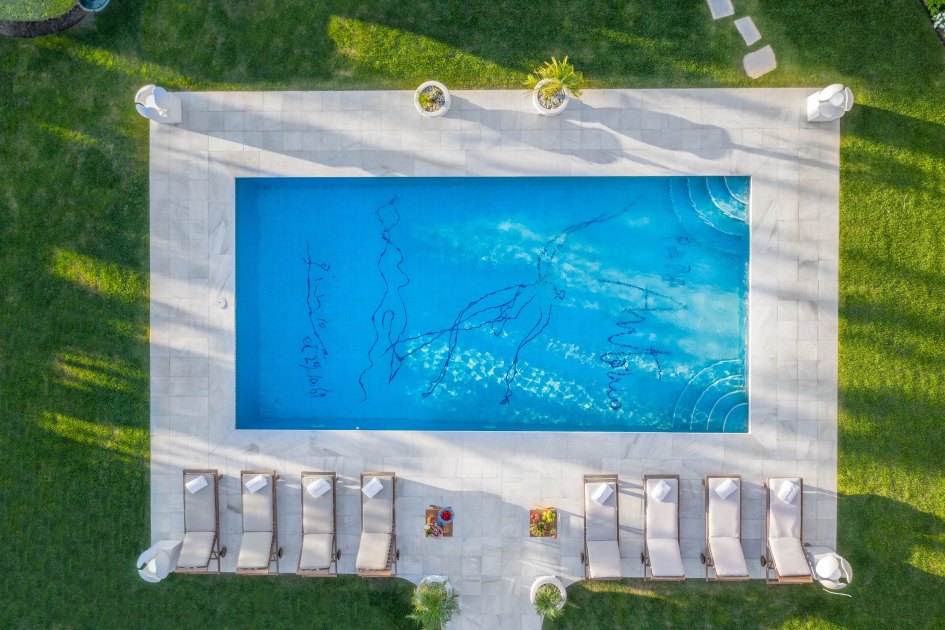 A captivating marriage of styles and eras
The stately grandeur of the house is immediately obvious as the elaborate entrance gates open into a courtyard spacious enough for several cars, with the driveway sweeping up to the impressive, covered entrance. Entering the threshold into the triple-height entrance foyer is where the breathtaking scale of this Baroque gem reveals its rich and evocative past. An elaborate crystal chandelier illuminates the vast space while natural light floods in from the covered skylight above into what is truly an extraordinary entrance space of gilded columns, marble floors and architectural flourishes.
Continuing into the grand formal drawing room, the eye is drawn across the elegant furnishings, extravagant fireplace and full-sized grand piano to the wide terrace beyond. Making full use of the indoors/ outdoors lifestyle for which Marbella is famous, the veranda offers covered space from which to enjoy al fresco dining or simply to relax and appreciate the manicured gardens and large swimming pool – with its famous tile design.
Given its illustrious past, it is no surprise that entertaining is at the heart of the house. The ground floor boasts two kitchens, both of which were recently completely refurbished in elegant black marble and fully equipped with top-of-the-range Miele and Neff appliances. The family kitchen is spacious and functional, while the chef's kitchen nearby has everything that would be required for entertaining guests at home to a fine dining experience in the spacious dining room. The table can be set for formal dining for fourteen, however, this is a home that would accommodate many more for refined soirees and evening gatherings.
On this floor is also a cosy family room with views to the garden, a large fireplace and a welcoming ambience as well as a bright, spacious office from which to work in quiet concentration. Ascending the marble stairs to the first floor, one is greeted by a light-flooded wrap-around minstrel's gallery from which all the spacious ensuite bedrooms can be accessed. The Andalucía Suite, the luxurious and elegant primary bedroom, boasts wide windows from which to take in the panoramic sea views, with areas for reading and lounging. In addition, there is a separate sitting room that provides access to the expansive terrace. The Andalucía Suite benefits from two bathrooms, both of which have been totally refurbished, each with its own character but with high-quality fixtures and opulent outsized marble-tile walls. The Malaga, Marbella and Ronda bedroom suites also offer access to the generous terrace and coveted sea views, while finally, the delightful Puerto Banús suite boasts vistas over the lush gardens. Lastly, either taking the internal lift or stairs, we arrive at the top terrace, with BBQ, outdoor kitchen and chill-out area furnished with Balinese beds and covered sofas – and the most impressive panoramic sea views of all.
From the top of the house, we descend to the basement and the fully renovated spa and leisure complex.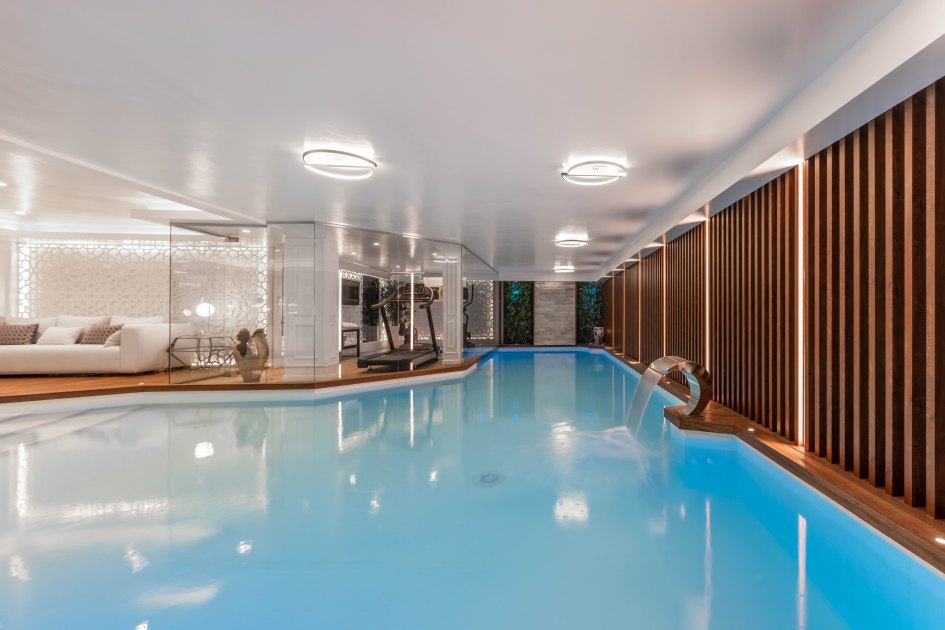 Here there are ample areas for rest and relaxation, with a large, heated pool with decking and lounge chairs, which can also be accessed from outside where an open-air, tastefully lit relaxation area is perfect for tranquil repose amid the gentle sound of the trickling water features. This floor also features an advanced home cinema for family movie and popcorn nights, while the gym and sauna are also on this level.
Alternatively, some nights are perfect for lively get-togethers with friends. The clubbable atmosphere of the newly refurbished garage is perfect. The rotating parking system in the state-of-the-art parking area means your treasured automobiles can be on hand while you enjoy the party, with a full bar and climatised wine cellar to hand. There is even a well-ventilated cigar lounge for those who like to retire to indulge every now and again.
The villa also benefits from additional guest houses in the grounds, offering a convenient and luxurious amenity either for guests, older children or as separate apartments for staff, such as housekeepers or nannies. Two one-bedroomed guest houses with separate kitchens and bathrooms can be opened as one larger apartment, while a single bedroom with kitchen, dining area and bathroom is situated nearby, both conveniently close to the main house while being able to maintain privacy for both guest and homeowner.
The perfect location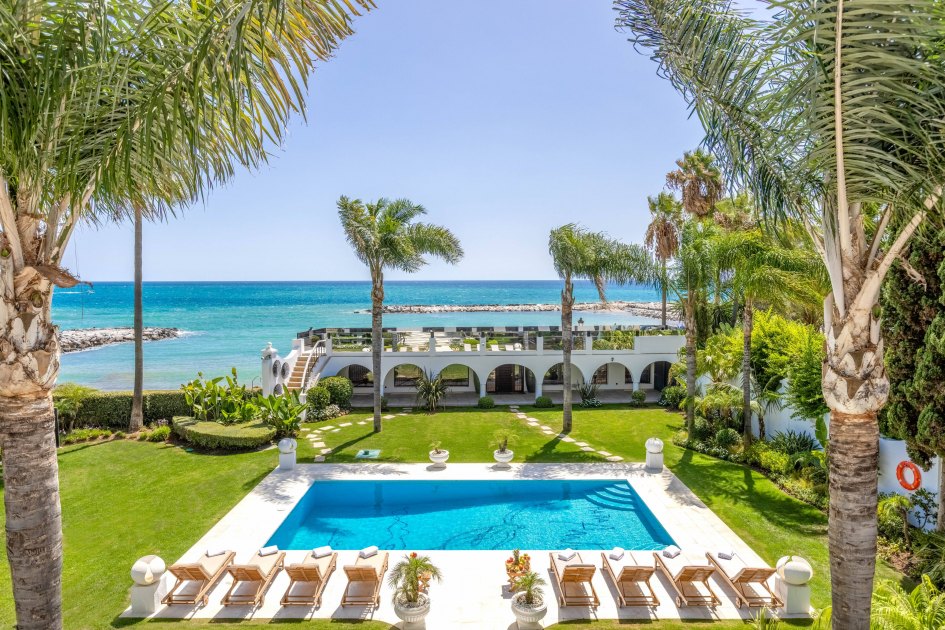 A unique property with such distinct and charming character is a rare and highly sought-after asset. When it is in a desirable area such as Marbella, its value is guaranteed to attract international attention. This estate is truly one-of-a-kind, and its prime location only adds to its allure.
Set in more than 4,000m2, the garden is filled with lush, semi-tropical plantings that provide a beautiful and relaxing space to enjoy the Mediterranean climate. A short stroll past La Danza swimming pool is a gate that leads directly onto the Paseo Maritimo, or seaside promenade.
Taking a leisurely walk along the golden sands and past the exclusive beach clubs brings you to the world-renowned marina of Puerto Banús. Since its inception in the 1970s, this exclusive sporting marina has been a playground for the rich and famous, its streets lined with high-end boutiques, fine dining restaurants, and stylish bars.
Just a short drive from Puerto Banús leads to the Golden Mile, a prestigious area of Marbella that is known for its luxury real estate, high-end shops, and upmarket bars, restaurants and beach clubs. This stretch of coastline extends from the western edge of Marbella to the eastern edge of Puerto Banús and is a popular destination for wealthy tourists and residents alike.