Villa Las Yucas: The Epitome of Timeless Andalusian Elegance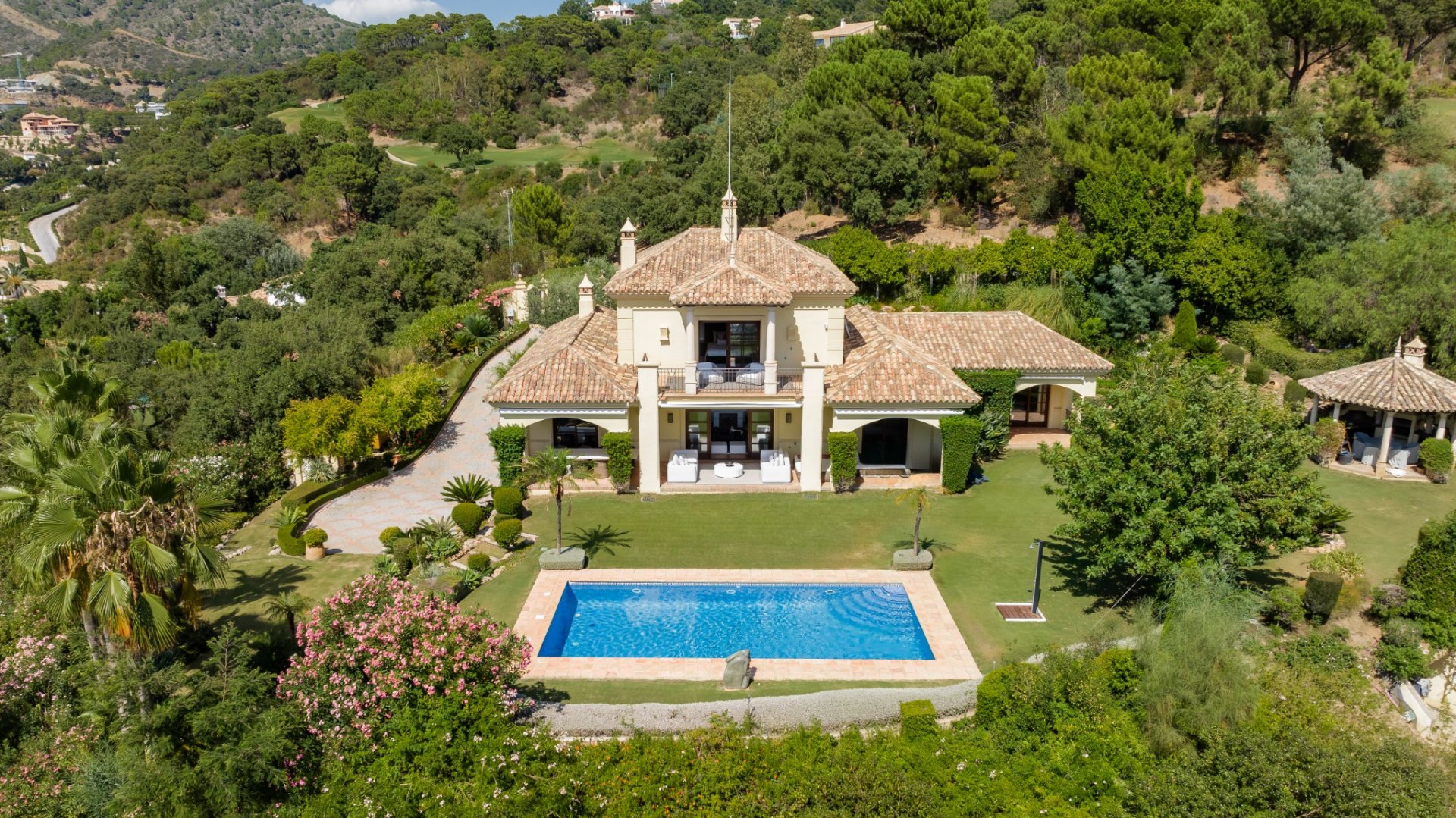 La Zagaleta Golf and Country Club is possibly one of the most exclusive urbanisations in Europe, if not the world. This 900-hectare former hunting lodge is dotted with expansive villas on impressively large plots is the epitome of luxury and exclusivity. So, in order to make an impression amongst such esteemed properties, a villa has to be truly special. Villa Las Yucas is one such residence.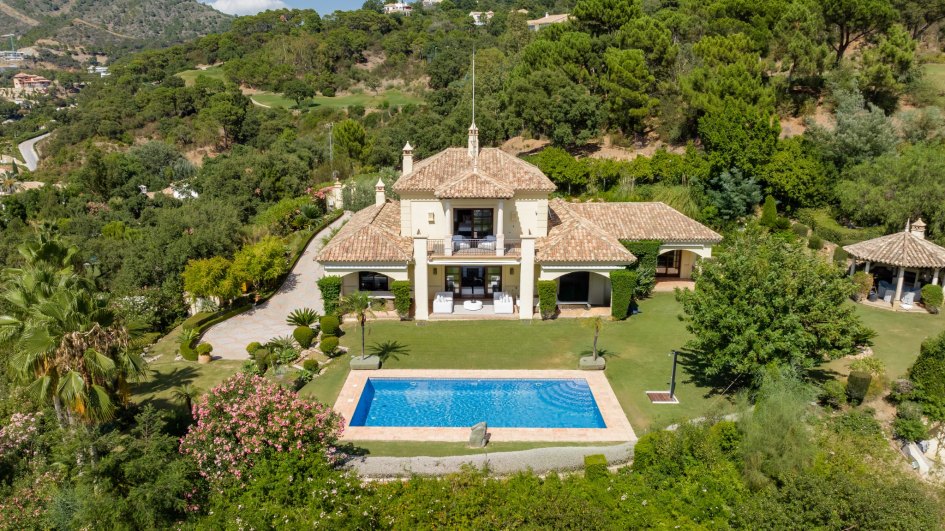 La Zagaleta: A Privileged and Secure Enclave
La Zagaleta offers an unparalleled blend of security, recreation, and convenience, set within the natural splendour of the Andalucian countryside. With dual gated entrances that are guarded 24/7, residents are assured of their security, ensuring peace of mind. For recreation enthusiasts, the estate boasts two 18-hole golf courses, an equestrian centre, and a racquets club. Adding to the convenience are two sumptuous clubhouses, a heliport, and dedicated concierge services that cater to every need. Originally serving as a hunting reserve, La Zagaleta spans a vast 900 hectares, meticulously preserving its untouched beauty, complemented by breathtaking golf and sea vistas.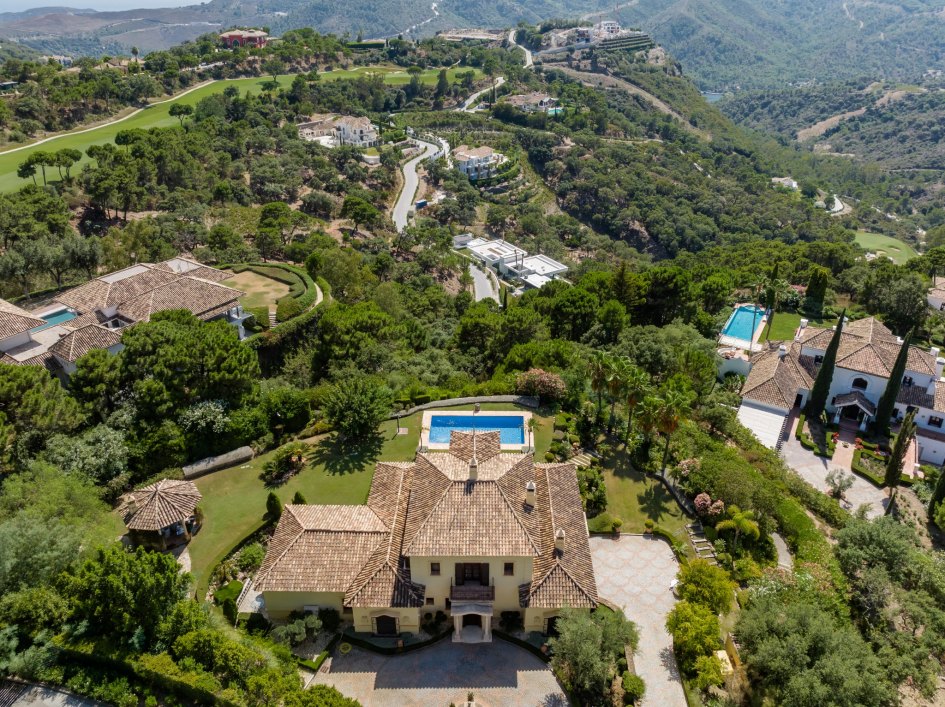 Architectural Grandeur
Designed in the traditional Andalusian style, the villa presents a captivating panorama of open mountain landscapes. Its layout is convenient and thoughtfully spread across two primary floors and a basement.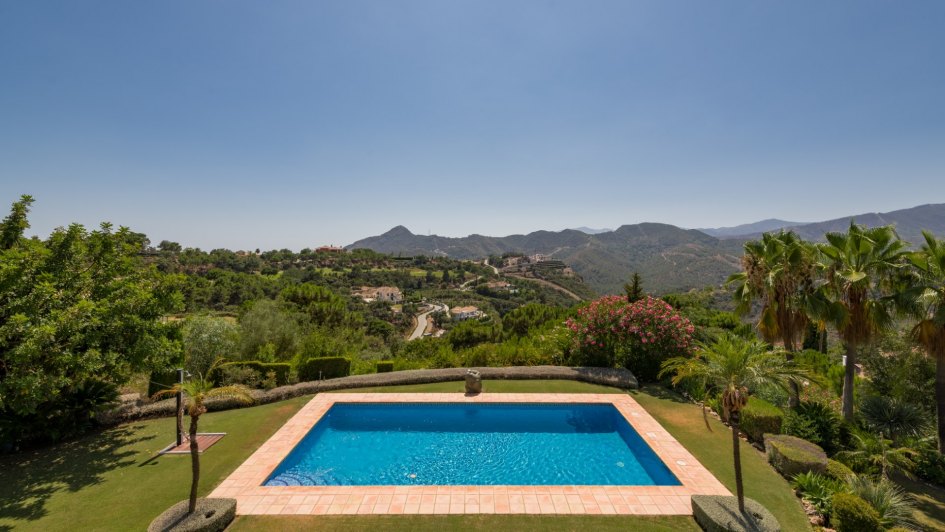 Upon entering the ground floor, visitors are greeted by a welcoming hall that seamlessly flows into a living room featuring a welcoming fireplace and warm terracotta-tiled flooring. However, attention is drawn by the truly enviable views through the sleek dark-wood windows, perfectly framing the views of the swimming pool on the flat lawn outside, leading the eye further to the stunning countryside and mountain views.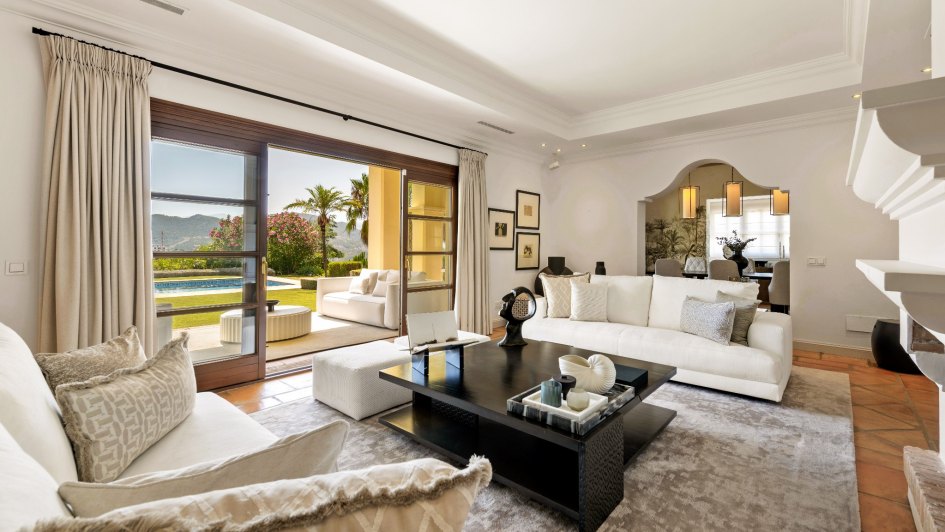 A Culinary Haven with Panoramic Vistas
Conveniently adjacent is the state-of-the-art kitchen centred around an island. The ambience of space and height is achieved by the vaulted ceiling adorned with blond wood beams. Here too, wonderful views can be enjoyed, whether while preparing culinary masterpieces or casual dining at the nearby table. This area further extends to a semi-covered terrace, providing tranquil views of the pool and garden. Additionally, the ground floor encompasses an adjacent TV room and a beautifully designed formal dining space characterised by its gabled ceilings and wooden beams.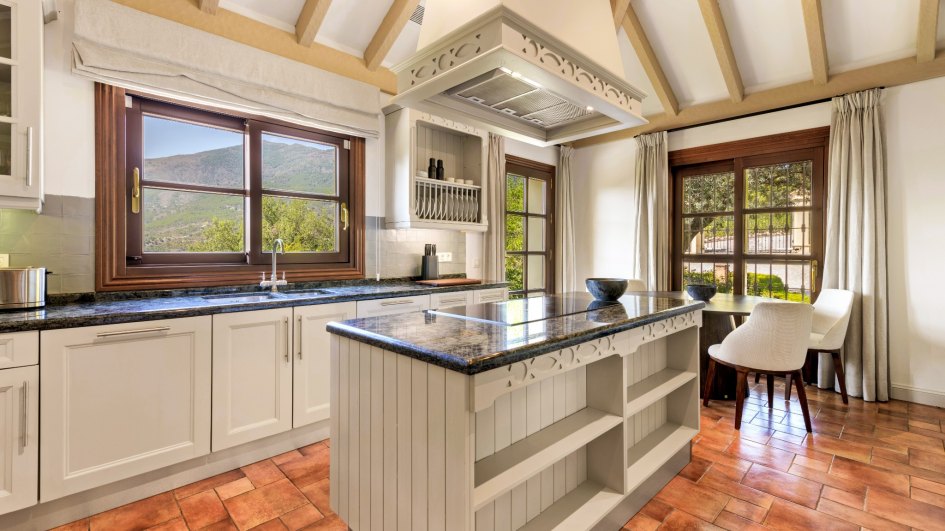 Private Retreats and Multifunctional Spaces
The upper floor is a sumptuous sanctuary, solely dedicated to the master suite. It is complemented by a lavish dressing area and an expansive bathroom, offering a secluded haven. The basement is multifunctional: it houses a separate apartment tailored for staff or guests, ensuring their utmost privacy. Other amenities on this level include a wine cellar, a utility room, generous storage space, a room with multiple potential uses such as a cinema or gym, and a commodious garage with the capacity to accommodate 2-3 vehicles.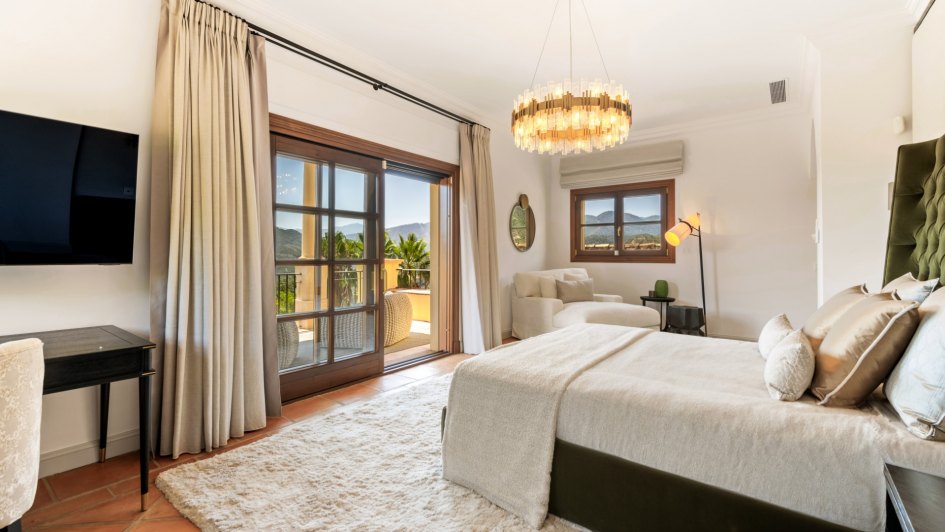 Outdoor Elegance
Stepping outdoors, one is greeted by a captivating poolside area. The shimmering pool promises relaxation, while the gazebo, equipped with a built-in barbecue, sink, and cupboards, stands ready for entertainment.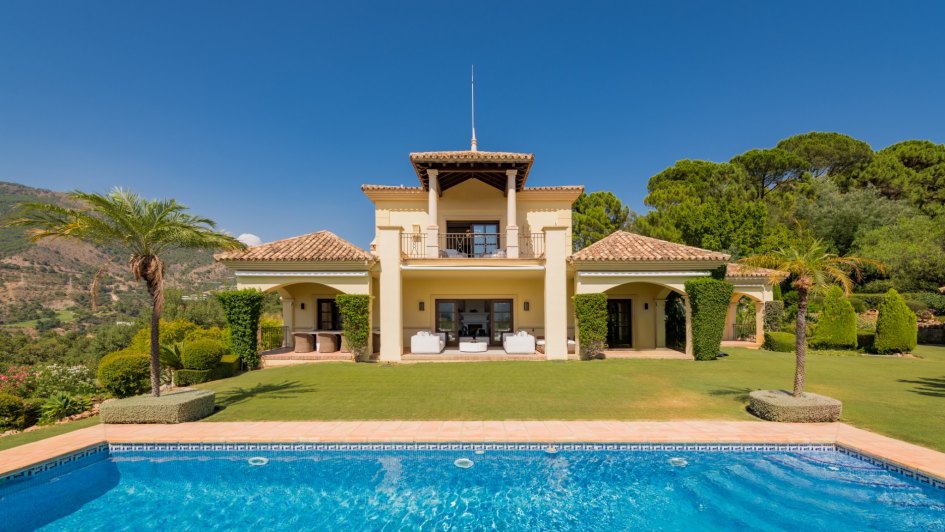 Interior Brilliance
The interiors, with characteristic terracotta flooring, exude warmth and sophistication. Wooden sliding double-glazed windows not only ensure insulation but also frame the stunning views of the mountains, golf course, and countryside.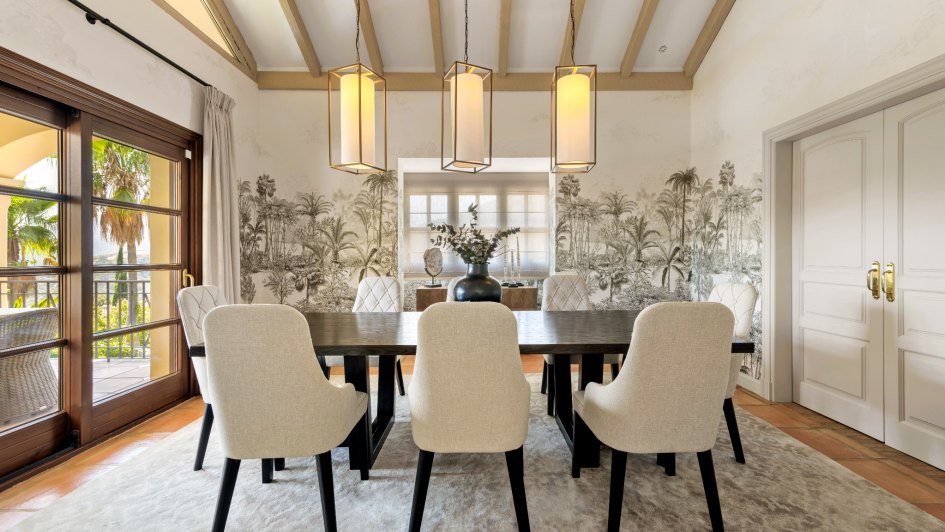 In a Nutshell: Villa Las Yucas
• Private garden with heated swimming pool
• Living room with fireplace
• Gabled ceilings with wooden beams
• Separate staff quarters with kitchen
• Gazebo with barbecue amenities
• Terracotta flooring, vaulted ceilings with wood beams and marble bathrooms
• Premium kitchen appliances by Neff and Siemens
• Advanced alarm system with cameras
• Newly installed electric generator
A Timeless Home Designed for Luxury Living
Villa Las Yuca's interior design is a harmonious blend of beauty, taste, and timelessness. Every room exudes a sense of comfort, seamlessly merging style with functionality. It's not just a house; it's a family home where every detail has been thoughtfully curated to create a warm and welcoming atmosphere for its inhabitants.
Properties for sale in Marbella