It's an age-old dilemma – you want the space, peace and beauty of a house in the country, but also need the comforts and amenities of a lively town close by. On paper if often seems an irreconcilable combination, but fortunately there are spots that bring these two elements together successfully.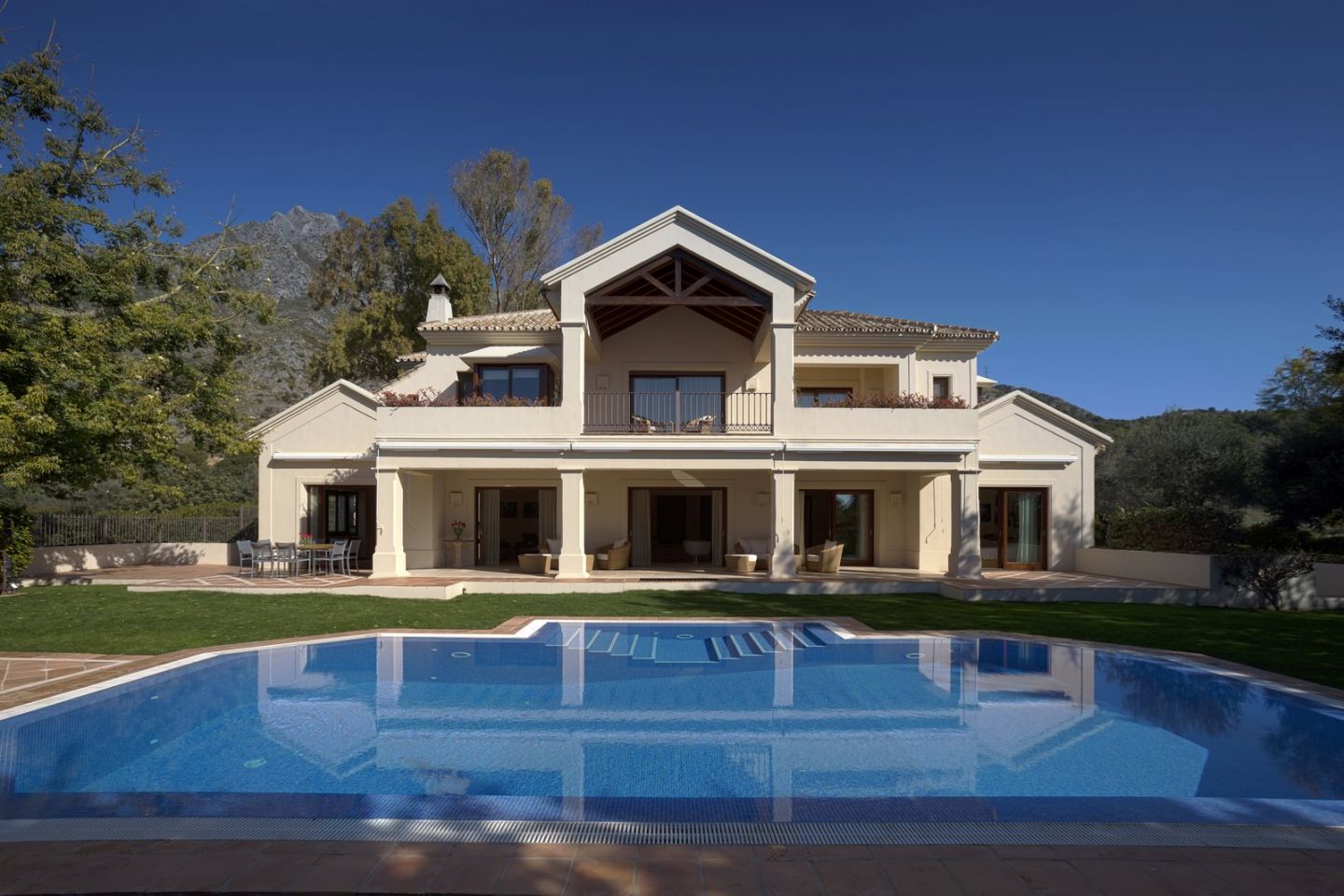 Thanks to its geographical setting and natural surroundings, Marbella is endowed with more such locations than most towns, but even so a country environment within minutes from the centre of town, beaches and golf courses is a rare commodity. The many golf and country club urbanisations, leafy suburbs and frontline golf properties offer an excellent approximation of a country setting, but the small and exclusive gated community of Los Picos is very much the real thing.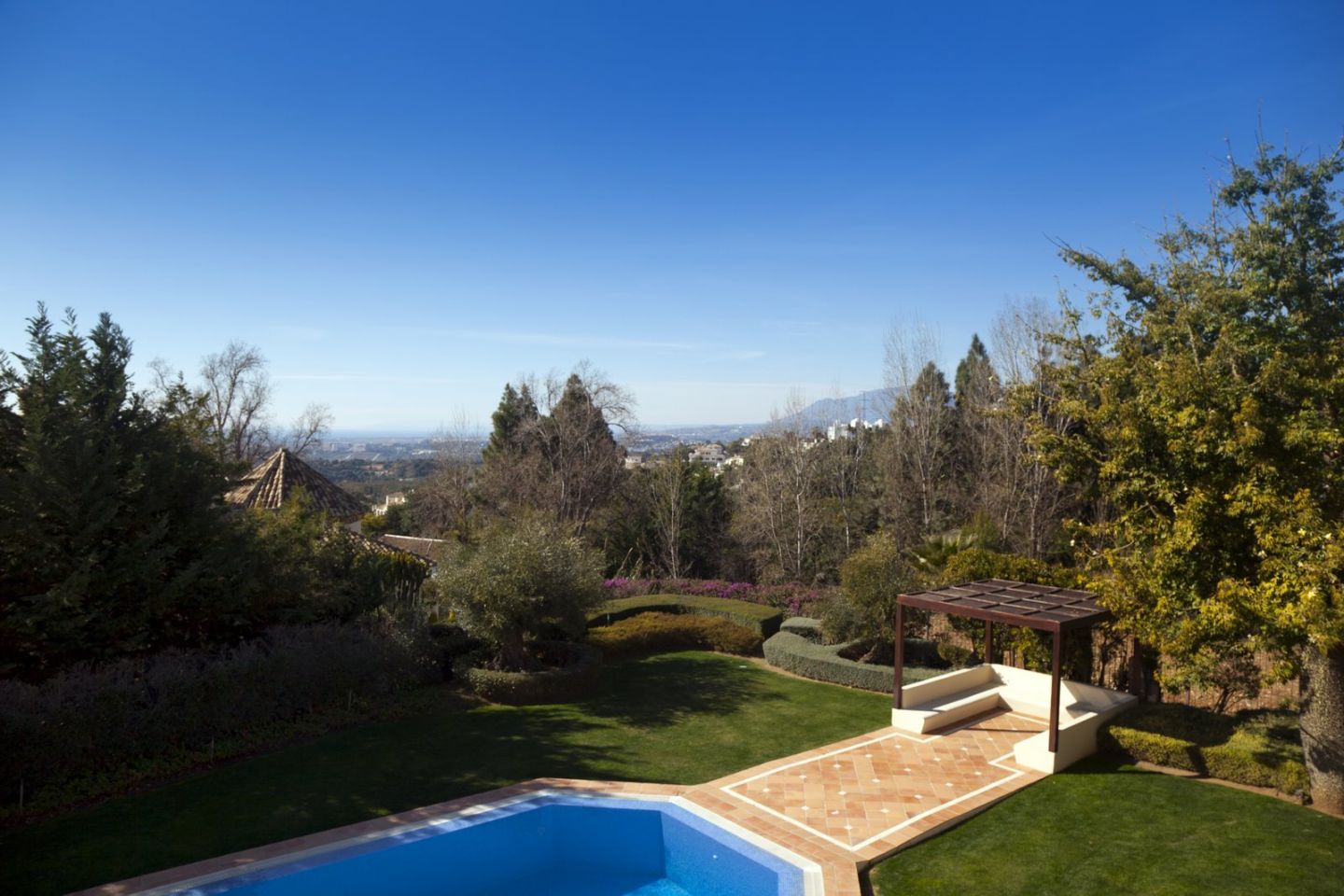 Set at the western edge of the villa suburb of Sierra Blanca, and similarly within the coastal pine canopy that sits at the foot of Marbella's majestic La Concha Mountain, Los Picos is a secluded residential area comprised of private villas that overlook Marbella, Puerto Banús and the curvature of the coastline westwards towards the Straits of Gibraltar. Though these classic Costa del Sol views are in themselves a prized asset, what really marks Los Picos out is its vantage point over the protected natural landscape that extends along the base of the mountain – and the unequalled views of this beautiful landmark itself.
Beyond Los Picos there is only nature, protected by legislature and as untamed and beautiful as if you were in a green valley deep inland, instead of less than five minutes from downtown Marbella and Puerto Banús. This unique setting allows the villas here to enjoy the nearest there is to a country setting on the edge of Marbella town. The villa in question ranks among the finest in this exclusive urbanisation, offering luxury, elegance and comfort along with peace, privacy and security.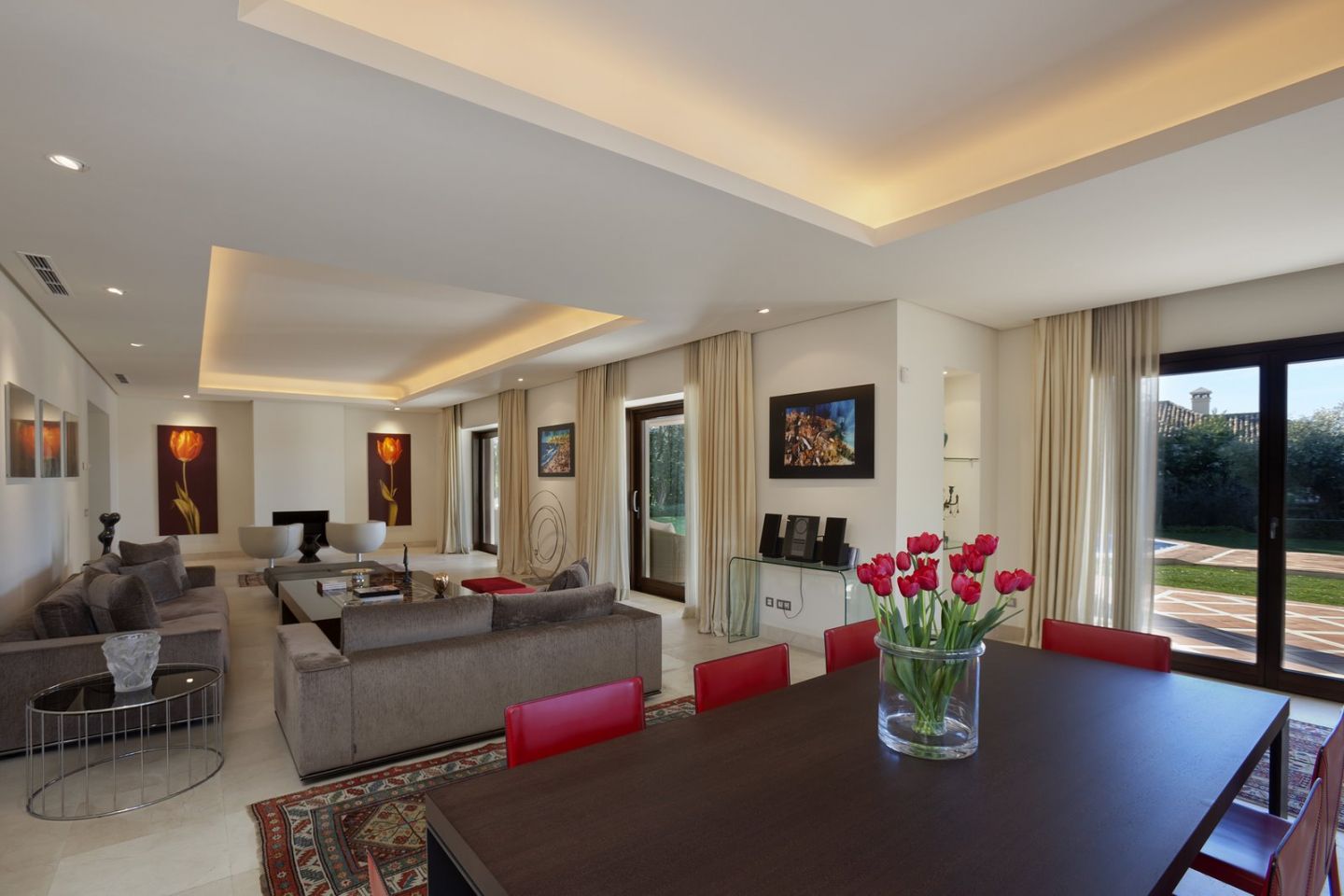 Marbella luxury in a country setting
Featuring clean, attractive contemporary styling, this immaculate property is one of those homes that manages to be impressive and refined whilst also being a comfortable and practical family house. The entrance hall exudes an air of luxury, flanked by a cloakroom and a stylish marble guest bathroom, with stairs leading to the private quarters on the upper floor.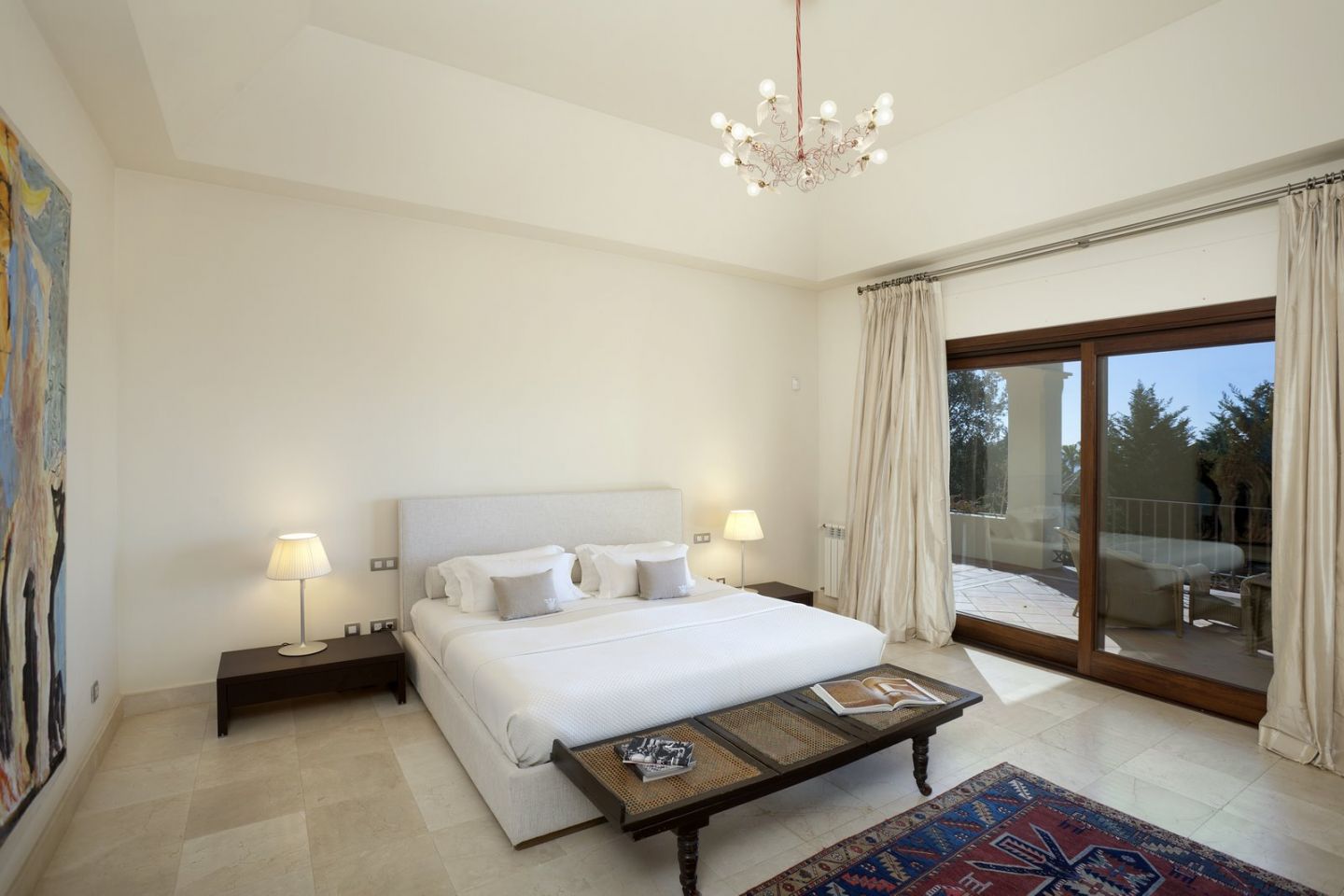 Here there are two spacious and beautifully appointed bedrooms with private walk-through dressing areas and modern marble bathrooms, each with its own views of sea and mountains. The main bedroom suite includes an elegant dressing area and a room that can be used as a private office or lounge. All share the same use of high quality materials, carpentry and finishing, a feature that is replicated throughout the house.
A free-flowing corridor enlivened with backlit alcoves and sun-filled windows that look out on parts of the charming formal Andalusian front garden connects the living spaces on the ground floor. Prominent among these is the long, elegant living and dining room whose large window façade looks out onto a manicured lawn and also lets natural light in. Just the place to show beautiful furniture off in, it also features a modern fireplace and links the dining room area to a professional modern kitchen.
The symmetrical nature of the property means that the other side of the villa contains three further rooms that can be used as bedrooms, studies or libraries, to name a few. Enjoying individual views and connected to the covered terrace and garden area, they complete a ground floor level that also includes a beautiful private garden with swimming pool and an al fresco dining area.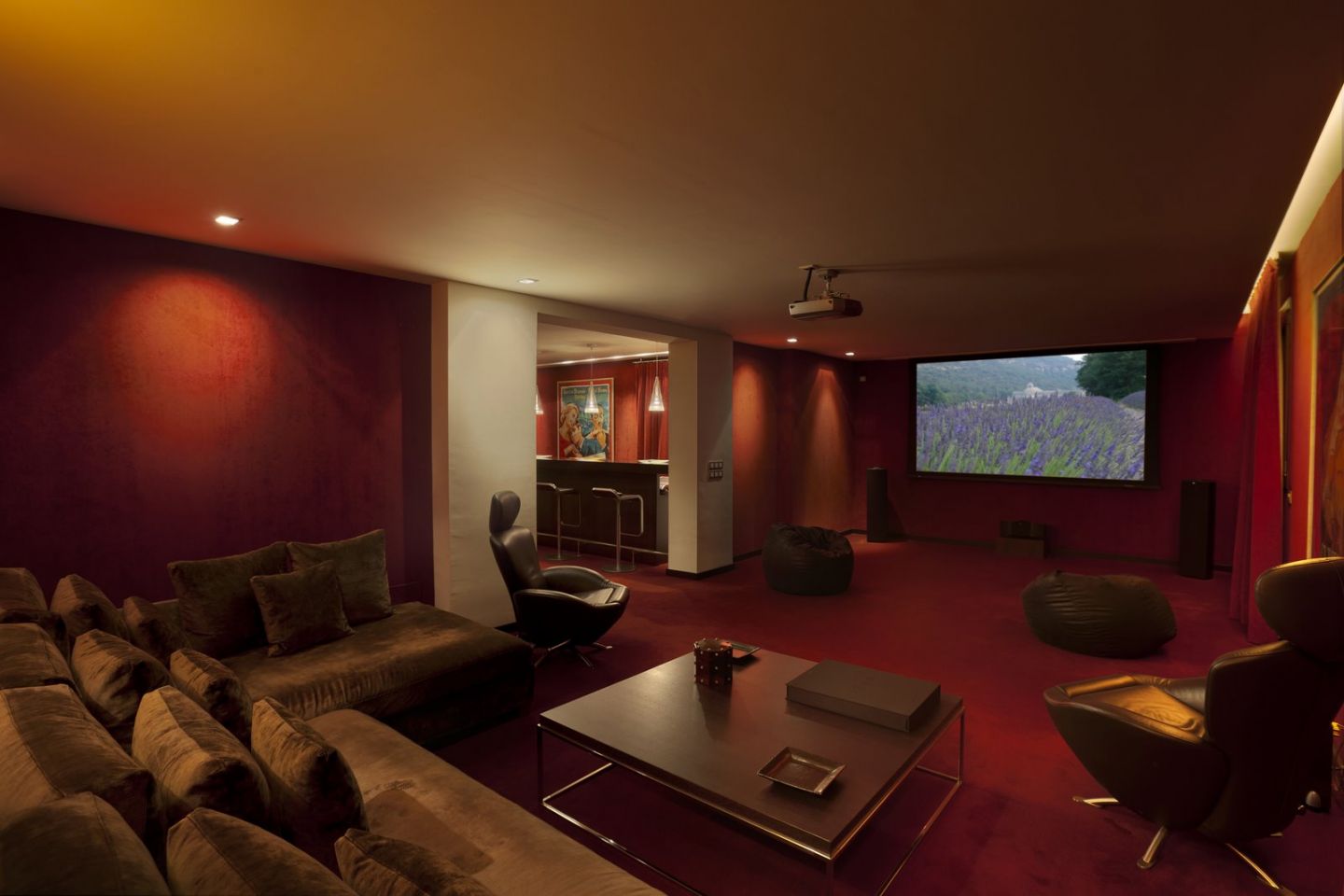 Downstairs are a large garage, utility and storage areas, and a fully equipped guest apartment with independent access comprising of a lounge, kitchen, bedroom and bathroom. A gym completes this area, where natural light flows in, while a part of the lower level is integrated into the main house via a sweeping staircase from the ground floor corridor to a cosy hallway/lounge area that leads on to a home cinema. More than just a conventional home cinema, however, this lovely space comprises a stylish bar and lounging area instead of the usual theatre seats. This refined but informal space mirrors the overall impression of a home that is immaculate, sophisticated and stylish, yet also welcoming and comfortable. Not bad for a Marbella villa on the edge of nature.