Sierra Blanca
The guide written by experts for those looking to buy prime property or invest in Sierra Blanca, area of Marbella Golden Mile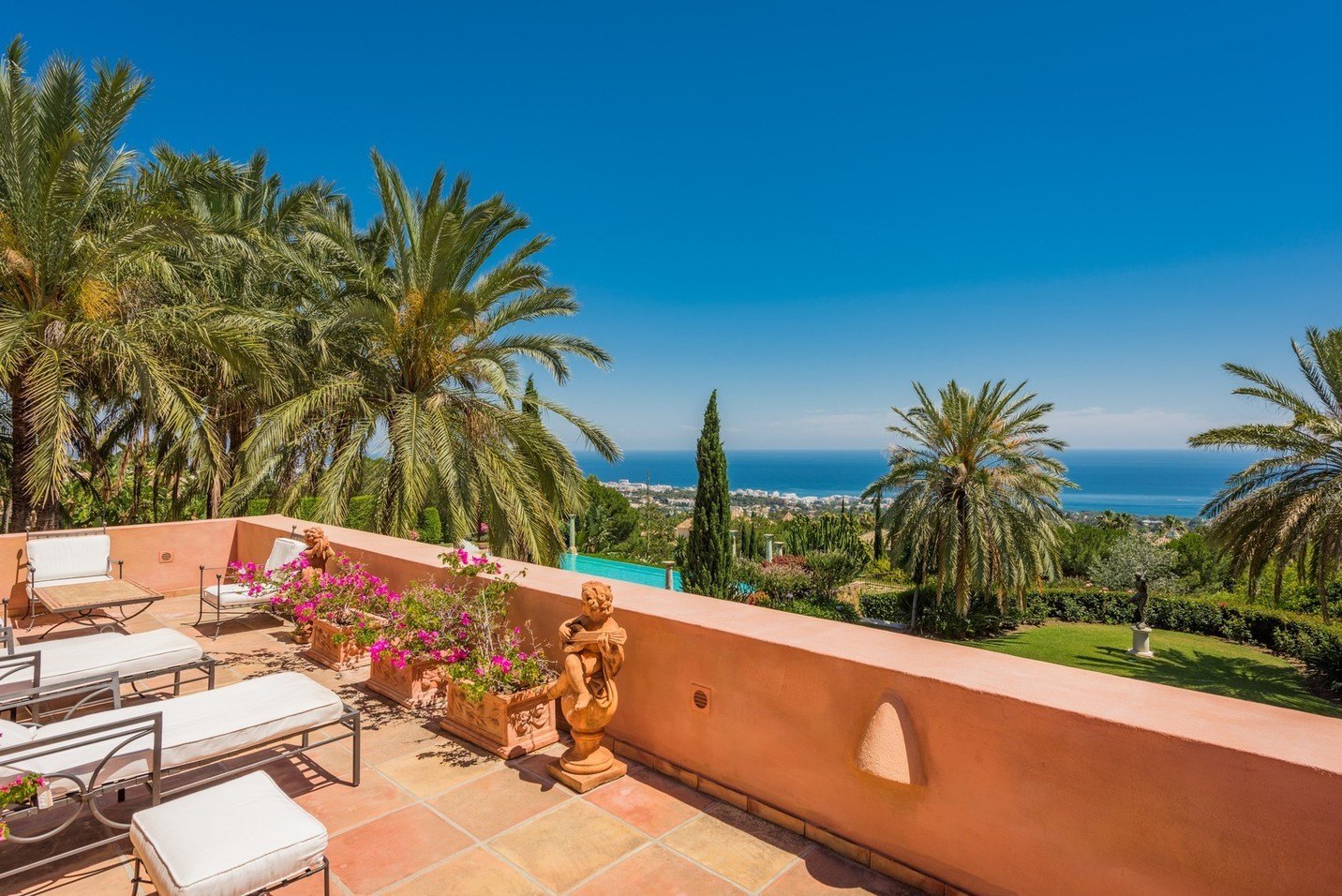 Sierra Blanca, Marbella's sought after address
Sierra Blanca is a residential area of luxury villas, in the hills above Marbella. Its fabulous views and its closeness to Marbella, only 4,4 km from the city centre, have made this area highly popular among those seeking tranquillity and security yet proximity to all amenities and beaches.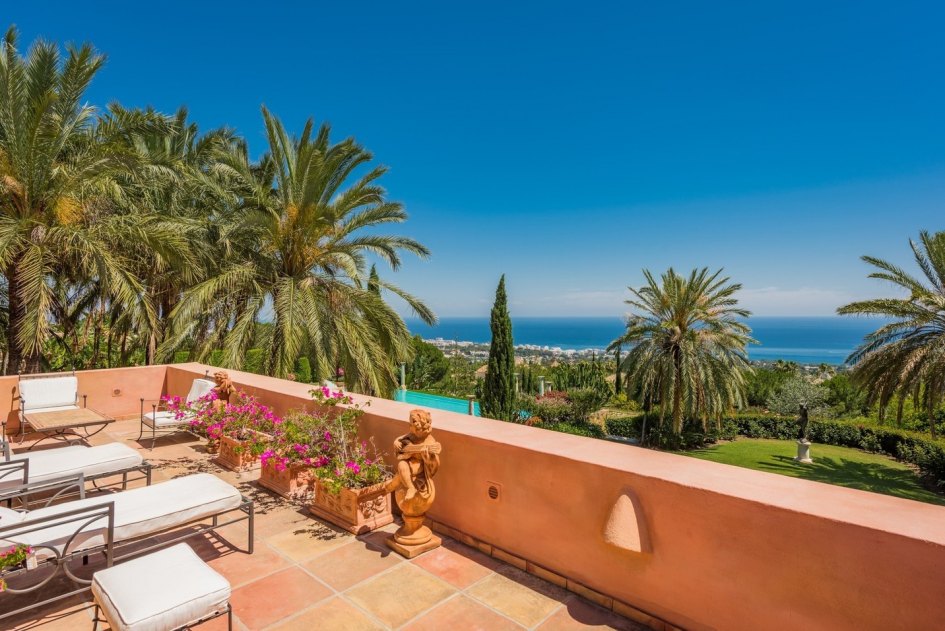 The famous Golden Mile has a gated hillside residential area that puts country club living right on the edge of Marbella – just a few minutes' drive from its beaches, shops, restaurants and palm-lined avenues lies Sierra Blanca.
From its position at the base of Marbella's majestic La Concha Mountain, Sierra Blanca enjoys some of the very best views in the area, overlooking Marbella town, the entire coastal area, the sweep of beaches, golf courses and the coastline to Gibraltar, whose rocky outline stands across North Africa to form the famed Pillars of Hercules. Such views are an integral part of life in this exclusive residential area.
The area is quiet, with wide streets and 24 hour security and within a 5 to 10min drive you can reach all types of amenities and services, including the beach. Sierra Blanca was originally developed by David & Elizabeth Brockman, an American couple who were among the first owners of Sierra Blanca. Their passion for music and patrons led them to name the streets after famous musicians with Albinoni, Liszt, Verdi and Vivaldi being the streets that mark Sierra Blanca's perimeter.
Though there are some luxurious apartments (Lagos de Sierra Blanca and El Alfar) and stylish modern townhouse complexes (Meisho Hills) within Sierra Blanca, this is above all a residential neighbourhood of villas with around 250 villas already finished and a few plots left for development and with an excellent variety in different styles and sizes set upon spacious but manageable plots with beautiful gardens and direct southerly orientations.
With its gated security and tranquil streets, Sierra Blanca offers privacy and peace in a prime location close to Marbella town, beaches, Puerto Banús, golf courses, sports facilities, shopping, dining, schools and a host of other amenities. From elegant, spacious apartments set within subtropical gardens to timeless architecturally styled contemporary townhouses and a broad variety of luxurious private villas with everything from parkland grounds and panoramic swimming pools to gyms, home cinemas and spas, Sierra Blanca is quite simply the hill club setting of Marbella's renowned Golden Mile.
Its position on the foothills of the beautiful La Concha mountain guarantees protection from the winds and keeps the temperature some degrees higher in winter and some degrees lower in the summer, making it the ideal location to enjoy outside living, so typical of Marbella.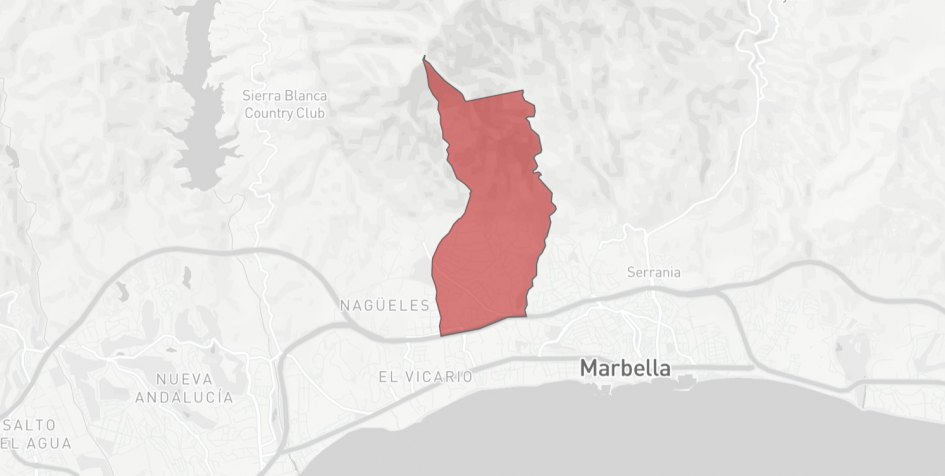 Bordering Sierra Blanca to the east is Cascada de Camojan, also one of Marbella's prime locations, and Nagueles just south of Sierra Blanca. To the west are the residential areas of Marbella Hill Club and Los Picos.
Sierra Blanca: Frequently asked questions
Dealing with buyers and sellers of property in Sierra Blanca for so many years has allowed our team to absorb a vast amount of information and knowledge about the Behanavis area. This is just a selection of the common questions we receive. Please if you have any questions or issues relating to the Sierra Blanca area or the Sierra Blanca property market, please do not hesitate to get in touch and we will be happy to update this guide for future reference
What amenities are available in Sierra Blanca?
In Sierra Blanca itself there are no amenities as it is essentially a luxury residential area, however, 5-6 km to both east and west there are all kinds of services and facilities, as well as children's playgrounds, cafes, restaurants, shops, supermarkets, etc.
It is a very quiet area, with large avenues that are ideal for walking while enjoying the stunning views of the Mediterranean Sea and La Concha mountain.
Where are the best shopping centres and stores near Sierra Blanca?
La Cañada Shopping Center is just 5,4 km away, and you will find fashion stores like Boss, Tommy Hilfiger, Gant, Guess, Adolfo Domínguez, Desigual, Cortefiel, Sandro, Zara, Purificación García, Victoria´s Secret, Salsa, etc., as well as accessories, home-decoration, a large supermarket, cosmetics, jewellery, sports, optical, etc. There is also a leisure area with multicinema and several restaurants.
Puerto Banus is 6,6 km away and is known for its top designer boutiques by prestigious brands such as Gucci, Dior, Carolina Herrera, Ralph Lauren, Versace, Valentino, Loewe, Dolce & Gabbana, Hermès, Jimmy Choo, Louis Vuitton, Michael Kors and Bvlgari among many others, which line the small streets around the marina. Set back from here, surrounding Antonio Banderas Square, is the excellent El Corte Inglés department store where you will find everything you need under one roof, and Marina Banus with brands like Zara, Calzedonia, H&M, Massimo Dutti, Oysho, Women´secret, Princess London, Pinto Paris and Parfois.
In Marbella's town centre, which is 3.4 km away, you can enjoy exploring the unusual, small family shops; a mix of traditional and new shops, whose hand-made jewellery and clothing you will love. Each corner has a surprise. There are specialist shops offering souvenirs, olive oil, local pottery and lace, all mixed with historic architecture. A delight for the senses.
Where are the best restaurants near Sierra Blanca?
In Marbella centre, which is just 3,4 km away, you can taste the authentic flavours and ambience of Andalucía in popular local restaurants such as Casa Curro, fresh fish dishes at La Relojera, El Canuto, Los Cañizos and Restaurante Gaspar, which has a different handwritten menu every day.
In the area around the marina in Puerto Banús, as well as the large square behind it (Plaza Antonio Banderas) there is a plethora of trendy eateries, cafés and nightclubs, as well as luxury restaurants offering cuisines from all over the world. The most well known restaurants within the Marina are Pizzería Picasso, Los Bandidos, La Pappardella or Don Leone, considered Puerto Banus classics. Inimitable, La Bocana, Meksian, La Habana Lounge and Pasta Factory are the top 5 restaurants on Tripadvisor.
Where are the nearest golf courses in Sierra Blanca?
Just above Puerto Banus, in Nueva Andalucia is Marbella 's so-called Golf Valley comprising Real Club de Golf Las Brisas, Los Naranjos and Aloha Golf Club. Santa Clara Golf, Marbella Golf & Country Club, Santa María Golf and Río Real Golf are located east of Marbella, about 12-15 minutes away by car. Real Club de Golf Guadalmina, La Quinta Golf, Flamingos Golf, Atalaya Golf & Country Club, El Paraíso and Finca Cortesín are in the west side of Marbella.
What healthcare facilities are near Sierra Blanca?
All the modern healthcare facilities of Marbella are very close. The Costa del Sol hospital (public hospital) is located 10-15 minutes by car depending on time of day and year. The Ochoa Clinic, Quiron Hospital and Clínica Premium in Marbella centre are also at about the same driving time, maybe a few more minutes if the traffic is heavy in the city centre.
Is Sierra Blanca suitable for families?
Absolutely, Sierra Blanca is the ideal place for families because of its privacy and 24-hour security service. It is a very quiet residential neighbourhood where you can go for a walk with your family or take the dog out while enjoying the wonderful scenery.
What child-friendly activities are there in Sierra Blanca?
Parque de Nagueles is barely 1 km away and is a great Mediterranean pine forest with barbeque facilities, youth hostel, children's playground and a hermitage in honour of the patron saint of the town, Saint Barnabas. Canoeing, Paddle Surfing, Jet Boat, PaintBall, Tree Circuits, Cable Skiing and Water Parachute are some of the activities that children will be able to enjoy.
Sierra Blanca is a luxury residential area so outdoor activities are basically walking or jogging, as it has large, quiet avenues with spectacular views of the Mediterranean Sea and La Concha mountain.
Where are the nearest private schools in Sierra Blanca?
The nearest private schools are: Swans International School which is only 1 km away and the British School of Marbella located in Nagueles (1.5 km). Aloha College, one of Spain's best English language private international schools is in Nueva Andalucia, 5.4 km away.
How far is Marbella City Centre from Sierra Blanca?
Marbella City Centre is 4,5 km away, just a 8 to 10-minute drive, depending on the time of year and day.
How long does it take to get to the airport from Sierra Blanca?
Malaga-Costa del Sol Airport is 53,2 km away, roughly a 40-45-minute drive without traffic depending on whether you take the AP-7 toll road or the A7 coast road.
Properties for sale in Sierra Blanca
Sierra Blanca is predominantly a residential area of villas. There are 250 villas already built, and few plots of land left to develop. Properties here have plots of minimum 1000m2 and all the way up to in excess of 10,000m2, although the average home sits on a plot of around 2000m2. Zoning/building allowance falls into two classifications: Plots with a minimum size of 2000m2 and building allowance of between 20 and 25% and plots with a minimum size of 1000m2 and a building allowance of 30%.
Most homes in Sierra Blanca, due to the topography, will have sea views to the south and will be set against the backdrop of La Concha mountain directly north.
Prices per square metre of plots are in the region of 1000€/m2 and upwards for those with panoramic sea views.
Prices for a finished villa will vary depending on views, size of plot and year built but as a general guideline we can say that prices can start at around 3MM for a villa on a 1500m2 plot with partial sea views.
Sierra Blanca is one of those areas that tends to see less of a fluctuation in prices within Marbella as demand for villas is high.
There are two apartment complexes within Sierra Blanca: One of them is El Alfar and the other one is Lagos de Sierra Blanca.
El Alfar is a beautiful Urbanisation with landscaped gardens and a large exterior swimming pool, 24 hs security, where prices go from 380.000 euros (for a 2 bedroom apartment) up to nearly 800.000 for the large penthouses.
Lagos de Sierra Blanca is an exclusive luxury secure complex boasting a high level of privacy. Completed in 2002, this development is ideally located in one of the most exclusive areas of the coast, nestling in the hills of Marbella and just a few minutes from Marbella town centre. This small and secure community comprises only 7 blocks with 6 apartments in each block and offers a large outdoor and an indoor heated pool with jacuzzi, sauna, steam bath, play area and gymnasium. Price for a 2 bedroom apartment with 150 sqm built plus terraces is +/- 800.000 euros, and a 3 bedroom duplex penthouse can be bought for 1.500.000 euros.
On the western border of Sierra Blanca is a complex of modern townhouses called Meisho Hills, designed by the late Argentine architect Angel Taborda, known for his eclectic style. Meisho Hills is an award-winning, exclusive residential complex in one of Marbella's most prestigious gated residential areas, known as Sierra Blanca. The urbanisation consists of 58 luxury townhouses with breathtaking views overlooking Marbella and Puerto Banus, towards Gibraltar and Africa making Meisho Hills one of the most attractive locations on the Costa del Sol. A well-maintained fully-gated complex with 24-hour security, it offers two large outdoor swimming pools, three Spa areas featuring gyms, indoor swimming pools, saunas, Turkish baths, and relaxation areas. Set at the foot of the mountain and surrounded by the Natural Park of Sierra Blanca, and famous hiking trails, the complex offers both secluded privacy and proximity to strategic locations such as Malaga airport, Marbella downtown, and the famous leisure harbour of Puerto Banus and Puente Romano.
Prices for a two bedroom townhouse starts at 800.000 euros, and 4 bedrooms townhouses might be found for +/- 2.900.000 euros.
Property experts in Sierra Blanca
Established in Marbella in 1989, DM Properties - Knight Frank are your local experts for buying and selling property in Sierra Blanca. If you want to learn more on any subject related to the area and surrounding locations, as well as the real estate market in Sierra Blanca, please do not hesitate to get in touch. Our Sierra Blanca property experts, such us Carlos Padilla or David Wisbar, will do their best to answer any questions you may have.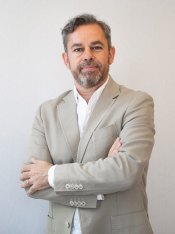 Carlos PadillaProperty Consultant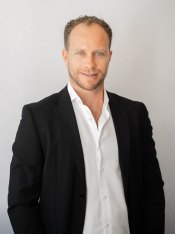 David WisbarProperty Consultant
Properties in Sierra Blanca
Areas in Marbella Golden Mile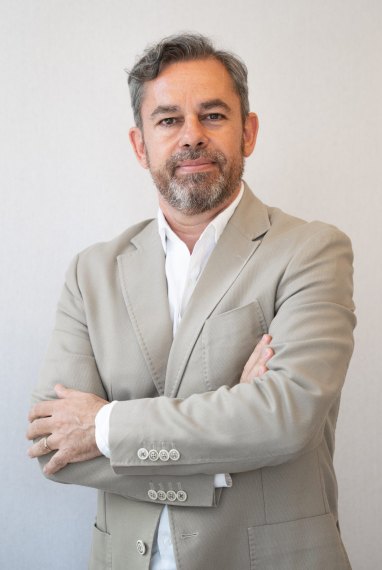 Carlos Padilla Property Consultant

Can we help?
Call now, ask via whatsapp or fill the contact form and we will get back to you asap.