Since its inception in 2007, Knight Frank's annual Wealth Report has become an institution and a much-anticipated source of authoritative information about international wealth flows, investments and the performance of the luxury real estate market.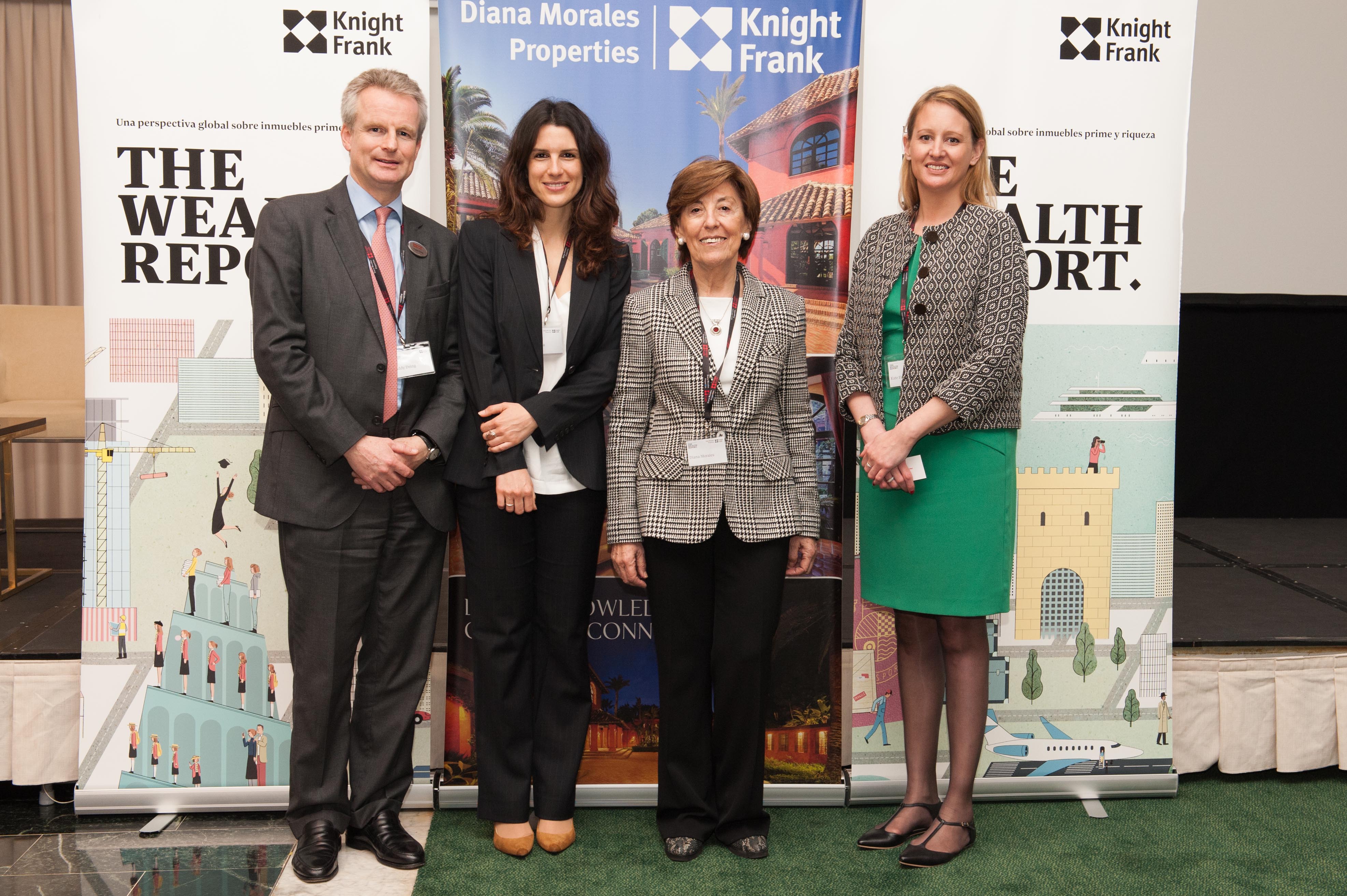 In studying the trends, fact and figures behind this increasingly global segment, the analysts at Knight Frank assess the factors that drive it and identify exactly where the demand lies, how global wealth is distributed and what is important to people in this category, be they investors, homebuyers or trendsetters.
The reach of the Wealth Report has grown, and it is now presented to specialists in the wealth and luxury real estate sectors in cities across the continents – including Marbella. On 20 March the official presentation hosted by DM Properties took place at the Gran Meliá Don Pepe, before a large turnout of Marbella's leading lawyers, notaries, architects, developers, bankers and other professionals involved in the wealth and real estate industries in Marbella.
The occasion also marked the official launch of the association between Diana Morales Properties, an established and respected name in Marbella luxury real estate for over 25 years, and Knight Frank, an international brand with global cachet and read. DM Properties founder, Diana Morales, was joined by her daughter and current director of the company, Pia Arrieta, who welcomed those assembled and the Knight Frank team that had come from the organisation's headquarters in London and their Madrid office to present the 2015 edition of the Wealth Report.
Having just released its own annual Market Report, Diana Morales Properties was in a perfect position to add local market analysis to the global research findings presented by Kate Everet-Allen, Head of International Residential Research, and the Knight Frank Research Team who compile the Wealth Report. In recent years the DM Market Report has also gained acclaim as a credible source of information and analysis about the local and regional real estate market, and it is the commitment to produce such authoritative research studies, quality market material and a level of service based on knowledge, expertise and integrity that has brought DM Properties Marbella and Knight Frank together.
"The alliance between us is new, but the contact is longstanding and the fit feels natural," says Pia Arrieta. "As the official associates of Knight Frank in the Marbella and Costa del Sol area we bring two great names together in a desire to continue to grow, learn and develop at a time when new technologies and trends are changing the certainties of the past and creating new challenges and opportunities." Diana and Pia welcomed Paddy Dring, Georgina Richards, Kate Everet-Allen and other Knight Frank representatives to Marbella at an event that symbolised the new sense of dynamism present in the region and its property sector. From 2015 onwards, Marbella has a powerful new alliance at work to offer the best possible level of service and know-how to homebuyers and investors.
From our website you can read the DM Properties Marbella Market Report 2015 or download a pdf copy. If you would like your own copy, email info@dmproperties.com or view it online, coming soon to our website.
You can read the DM Properties Marbella Market Report 2015 on our website or download a pdf copy. If you would like a printed or pdf copy of the 2015 Wealth Report, please email info@dmproperties.com or view it online, coming soon to our website.