One of the best villas on the Costa del Sol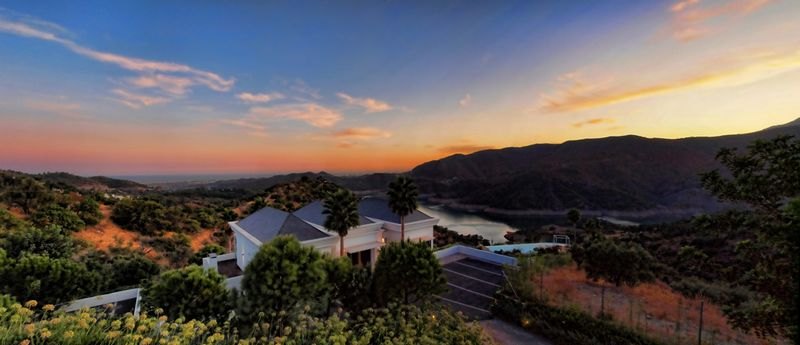 I couldn't have chosen a better day; deep blue sky, bright green trees and bushes on the surrounding hills, the sea in the distance and the Istan water reservoir full of water after the winter rains. This is the glorius view I see in front of me when I enter this elegant villa in Istan on this day in early June.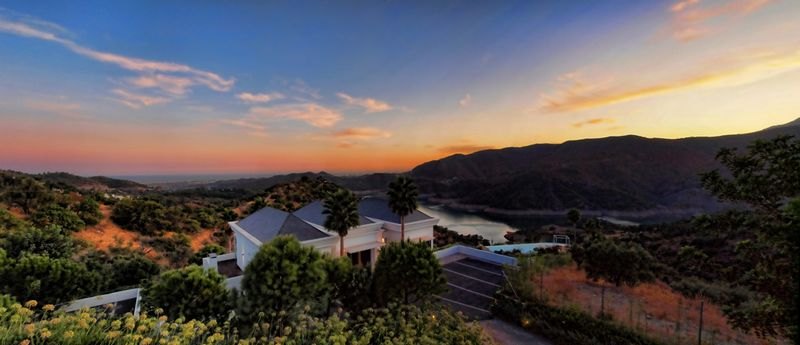 As I walk around the house I am still able to enjoy the views through the large French retractable windows.The architecture is carefully thought out: clean straight lines, spacious luminous rooms that flow harmoniously one after another and the feeling of light and air is emphasized by the white walls and light colour limestone floors on the main reception rooms, and the light coloured massive oak flooring on the upper floor where the huge master suite and one other bedroom suite are located.
The lounge, library and dining room at garden level open onto a large semicircular terrace with wood decking ideal for sunbathing or just to sit and enjoy the spectacular views.The infinity swimming pool is away from the house and though mainly orientated to the west it receives sun all day long and I imagine that swimming here at sunset will be an unforgettable experience, as would swimming in the Istan Lake with which part of the property's plot borders. The interior of the house and the furniture, of Italian design carefully chosen by the owner and his architect, complement this magnificent ambience of comfort and warmth. The bathrooms display accessories of the Philippe Starck collection and are absolutely spectacular. The Domotic system controls the lighting, the heating and air conditioning and even the music in the swimming pool deck.
I really do congratulate the owner for envisioning and creating this living space!
If you are looking to buy a villa on the Costa del Sol, this property is a definite must-see. Contact us to organize a viewing.
Diana Morales