The Mediterranean is like no other region in that it has a reputation for elegance and glamour that outstrips even the Caribbean or Pacific paradise locations. Monte Carlo, St. Tropez, San Remo, Porto Cervo and Puerto Banús are names that evoke images of refinement and privilege like no other.
Perhaps it's because this area has a tradition that goes back further than any other on earth, starting with the classical Greeks and the Roman villas at Capri. From that moment on through the Renaissance, the Baroque and especially the era of the European Tour the Mediterranean became the playground of the rich and famous – and those seeking visions of paradise not found at home.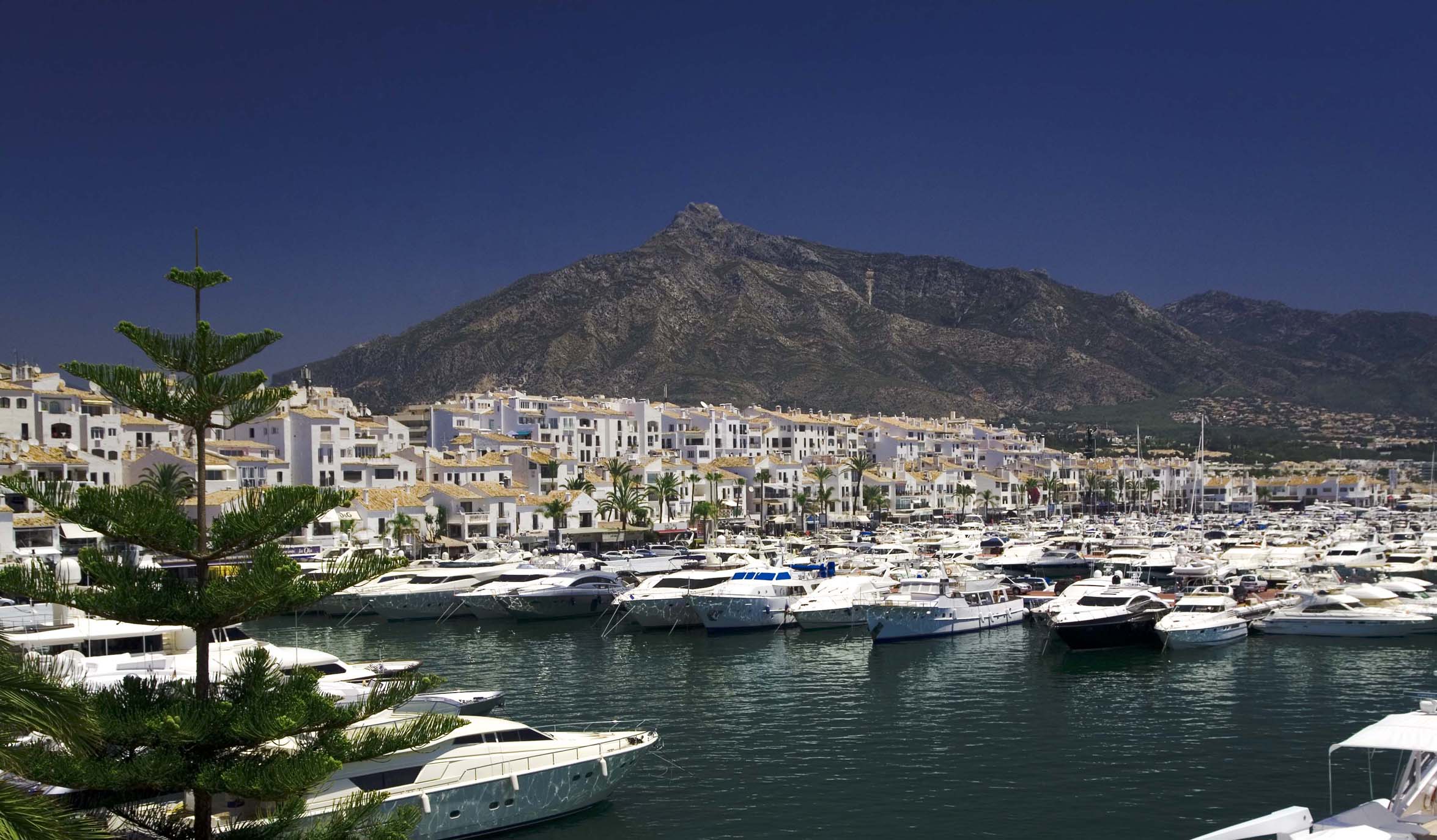 The 19th century saw the consolidation of this process, as grand luxury hotels were built in Nice, Mallorca and Málaga, as well as in Biarritz and Estoril, to provide a stylish refuge from the winter's cold. Here, aristocrats, statesmen and business tycoons from around Europe and different parts of the world came together to enjoy the mild climate and healthy food, and by the middle of the 20th century many were driving or even jetting down to their own villas poised spectacularly on cliffs overlooking blue coves.
The origins of Puerto Banús
Long after mass-tourism turned some coastal areas into concentrations of high-rise apartments and hotels, Puerto Banús remained a name associated with glamour and high living. Stars of the silver screen rubbed shoulders with princesses and millionaires in a summer playground that retained the innocent elegance of old – such was the charm of a Marbella that was both cosmopolitan and seductively Andalusian.
The likes of Deborah Kerr and Sean Connery had moved here, following in the wake of a great many European aristocrats, while celebrities such as Omar Sharif, Liza Minnelli, Philippe Junot and James Hunt visited regularly. In the early days it had even been a haunt of Frank Sinatra and Dean Martin, so as the region's reputation grew and Marbella developed into a luxury destination, the idea of a stylish marina complex was born.
Taken up by José Banús, one of the leading property developers in Madrid at the time, the project gained momentum at the beginning of the 1970s, when plans were drawn up for a state-of-the-art yacht harbour and accompanying complex of boutiques, restaurants, cafés and hotels. Having originally bought a large estate in what is now Nueva Andalucía, with the intention of breeding bullfighting cattle, José Banús became a champion of the project that would eventually bear his name.
A Mediterranean design
Inspired by other examples in France and Italy, the developers wanted to create an elegant, intimate ambience that reflected its Mediterranean setting. After an introduction by Alfonso von Hohenlohe, José Banús settled on Marcos Sáinz and Noldi Schreck as the responsible architects. A somewhat unlikely team, the young Mexican and veteran Swiss architects were to gel perfectly in what was to become a long and fruitful collaboration.
In those pre-AutoCAD days the conceptual designs were drawn by hand and subsequently were far richer in their form and diversity. Softer shapes still dominated, unlike the jagged rectangles that are the product of today's computer programmes, yet Sáinz and Schreck took particular trouble to ensure that the design of Puerto Banús would be a modern interpretation of traditional Andalusian architectural style. In so doing they combined contemporary functionality with authentic local charm, anchoring the elegant marina to its surroundings and designing a modern classic in the process.
Though some had doubted the commercial potential of such a project it soon became the focal point of glamorous Marbella, drawing a mostly sophisticated set to its little cafés, stylish eateries and popular nightclubs. The idea that you could run into Sean Connery or see Nabila Khashoggi in one of the designer boutiques added to the reputation of Puerto Banús as a true jet-set location.
In addition to the Benabola apartments located within the port itself, and the Gray d'Albion complex situated right next to the main entrance to the marina, a series of exclusive apartment and penthouse buildings sprung up in the immediate surroundings of Puerto Banús. Urbanisations like Terrazas de Banus, Marina Banus and Jardines del Puerto offer a convenient location with gardens and leisure/sporting facilities, within the heart of glamorous Puerto Banús – with fine dining, trendy nightspots, designer shopping and beach clubs on their doorstep.
Those urbanisations on the perimeter of Puerto Banús, such as Playas del Duque, Los Granados, Playa Rocio, La Alcazaba and Andalucia del Mar, are generally more private and secluded, characterised by lush gardens, opulence and open sea views yet also still within strolling distance of the bright lights, while Villa Marina features luxurious beachside villas that offer a very seductive mix whose main ingredients are space, privacy and seaside living all within close proximity to the marina itself.
A new era
After boisterous years in which it was the darling of IT-millionaires, footballers and tourists alike, the port now seems to be making efforts to recapture the glory of old, embracing some of its traditions whilst drawing up ambitious new plans for the 21st century. Good restaurants, designer outlets and trendy nightspots still make this the place to be seen, and luxury boats, haute couture dresses and sports cars compete for attention as ever they did.
Sumptuous super-yachts line the top end quay, where limousines pull up to private clubs whose rooftop champagne bars offer a view over the bustling nightlife of a marina that continues to exert a mysterious pull on the rich, famous and curious, buffered by beachfront real estate that ranks among the most exotic and exclusive to be found on the shores of the Mediterranean.