El Madroñal, consummate taste in a privileged setting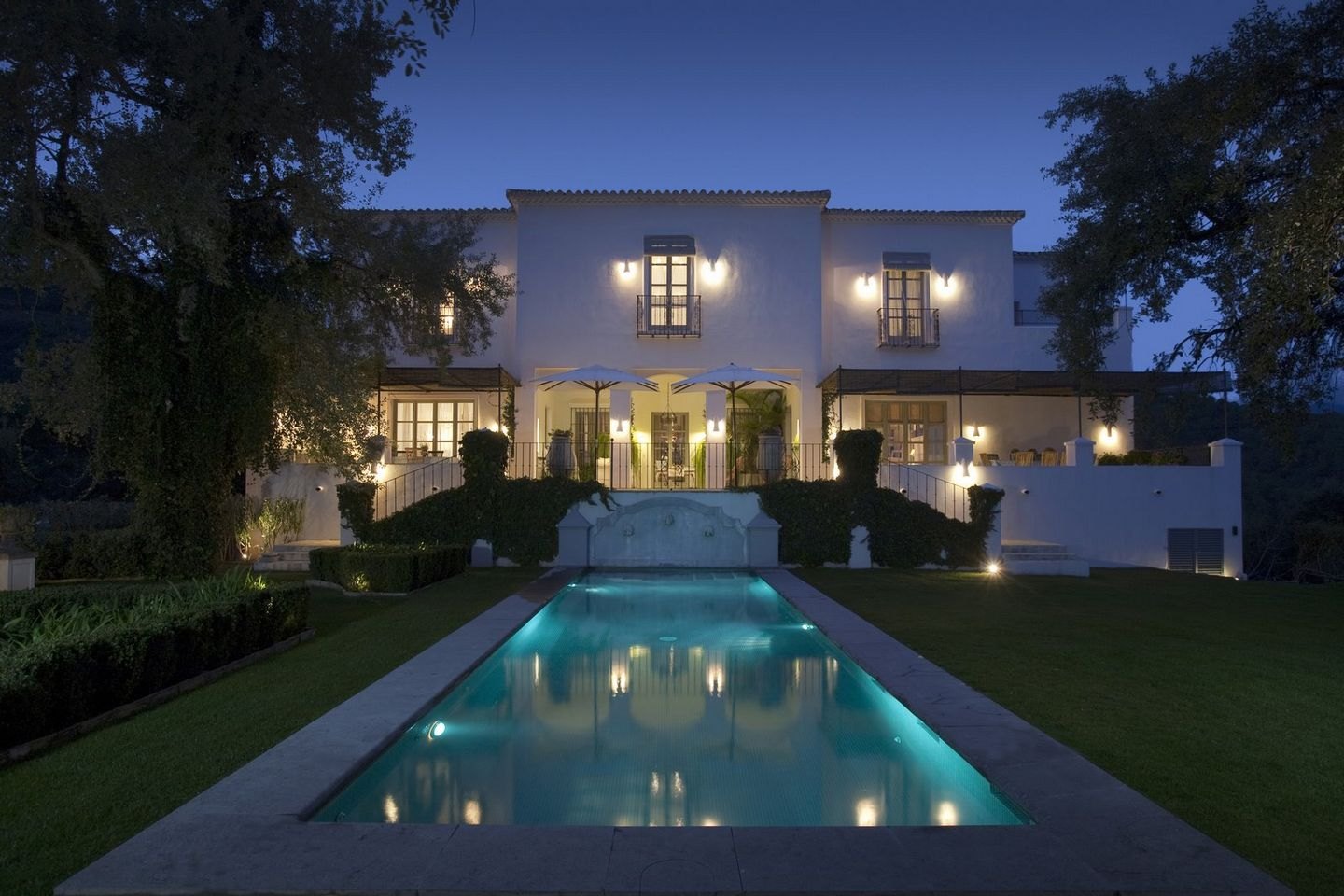 There are properties that are grand and impressive, others that stand out for their charm and elegant décor, but this luxurious home brings all of these ingredients together to produce an ambience that is quite simply stunning.
It starts with a setting to match, roughly five minutes along a gently winding road that threads its way uphill amid exclusive gated communities, villas and magnificent views. With Marbella less than 15 minutes distant, these are the foothills at the beginning of the route to Ronda, a beautiful country town some 50 kilometres north. Here the slopes are richly covered in the greenery of traditional oak and pine, enveloping fine homes in an embrace of privacy that frames commanding views down the slopes and over golf courses to the Mediterranean Sea and the outline of the Rock of Gibraltar.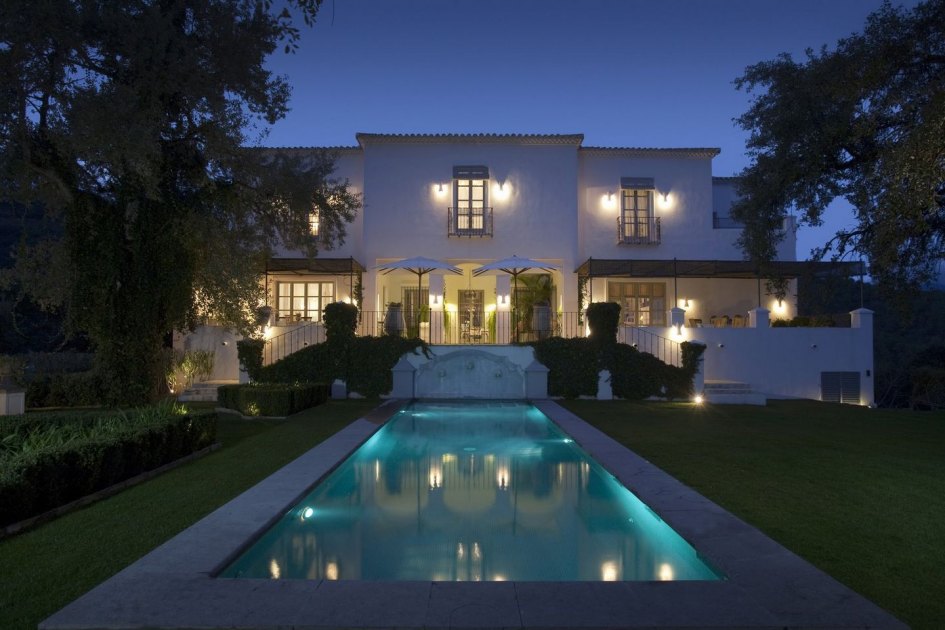 The property lays in El Madroñal, one of the most private and exclusive residential areas in the greater Marbella area, and here presides over a truly privileged domain. The drive over cobbled stones leads to a traditional style forecourt of the kind you would find in a classic country home, yet the style is unmistakably inspired by the Mediterranean. Imposing, yet well-proportioned and designed with taste, the home is elegant and welcoming, with exterior features such as its courtyard, terraces and lush green grounds drawing you in.
Inside, the villa is equally alluring, from the lovely entrance that sets the tone right through to the drawing room, the formal dining room, the fabulous kitchen with large dining table and the cosy cinema room to the dream bedrooms and bathrooms. Each of these rooms offers the eye an intricate variety of rooflines, beams, windows, architectural features and finishes in the finest of materials, yet in spite of this, these highly individualised rooms all share a common decorative tone that exudes a tasteful and rather feminine flow of country elegance.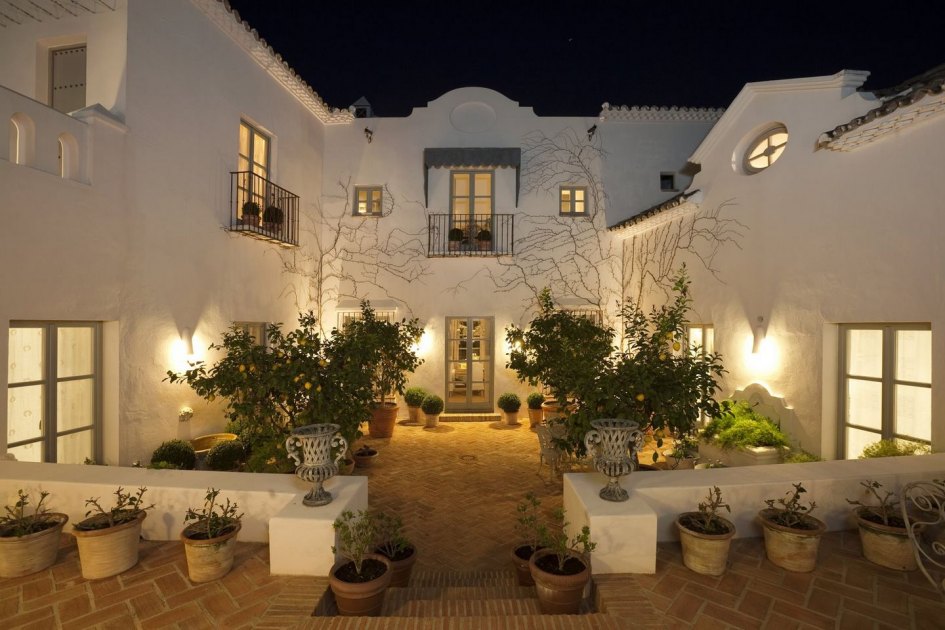 The result is a property that is at ease with itself, not built for showing off but created to provide a perfect living environment for those with sophisticated palates. Country elegance with a distinct hint of southern France translates into soft grey window shutters, distressed floorboards, fine furnishings, rustic hand-cut floor tiles, grand fireplaces and Andalusian cobbles in the outdoor areas. All rooms are spacious but comfortable and never cavernous. The kitchen is a study in beautifully measured rustic classicism and modern refinement, as are the comfortable bedrooms and luxuriant bathrooms.
Though this property offers a wide variety of areas just made for entertaining – from the courtyard to the terraces and lush gardens – each of these spaces also entices you to grab a book and enjoy moments of blissful solitude. Tall trees, magnificent potted plants and ivy covering give the villa an established feel yet under the skin this house is fully up to date, complete with 24-hour security, a gym, modern cinema room with the latest equipment, a 15-metre swimming pool, central heating and air conditioning, and the latest technical installations.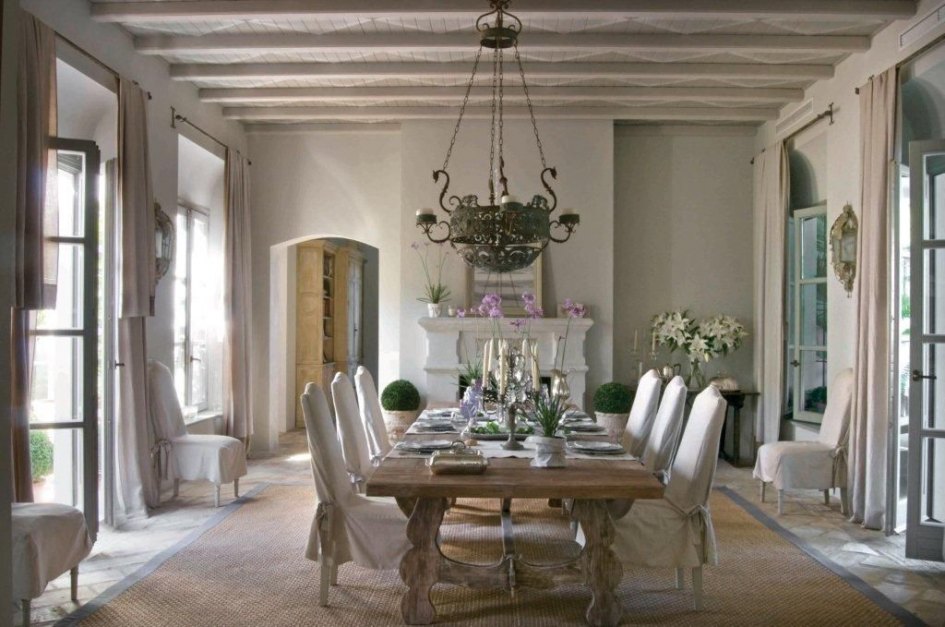 A home you would want to spend us much time as possible in, from the beautiful rooms and patios to the numerous terraces and the gorgeous grounds with their magnificent views, this is a property built, designed and decorated with great refinement and taste for people who enjoy the truly fine things in life.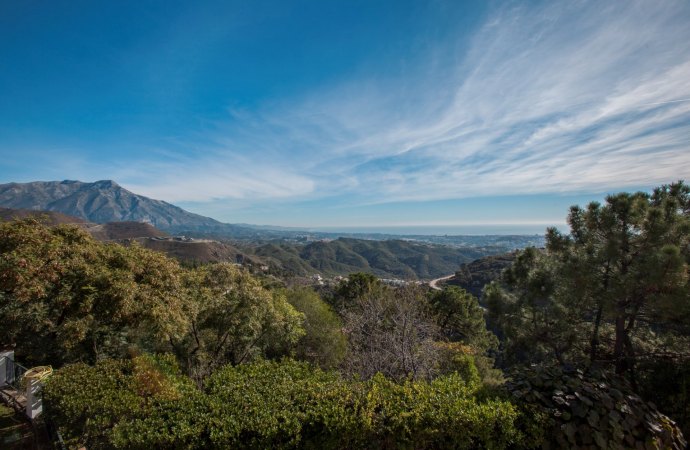 20 minutes away from Marbella and opposite La Zagaleta, next to the residential complex La Heredia is El Madroñal, a consolidated urbanisation of luxurious villas consisting of 6 entrances, each with a separate entrance which offers peace and tranquillity throughout the year. Security guards patrol the estate 24 hours a day and access to El...