Living in Guadalmina Baja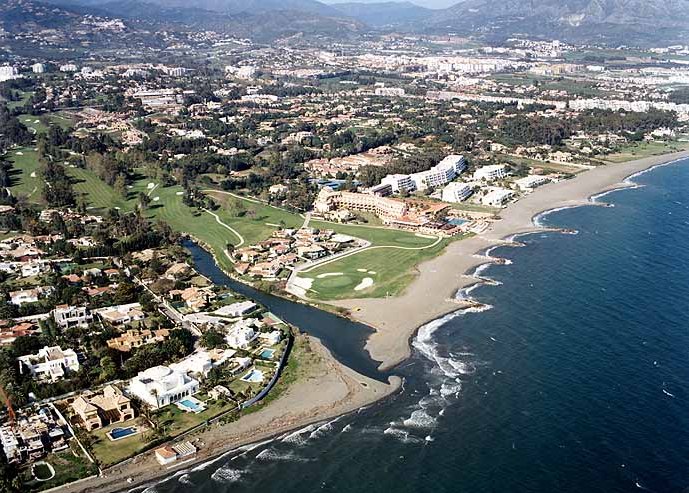 Geographically delineated by Guadalmina golf course and the coastline, Guadalmina Baja is the most western district of Marbella and adjacent to San Pedro Alcántara.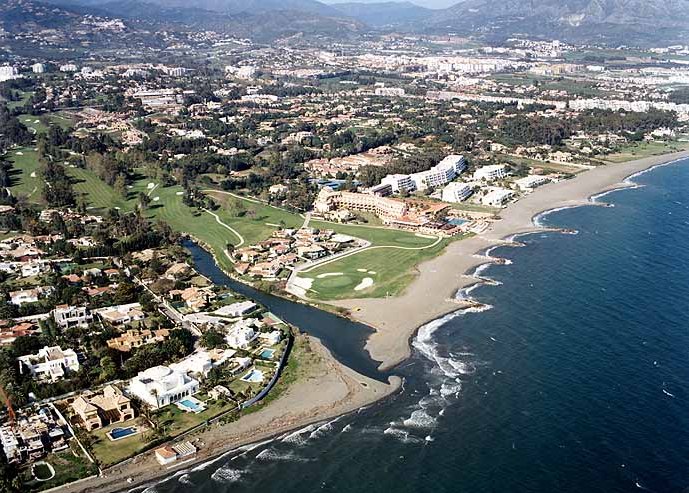 A beautiful area of luxury residences, Guadalmina Baja is separated from the main commercial area and Guadalmina Alta by the A7 coastal road, from the municipality of Estepona by the Guadalmina River and from San Pedro by the Chopo stream.
Originally a sugar cane plantation, Guadalmina Baja was the brainchild of Norberto Goizueta who, recognising the potential for tourism, developed not only the golf course but also the Hotel Guadalmina in the late 1950s and early 60s. Still renowned today, the hotel is a popular wedding venue thanks to its proximity to the beautiful sandy beach and the southern Guadalmina golf course that flanks it in places.
The surrounding area was divided into large villa plots, which became very much sought after by wealthy Madrileños seeking privacy and tranquility in their summer residences, combined with convenience and proximity to amenities and the beach. Some areas, such as the impressive third century Bovedas Roman Baths and Tower, were protected from development, ensuring that the stunning beach area is preserved for all to enjoy.
Guadalmina Baja has its own chapel, the Capilla de la Inmaculada, and is home to the very well respected private Spanish school, San José, attended by children of all nationalities.
Villas, apartments and townhouses for sale in Guadalmina Baja
Luxurious villas comprise most Guadalmina Baja accommodation, although there are some apartments and townhouses well located within the urbanisation. For example, this four bedroom duplex penthouse apartment features spacious rooms and private terraces from which to enjoy the sunshine and open views. Or for beach lovers, this townhouse is just 100 metres from the sand and benefits from a bright and luminous interior as well as four bedrooms and its own private garden.
More typical for the area are villas such as this Miami style property designed for his own use by an architect in 1997. South facing and open plan, it's the ideal luxury family home with spaces for entertaining, relaxing, winter dining and hosting overnight guests or accommodating staff, all centred around a beautiful freeform lagoon swimming pool.
This more contemporary and recently refurbished villa is located just 600 metres from the beach and is absolutely spectacular, featuring seven ensuite bedrooms (each with private terrace), several entertaining areas and salons, basement gym, sleek design and manicured gardens.
Offering a variety of properties at the higher end of the market, Guadalmina Baja does continue to appeal to property purchasers from all walks of life, whether looking for a main family home or summer holiday residence. Many of the properties are within walking distance of the beach or the commercial area in Guadalmina Alta, with its range of cafés, shops, offices, supermarket and banks. Contact DM Properties for more information on opportunities available in Guadalmina Alta.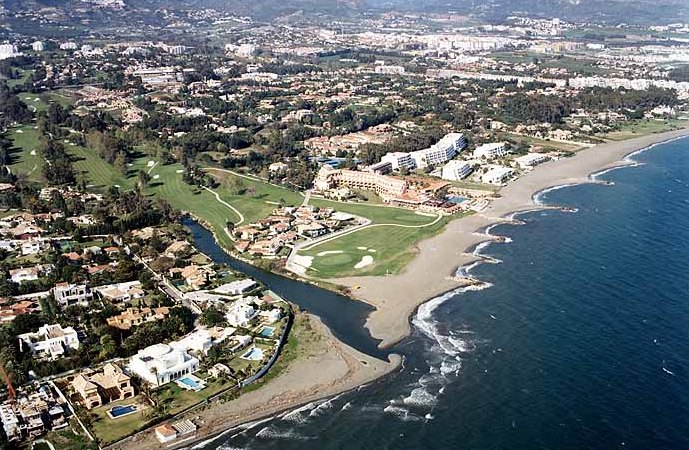 The large, elegant villas set in the leafy streets of Guadalmina Baja are some of the most desirable in Marbella. Since its inception in the 1950s as an exclusive residential zone bordering the lush fairways of Marbella's first golf course and just a short stroll to glorious sandy beaches, Guadalmina has been one of the...
Related Articles