Emerging Areas, Golf Leads Property Development Inland and West Along the Costa Del Sol

Maybe you have heard the term "emerging area" in discussions of real estate. Canny investors identify these coming zones and purchase property there before prices rise. Sometimes they talk about "the path of expansion" as well. But how can we tell what is an "emerging area".

Really, it's just common sense. We can classify Costa del Sol property development into several categories. These might be the Hot Centre, Fill-In Zones, Emerging Areas, Outposts, and The Back of Beyond.
The Hot Centre is of course the area around Marbella town, stretching both ways along the coast and a short distance inland. The beachfront and large areas inland are already filled with apartments, townhouses and villas. In terms of sales, of course, this is hot only in the sense of re-sales, as owners are tempted to sell when the value of their properties has rapidly risen in the past five years.
The Fill-In Zones can be recognised as you drive along the coast. Heading towards Gibraltar from San Pedro, for example, you notice that there are occasional gaps in the string of apartments and urbanisations. Don't worry. These will soon be filled with construction cranes and then buildings. It will then be called "Consolidated", like the Hot Centre. In Nueva Andalucia, for example, something like 2,000 units are presently being finished, filling in many of the gaps in Marbella's Valley of Golf.
Farther out from Marbella, both inland and along the coast, we find that much of the land is empty, although you see an occasional finished complex and some construction cranes. You may notice signs in the fields announcing that this will soon be the site of a lovely urbanisation or perhaps a new golf course. Now we have it. This is an Emerging Area, where development is beginning to take off.
Still farther out, there are no finished urbanisations, only a few villas scattered here and there. These we can call Outposts. Finally you come to the Back of Beyond. We would like to draw a definite line through the Ronda mountains and just behind the inland towns of Alhaurin and Coin. However, we have just been informed that Japanese developers have purchased a major tract of land outside the historic inland city of Antequera, where they intend to build two golf courses, two luxury hotels, and 3,000 houses over the coming years. In today's fast-growing climate, the Back of Beyond may be farther away than we thought.
Appreciation Guaranteed
We don't want this terminology of property development along the Costa del Sol to give anyone the idea that the coast is no longer a nice place to live. The second homes and holiday apartments in the Hot Centre and the Fill-In Zones are popular precisely because they are pleasant places to live or to spend holidays. They are close to the sea or even right on the beach. Many of them overlook golf courses. Schools, shopping, restaurants and nightlife are conveniently located. For all these reasons, they have rapidly appreciated in value. All signs are that these well-located properties will continue to increase in value faster than most other investments in today's difficult economic climate. Early buyers around Marbella showed gains as high as 28 per cent five years ago, according to figures of Spain's National Evaluation Society. This appreciation has gradually slowed down, but it still topped 17 per cent for 2003, meaning that many buyers have seen their property double or even triple in value in the past five years.
This appreciation is average, remember, and you can be sure that it is higher for properties of prime location in the Hot Centre. You can also ensure a rapid appreciation in another way. This is by purchasing off-plan in one of the Emerging Areas. Let us give you a tip before we take a more detailed look at these areas. Be sure to use an established estate agency to help you find your property. An established agency knows which builders are about to start projects in developing areas, often before there is any sign of construction on the land, and can help you find your best buy. Those who purchase at pre-construction prices will find full legal guarantees in place today to protect their investment, and they will find their property going up in value rapidly as construction proceeds. Property observers note that appreciation of 20 per cent or higher is very common during the first year or year and a half.
What is available in some of the Emerging Areas?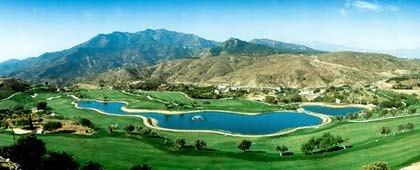 Many of the emerging areas are based on new golf courses. The Costa del Sol presently offers 40 golf courses, with a dozen more in various stages of completion. The Andalusian regional government, in charge of golf authorisations, has received applications for 30 more courses. You don't have to play golf to enjoy a view over the course. Keep in mind that golf property always appreciates more rapidly than average, and you can be sure that nobody will build in front of you.
As we head west from Marbella towards Gibraltar, we find these projects underway in the hills overlooking the sea:
Between San Pedro and Estepona, backers of Los Flamingos golf club and sports centre have invested €54 million on one million square metres of land, with a golf course where 11,000 fruit trees have been planted along the fairways. The amenities include a super-luxury five-star hotel, just completed, as well as luxury villas and well-sited building plots.
Golf is not the only attraction of the emerging areas. The Mediterranean beachfront from San Pedro to Sotogrande is also the scene of intense building. So many projects are underway on this stretch of beach that we simply cannot name them all, but be assured that those who prefer frontline beach to golf will not go without.
Other golf courses are planned or underway as development moves farther inland as well. East from Marbella, in the municipality of Mijas, La Cala Golf Resort is working on a new 18 holes with property development around it. The new Santana course is a little inland, and Mijas Town Hall authorities are working with property developers for carefully planned development of their own "Valley of Golf" extending inland from the present Mijas Golf courses and La Cala Golf Resort, where six golf courses already exist.
Four more golf courses are planned in the area of about 20 million square metres, along with property development. The Town Hall announced that it would work closely with the developers to ensure that proper water supplies, principally with re-cycled water sources, would be available along with other infrastructure, to provide a climate of "sustainable development". This means all the proper services carefully planned in advance.
Mijas authorities are in favour of golf development as generating wealth and year-round employment for its citizens. The master plan alone will cost more than €10 million. A total investment of €154 million is foreseen and the area sounds like a good bet for early purchase.

Farther inland, at Alhaurin Golf, about twenty minutes' drive from Mijas village, Spanish developers Ferrovial and Grupo Inmo are producing apartments, villas and townhouses around a hilly golf course set in magnificent countryside, surrounded by mountains. Just a few years ago, the area was completely undeveloped but it is now taking off in a big way. The estate totals 1.5 million square metres, with three quarters yet to develop. There will be a total of three golf courses here, along with a riding centre.
The first 86 apartments and 34 townhouses are already purchased, most of them sold off-plan. Work proceeds on the Pueblo Andaluz project, where front-line golf apartments, semi-detached houses, villas and building plots are all available at prices from around € 200,000 to € 650,000.
Farther inland, at Lauro Golf, buyers get a year's free golf. They are presently building phase three of four phases and they report that sales are going better than projected and some of the original buyers have already re-sold at a good profit.
The same story is told at all of the golf developments, both for numbers of visiting golfers to fill the fairways and owners who see their property appreciating. It looks like future buyers on the Costa del Sol will be spoilt for choice.
By David Searl. DM Properties
Article published in the fourth edition of 'Costa del Sol Highlights' showcasing the finest properties in Marbella and on the Costa del Sol, Spain.